Jake Comfort  |  Updated: August 2023
Jake Comfort  |  Updated: August 2023
We have an affiliate relationship with and receive compensation from companies whose products we review on this site. We are independently owned and the opinions expressed here are our own.
Aireloom is a luxurious mattress brand that was founded in 1940 by King Karpen. Since 1940, the mattress has grown to offer some of the highest quality mattresses on the market. You'll find Aireloom mattresses at a variety of department and mattress specialty stores. Given their luxurious materials and advanced features, these mattresses do come at a higher price tag than other mattresses. Since we know that buying an Aireloom mattress is a big investment, we'll be sure to cover the important details that will help guide your decision.
With the variety in materials and firmness, almost anyone can find the right match for their needs. Six materials commonly used in Aireloom mattresses are memory foam, regular foam, cashmere, cotton, Talalay latex, and wool. These mattresses are very supportive as well thanks to the pocket coils inside. These mattresses are usually 12-16 inches thick, enabling better support for heavyset people. Some types are adjustable base friendly too. For a more in-depth review of Aireloom mattresses, including price range, where they can be purchased, and who they are most suitable for, continue reading.
Construction
We'll look at the construction of the different Aireloom mattresses in this section. We'll break the mattresses up according to the collections that Aireloom organizes them into.
Karpen Jojoba
Layers
Top
The top layer of the Jojoba mattress boasts a quilt with wool and alpaca fibers along with a plush quilting foam. With the Jojoba mattress, your surface layer will have a hypoallergenic and lightweight blend of natural fibers. This blend of material not only enhances airflow but also keeps your body cool and dry throughout the night. In addition to the natural fiber blend, there's also a Jacquard Damask fabric panel with SeaCell™. This fabric is derived from renewable resources and makes the surface layer even softer.
Middle
Underneath the upper layer, you'll find a Luxury Firm TerraPur™ and Firm TerraPur™ hypoallergenic layer that releases tension and helps you relax your muscles. To top off the core layer, there is a support system that features full-perimeter coils and Support-flex™ individually wrapped coils, both of which help relieve tension in your pain points and keep your body in alignment throughout the night.
Bottom
At the bottom of the mattress, there's a wood base foundation available in either a 6" or 9" foundation. This heavy-grade wood helps maintain the longevity of the upper layers of the mattress. Furthermore, Aireloom hand tufts each layer of the mattress, ultimately securing the inner layers of the mattress and improving its level of comfort.
Karpen Palm
Layers
Top
This luxury hybrid firm mattress has a wool and cashmere blend cover that not only reduces pain but also offers a soft-to-the-touch feel. And, like the other mattresses in the Karpen collection, the Palm model has a Jacquard Damask fabric with SeaCell™. This outer layer helps to rejuvenate your skin and makes the quilt softer. In addition, there's a plush quilting foam that will make it easy for you to fall into a deep sleep.
Middle
The Karpen Palm has three comfort layers (one more than the Jojoba) – two Plush TerraPur™ natural latex layers and a Luxury Plush TerraPur™ natural latex layer. The latex used in the construction is 100% natural and is hypoallergenic and breathable. It boasts a useful buoyant quality that helps you ease muscle tension. Underneath the comfort layers, there is a Support-flex™ system with tempered 15 gauge individually wrapped coils. There's also a full perimeter coil count that ensures high-density encased perimeter support.
Bottom
Like the other Karpen models, the Palm mattress has a high-quality wood base foundation that is available in either a 9" or a 6" profile. This wood base ensures that the mattress is built-to-last.
Aireloom Latex Marbella
Layers
Top
The Latex Marbella, like most of Aireloom's mattresses, is covered with a wool and silk-blend fabric along with a 1.5" plush quilting foam. Unique to the Latex line, there's also a True-Stretch™ cotton tricot and Ultra Conforming Knit with Tencel™. The blended wool and silk-blend as well as the mattress's HiLoft FR fibers make for a soft and comfortable top surface.
Middle
There are two comfort layers to the Marbella mattress – a 1" plush Talalay latex and a 1" luxury firm Talalay latex layer. Both layers conform to the shape of your body and relieve pain and pressure. In addition to the comfort layers, there's a support system that makes the mattress stand out when compared to its competitors. There's a 6" high density encased perimeter support layer and a 1" high definition responsive foam layer – both of which make up the Energex core system™.
Bottom
Unlike the Karpen models, the Latex collection does not have a wood base foundation. Instead, it has a solid core. The mattress is available in both 9" and 5" finished heights.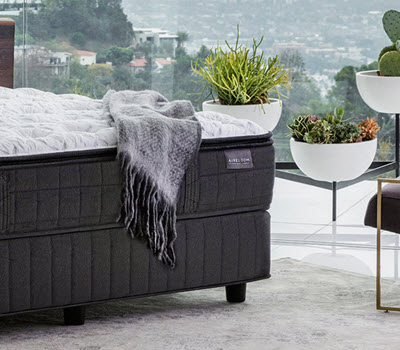 Preferred El Porto Channel Streamline Firm
Layers
Top
There are two El Porto models – a firm and a plush model. The firm model has a firm quilting foam and ultra-conforming knit with Tencel® as the foundations of its surface layer. But, to keep it from being too firm, there's also a soft quilting foam and a True-stretch™ cotton tricot layer. With the Tencel® panel, the mattress conforms to your body and is both eco-friendly and breathable all while being soft-to-the-touch.
Middle
There are four core comfort layers in the El Porto Channel Streamline Firm mattress – a 3.5 lb. Airegelle™ layer, a firm Aireluxe™ foam, a firm 1880 foam, and a layer of Airebraid™ Performance Fabric. As the name suggests, the Airegelle™ is infused with gel and helps maintain optimal temperature regulation throughout the night. On the other hand, the Aireluxe™ foam conforms to your body and helps promote a full night of sleep without disturbances.
In addition to the comfort layers, there's an advanced support system that boasts individually wrapped coils organized in a hand-tufted design. The king mattress has 1,052 coils and the queen mattress has 842 coils. Moreover, the mattress is encased with high-density perimeter support and there's a 7" Support-flex™ system.
Bottom
The bottom layer of the El Porto is a little different from other Aireloom mattresses. It has a V-shaped semi-flex grid as well as metal corner guards that snuggly fit the perimeter. This foundation is available in either a 9" or 5" profile.
Aspire Hybrid Russell
Layers
Top
The top layer of the Aspire Hybrid Russell is equipped with advanced features including an ultra-conforming knit with Tencel®, FR fibers, a plush quilting foam, all of which are backed by knitting. This mattress's Tencel® panel is not only eco-friendly but soft-to-the-touch and very breathable. The four quality features of the top mattress make it super comfortable and long-lasting.
Middle
Like most Aspire mattresses, there is a series of comfort layers as well as a support system. The comfort layers include a Luma SilverTech™ cool memory foam, luxury firm Aireluxe™ foam, and lastly, a layer of firm Aireluxe™ foam. The Aireluxe™ foam is a resiliently durable foam that shapes to the movements of your body during the night, ensuring quality and uninterrupted sleep.
The support system, on the other hand, has two key aspects – a full perimeter coil count (queens have 830 and kings have 992), and a high-density perimeter support system constructed with 13 ¾ gauge individually-wrapped coils.
Bottom
At the bottom of the mattress, you'll find a V-shaped semi-flex grid that's available in either a 5" or 9" profile. There is no wooden foundation framework for this mattress.
Firmness, Feel & Support
A key selling-point driving the popularity of Aireloom mattresses is that many collections have both firm and plush models, depending on your needs and how you sleep. For example, the Aspire Hybrid collection has both a Russell Core Support Firm and a Core Support Plush option. And when it comes to support, there are multiple layers of proprietary foam paired with support systems boasting perimeter coils and individually wrapped coils. Almost all Aireloom mattresses have a plush quilting firm that conforms to your body, so you'll never have to worry about an uncomfortable surface layer. In a nutshell, Aireloom mattresses rank very high with respect to firmness, feel, and support.
Aireloom Mattress Essential Facts
Where Can You Buy Aireloom Mattresses?

Major retailers that sell Aireloom mattresses include Macy's, Sit 'n Sleep, Bloomingdale's, and Raymour & Flanigan. Sit 'b Sleep is only located on the West Coast of the United States, and Raymour & Flanigan is found on the East Coast.
More Durable Than Innerspring Mattresses
According to a mattress review site, Sleep Like the Dead, 20% of owners reported that their Aireloom mattresses started to sag and develop body indentations after three years of ownership. In comparison to other innerspring mattresses, this is a 24% better rate. For a mattress of its type, an Aireloom mattress is fairly durable. However, it still performs 14% worse when all types of mattresses are considered.
How Much Does an Aireloom Mattress Cost?
Aireloom mattresses cost $1,300-$7,500, depending on size and model. A few of these mattresses are over $7,500. However, the average queen size Aireloom mattress is $2,500. Aireloom mattresses aren't cheap, but they are certainly luxurious with a 75% overall customer satisfaction rate according to data from Sleep Like the Dead.
How Firm Are the Mattresses?
The majority of Aireloom mattresses range from firm to medium-soft in firmness. All different types of sleepers can find a firmness that fits their needs. Medium to medium-soft Aireloom mattresses are good for people who sleep on their sides. Those who sleep on their stomachs, however, should buy a firm Aireloom mattress. Most of these mattresses are good for back sleepers; it's a matter of which firmness works best for their backs.
Higher than Average Support
Aireloom mattresses feature higher than average support, especially in the more expensive models. Support typically improves with the more expensive models because the contain a higher number of coils. However, even those on the cheaper end of the spectrum offer excellent support.
Decent Movement Isolation
If finding a mattress with movement isolation is important to you, so that your partner doesn't disturb you when they get out of bed, you don't need to cross Aireloom off your list. They provide decent movement isolation so that couples don't disturb each other during movement.
Can Support Those Who Are Over 240 Lbs
Aireloom mattresses are able to support the weight of people who are over 240 lbs. Thee mattresses are fairly thick and strong.
Aireloom Mattresses Are Quiet
Squeaky or noisy mattresses annoy some people, but you don't have to worry about that with this brand of mattress. Only 5% of owners, according to Sleep Like the Dead, report their Aireloom mattress at least occasionally makes some noise.
What You Need to Be Aware Of
Aireloom mattresses are heavy, making them difficult to move. The average queen size weighs 150 lbs. Other Aireloom mattresses weigh as little as 60 lbs. Some are almost 200 lbs. Because Aireloom beds have a one-sided no flip design, you may have to rotate the mattress twice a year to minimize or prevent sagging. This is something to consider before making a purchase, especially if you don't have a partner to help you rotate the mattress.
Aireloom Warranty
Aireloom mattresses come with a 10-year limited warranty. This warranty covers manufacturer defects only, not improper use of the mattress. If you notice a defect with your mattress, you should first contact the Aireloom dealer nearest to you. You must obtain authorization before returning the mattress. Aireloom will either replace your mattress with an identical product or replace it with a similar product if the mattress is no longer available. It's important to note that any signs of neglect or unsanitary use will make the mattress warranty void and that certain warranty conditions are valid in the US and Canada only.
Aireloom Return Policy
Simply put, the return policy depends on where you purchase the mattress from. Some retailers will charge a processing fee to return the mattress, whereas others will let you return it for free. Due to the nature of the product, you may only be able to return it under conditions protected by the warranty.
Pros:
Made with luxurious and high-quality materials
Both plush and firm options available
Excellent motion isolation
Constructed with durable and long-lasting materials
Can support people who weigh more than 240 lbs.
Comes with a 10-year limited warranty
Extensive support system and multiple comfort layers with each mattress
Cons:
Heavy and therefore, not easy to move
Given the high-quality materials, more expensive than other mattresses
May require rotating twice a year to prevent sagging
Aireloom mattresses are ideal for people who want a luxurious mattress that provides great support and can support weights over 240 lbs. They are also ideal for couples due to their movement isolation. Singles may not like the fact that they might have to rotate the mattress twice per year to prevent sagging.
Pricing
Aireloom mattresses don't come cheap. If you want to get your hands on an Aireloom mattress, prepare to spend anywhere between $2,000 to $7,000 and upwards, depending on the collection. One of the most expensive collections is the Karpen Natural, and for a cheaper option, you would want to consider an Aspire Hybrid.
Should You Buy an Aireloom Mattress?
If you're someone who values high-quality construction and industry-leading materials, then you should consider buying an Aireloom mattress. Moreover, these mattresses are especially beneficial for those who suffer from back, hip, and shoulder pain. With multiple layers of support, you'll be sure to get much better sleep than a run-of-the-mill memory foam mattress.
However, an Aireloom mattress isn't for everyone – especially if you have a limited budget. If you want to get a top-quality mattress and don't mind spending a bit on it, Aireloom has many options for you. If you want a cheap deal, you should look at other mattress brands. Overall, the Aireloom mattress is perfect for someone who values luxury, pristine design, and a well-rounded mattress that's durable and made with some of the best materials around.
Alternatives to Aireloom
Aireloom makes a lot of good mattresses, so picking one of them makes sense. But purchasing a new mattress is a big decision. That's why we want to make sure you understand all your options. We've found that people considering Aireloom mattresses will prefer these choices when they see them. Check out our list of the best alternatives to Aireloom.
Plushbeds
If you're looking for certified natural and organic materials at an affordable price, then Plushbeds is another great option for you. You can get natural latex and memory foam mattresses for any budget or size.
One of the things we like most about Plushbeds is that they make a wide variety of non-standard mattresses, like RV mattresses, Sofa bed mattresses, and so on. As a result, they're a great choice if you're trying to add some new life to an existing bed or guest room without going all out and breaking the bank.
Another thing to love about Plushbeds is that they have free delivery and return shipping. That means you can take advantage of their 100-night trial offer with zero risk.
PLUSHBEDS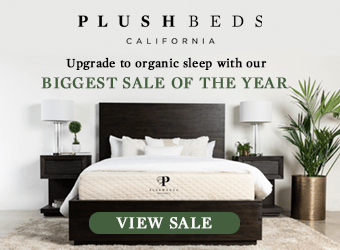 What Makes PlushBeds a Great Alternative?
Lots of options means there's something for everyone
Natural and organic latex mattresses
Free shipping and return pickup
Check out PlushBeds
Nolah
Not sure that the Aireloom mattress is the right fit for you? Nolah makes three different mattresses that you should consider: the Nolah Original 10", Nolah Signature 12", and Nolah Evolution 12." The price ranges for a queen ranges from $899 for the Original model to $1,499 for the Evolution model. Nolah makes all its mattresses in the United States and each one comes with a lifetime warranty and free trial period.
Nolah mattresses stand out from the competition because they have proprietary material such as the cooling Nolah AirFoam™ — a temperature-neutral alternative to memory foam. The mattresses also have a high-density base foam that provides premium support and pressure relief. As a company, Nolah supports sustainable business practices, gives back money to protect the environment, and uses organic materials in its mattresses. Even though it is a new company, Nolah has already amassed hundreds of positive reviews from customers.
NOLAH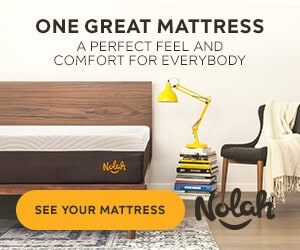 What Makes Nolah a Great Alternative?
A versatile design that is suited for any type of flat surface
Lifetime warranty and 120-night trial period
Made with organic materials that are free from allergens
Up to $800 off + 2 Free Pillows!
See Current Offers
4.4 out of 5 stars (based on 18 reviews)
Excellent56%
Very good33%
Average11%
Poor0%
Terrible0%