Best Mattress for Couples
Jake Comfort  |  Updated: July 27, 2019
It can be hard enough to find a mattress that's perfect for one person, much less a mattress that's ideally suited for two. However, many people live and sleep with someone else, so it's important to find a mattress that works for both members of a couple in order to make sure everyone gets the rest they deserve. Moreover, couples have other interests when it comes to their mattress, as sexually active couples will want to make sure to get a mattress that facilitates bedroom activities.
In order to resolve these difficulties, we've put together a list of the best mattresses for couples, and defined what couples should look for in a mattress to make sure you get the most out of your purchase. After all, mattresses are a large expense, and you can't just keep buying a new mattress over and over again without eventually going broke, so take a look at the criteria used to pick a mattress for couples and then check out our handy chart to help figure out what the best mattresses is for your relationship.
Motion Transfer
One of the biggest considerations for couples is motion transfer. This refers to how much you can feel the other person in bed with you moving. Many couples prefer low motion transfer beds, as these are able to prevent interruptions to your sleep if your partner is tossing and turning. Moreover, it also limits the effects of getting into or out of bed for couples, making it an important consideration for those couples that have different sleeping schedules or habits.
If motion transfer if your primary concern, then your best bet for a good mattress is to look into memory foam options. Memory foam does a great job of limiting motion transfer, especially when compared to traditional innerspring mattresses or other coil designs. However, be careful, as not all memory foam mattresses are great for couples. You should look for what kind of bounce the mattress provides in order to make sure that the mattress you buy is good for sex as well. You can check out our handy review of the best mattresses for sex if you'd like to focus on that aspect of the mattress for your relationship.
Support
Support is important in a relationship, and it's also important in a mattress shared by couples. A good mattress should provide consistent, even support for your body across a range of sleeping positions. However, some mattresses favor different sleeping positions, and this can be a problem for couples who like to sleep in different ways.
Additionally, many couples sleep together on a queen or full-sized mattress, and in this situations support is crucial. Usually couples will wind up falling to the middle of these mattresses, especially if one partner is heavier than the other. This creates a downhill slope which can cause the lighter sleeper to roll on top of the heavier one, and creates motion transfer issues as well. Moreover, it can be hard to balance yourself on a slope and sleep comfortably.
Another factor that can affect support is the quality of the construction and materials. Specifically, you'll want to make sure your mattress is durable. Two people sleeping on a bed means it wears twice as fast, so you'll want to make sure that your mattress will provide the support you're looking for throughout its working life.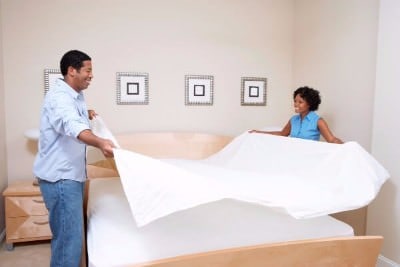 Sex
Sex is an important part of most relationships, and it's an important consideration when it comes to selecting a mattress. We've written a detailed guide to the best mattress for sex, so if this is your primary concern we recommend checking it out.
When it comes to selecting a mattress for sex you want to find a balance of the qualities that make a mattress good for sex and the ones that make it good for sleeping. That means that you'll want to look at how the bounce of the mattress relates to the motion transfer to make sure that you can get a restful sleep while also ensuring that the mattress helps rather than hinders your efforts when it comes to love making.
Many couples prefer hybrid designs when it comes to picking a mattress for sex. The combination of materials gives you a wider range of qualities, helping make the mattress good for sex and sleep, so no matter what you've got planned for the night, you can feel at ease knowing your mattress is up to the challenge.
Firmness and Feel
Firmness and feel might be the most important consideration when selecting a mattress as a couple. If both people like the same level of firmness, then this is an easy category to resolve. However, that's not always the case, and that means that couples will have to find a compromise that they can both enjoy.
Some mattress companies offer king mattresses that have different levels of firmness on different sides of the bed, allowing them to customize the mattress for a particular couple's needs. These split mattresses are the best option when it comes to making sure that everyone gets what they want. However, these mattresses are more expensive than most of the other options, and so they aren't right for everyone.
The best option for those who have different ideas of how firm a mattress should be is to look for mattresses that have a neutral firmness that will be enjoyed by many people. The Leesa, Purple, and Alexander Hybrid are good examples of this type of mattress. They offer a neutral firmness that will be stiff enough to satisfy those who like a harder bed, without being so firm that people who prefer a softer mattress will feel that they are sleeping on the floor.
Additionally, there are some mattress options, like the Helix, which offer fully customizable products. This offers the qualities of a split mattress while using only one single bed. As a result, you can make sure your mattress has the firmness and feel you need without having a harsh difference between the two sides of the mattress. This option is also ideal for people who have a medical condition or those whose body style means that they need certain qualities in a mattress. Out of all of the mattress companies, Helix does the best job of customizing a complete bed for couples, so if you like what they have to offer, consider a Helix mattress to get exactly what you want out of your bed.
| | | | |
| --- | --- | --- | --- |
| Mattress | Notes | Price | Review |
| Helix | Can be customized to fit your needs. Made from Latex, Microcoils, and Polyfoam | $945 | Review |
| Purple | All-around comfort. Made from Gel Polymer and polyfoam blend. Offers great response and bounce | $999 | Review |
| Leesa | All-around comfort. Made from Avena foam and memory foam. Good bounce and response | $865 | Review |
| Alexander Hybrid | Good for sex and sleep, made from pocketed coils and memory foam for best edge support and bounce | $999 | Review |
| Saatva | Most flexible, with three different firmness options. Construction is coil-on-coil with pillowtop cover. | $999 | Review |
| Loom & Leaf | Comes in two different firmness options and made from a combination of luxury foam and memory foam. | $1,099 | Review |
| Brooklyn Bedding | Three different firmness options available. Poly foam and latex construction for good bounce and cooling | $750 | Review |
| Luxi | Each side can be customized, offering the most flexibility and making it the best for couples with different sleeping needs. | $974 | Review |
Scroll to see rest of the table  >>>