Best Mattress for Sciatica
Jake Comfort  |  Updated: February 2023
Jake Comfort  |  Updated: February 2023
We have an affiliate relationship with and receive compensation from companies whose products we review on this site. We are independently owned and the opinions expressed here are our own.
The excruciating lower back pain caused by Sciatica can interfere with your sleep if you don't use the right mattress. If you suffer from Sciatica, you can find relief if you purchase a mattress that both alleviates pressure and keeps your body in a stable position throughout the night. Since even mild cases of Sciatica can keep you awake all night, it's important that you select a mattress that offers the appropriate support for this painful condition. 
| Mattress | Notes | Price (Queen) | Learn More |
| --- | --- | --- | --- |
| | Puffy offers a lifetime warranty on all their mattresses. The company spent over four years on research, foam formulations, and sleep trials to create the perfect mattress. | $850 | |
| | The goal of Bear mattresses is to help active individuals re-energize after a long day. Bear mattresses are made with either high-quality memory foam or pocket coils, both of which help relieve pressure and align your spine. | $1090 | |
| | Nolah touts itself as one of the best mattresses for side and back sleepers. They offer pressure relief and cool sleep all while maintaining durability for the long-run. These mattresses also have no heat-trapping chemicals that could disrupt your sleep. | $799 | |
What to Keep in Mind When You Buy a Mattress to Help your Sciatica
There are several factors you need to consider before investing in a mattress for Sciatica. Consider the following while you're shopping for the perfect mattress:
The Softness of the Mattress
Many people with Sciatica mistakenly think that a softer mattress will lead to less pain and improved sleep. The reality is a mattress that is too soft does not help with spinal alignment; you could end up with more sciatic nerve inflammation or compression. You'll end up sinking into the bed, throwing your body out of alignment.
Those who suffer from chronic Sciatica pain are better off with a firm mattress that provides pressure relief and good support. No, this doesn't mean you should sleep on the floor. Sleeping on a surface that is too hard can cause more problems such as poor pressure relief in the upper body. The best option is to find a mattress that is a mixture of both soft and hard, ultimately leaning more towards the firm side.
Pressure Relief Areas
The concept of pressure points originates from ancient Chinese and Indian medicine. In a nutshell, pressure points are areas on the body that are sensitive to manipulation and touch. A certain pressure point could cause pain, for example, if someone pushed against it using their thumb. Pressure points impacted the most by Sciatica are located around the pelvis.
You may be wondering what pressure points have to do with buying a mattress. When you lay in bed, pressure points are areas on your body that experience discomfort. Those with Sciatica would experience the most pain along their sciatic nerve. For this reason, a mattress needs to provide pressure relief, especially in the most sensitive areas for Sciatica sufferers. To get the ideal level of pressure relief, the mattress needs to help improve your spinal alignment and have the right level of support.
Quality and Durability
Buying a mattress is a big investment, and we recognize the importance of quality and durability. To ensure that you get a long-lasting mattress that will retain its comfort and support, we handpicked only brands known for their outstanding quality. The last thing you want to do is buy a new mattress every other year.
Sleeping Position
The best mattress for Sciatica should be able to support you in nearly every position. With that said, certain sleeping positions provide more pain relief than others. Many experts recommend that you sleep on your back with your heels against the bed. You should raise your knees and place a pillow or two underneath them. If you prefer to sleep on your side, you should place a pillow in between your thighs. Both positions can help reduce spinal pain.
A Closer Look at Sciatica and Pain Relief
Sciatica is a very common condition, up to 40% of all people will get it at some point in their lifetime. As you get older, your chance of having sciatic nerve pain increases. The pain caused by Sciatica is much different than what you experience when you pull a muscle or hurt your back carrying something heavy. Sciatica is triggered when the nerve fibers are pinched or irritated, and the pain isn't isolated to your back. You can also feel the effects of Sciatica in your foot, leg, and calf.
Many people may not realize they suffer from Sciatica because of the range of feelings it causes. For example, a mild episode of Sciatica could just cause a tingling sensation in your foot. A severe episode could include lower back pain so intense that you can't even get out of bed. Sciatica is usually caused when a herniated disk compresses part of the sciatic nerve.
There's no magic cure-all pill that will relieve you of sciatic nerve pain. Doing daily exercise, such as stretching, is one way to help reduce the discomfort caused by Sciatica. If you can isolate the region where you experience the most pain, you can also hold a cold pack against your body to reduce swelling and compression. In addition to exercising and using cold packs, the mattress you sleep on plays a big role in pain relief. Those who suffer from Sciatica should use a mattress that emphasizes pressure points and provides support for the lower back.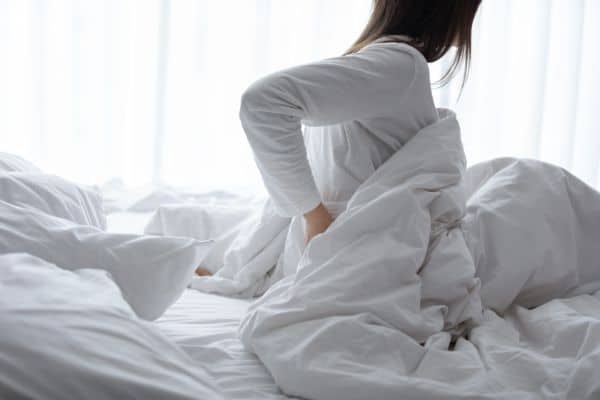 Puffy
Every mattress that you purchase from Puffy comes with a 101-night sleep trial, which gives you plenty of time to test out the mattress and see if it helps your Sciatica. Puffy offers both a "Puffy Mattress" and "Puffy Lux Mattress." Both mattresses will adapt to your sleeping type and have trademarked Cooling Cloud Temperature Regulation.
In addition to temperature regulation, Puffy mattresses have climate-adaptive materials and provide ultimate comfort pressure relief that will help ease your sciatic nerve pain. The memory foam technology contours to the shape of your body and if you purchase the Puffy Lux Mattress, you will get extra features such as a high-density transition comfort layer and special enhanced spinal alignment.
No matter your body shape or frequency of sciatic pain, Puffy mattresses are made for all types of sleepers. All the mattresses come with a lifetime warranty and the company offers free shipping and returns on every product.
Bear
A unique characteristic that sets Bear mattresses apart from other brands is that they are well-suited for athletes and very active individuals. With a Bear mattress, you can recharge tired and worn out muscles after a long day of exercise. Even though it is designed to rejuvenate your muscles, the Bear mattress also helps reduce lower back pain caused by Sciatica. As a matter of fact, Business Insider labeled it as one of the best mattresses for back pain.
Bear offers three different mattresses: Bear Hybrid, Bear Pro, and Bear Mattress. Bear Hybrid is the most luxurious, with Bear Mattress being the budget-friendly option. As the name suggests, the Bear Hybrid model is made with both memory foam and individual encased coils. The Pro and Mattress models only have memory foam. All the three mattresses have a contouring quality that helps your body rest comfortably.
Nolah
If you're a side or back sleeper that suffers from Sciatica, then a Nolah mattress might be perfect for you. Nolah offers both 10-inch and 12-inch mattresses that are equipped with pressure relief, back support, and cooling technology. Each mattress comes with a 120-night trial and a 15-year warranty. On top of that, Nolah offers free shipping and returns on all their products.
The founders of Nolah designed their signature mattresses using years of research and studies. Their mattresses are scientifically proven to ease pressure on your back, hips, and shoulder up to four times more than standard memory foam. At the base of each mattress is 7 inches of high-density foam that supports your lower back without trapping you in the same position all night. They also have a light cover that repels moisture and helps keep you cool while you're asleep.
A Final Glance at the Best Mattress for Sciatica
We understand that buying a mattress is a big investment, and with chronic sciatic nerve pain, picking the right mattress can be tricky. If you opt for a low-cost memory foam mattress, you could end up with more pain, especially if you don't get to try it beforehand. You'll also notice that the materials tend to deteriorate quicker. In some cases, you'll sink so deep into the foam that you'll have trouble shifting positions.
Everyone is different when it comes to Sciatica, just as everyone is different when it comes to sleeping habits. That's why it's so important to pick a mattress that will support your body type and alleviate the pain that you experience. The brands that we have presented are highly customizable and offer the needed support for every type of individual that suffers from Sciatica.