Best Mattress for Stomach Sleepers
Jake Comfort  |  Updated: July 27, 2019
It can be hard to pick out a mattress for anyone, but stomach sleepers face some unique problems that demand special attention. That's why we've put together this guide to help you understand the different factors in play when it comes to selecting the perfect mattress for stomach sleepers.
Top 5 Mattresses for Stomach Sleepers
Loom & Leaf – Memory foam construction, $1,099 for a Queen
Leesa – $865 for a Queen mattress, made from Avena and memory foams
Purple – constructed from polymer and poly foam, $999 for a Queen
Amerisleep Americana – Made from memory foam, $999 for a Queen
Brooklyn Bedding – Latex foam construction, $712 for a Queen
What to Look for in a Mattress for Stomach Sleepers
While we'll point out that stomach sleeping is one of the worst positions for your body, we're not going to spend lots of time or energy explaining this or convincing you to change. After all, the right mattress and pillow combination can go a long way toward reducing the negative effects of sleeping on your stomach, and we're not doctors and so won't give medical advice.
When it comes to getting the best mattress for stomach sleepers, the first thing you should look for is the proper support. It's important to note that support is not the same as firmness or comfort, although these are all related concepts. When we refer to support we are talking about how well a mattress keeps your spine and body in the proper alignment. Mattresses with good support help to reduce or eliminate pressure points which can cause you to toss and turn at night and can cause you to contort your body into positions that will leave you waking up with aches and pains.
Proper Support for Stomach Sleepers
Many people may not realize this, but your upper body, and especially your torso and mid-section, carry an enormous amount of pressure during the day. Sleeping on your stomach keeps the pressure on your torso and midsection. This can result in an uncomfortable sleeping experience and leave you tossing and turning instead of dreaming. Moreover, the lack of relief can lead to extended back pain, causing more tossing and turning and other complications.
It's easy to see how these situations can build on each other to the point that they can seem overwhelming to fix. However, the right mattress can make a world of difference when it comes to reducing back pain for stomach sleepers. The important thing is to select a mattress with the right kind of support.
Stomach sleepers benefit most from consistent support across their whole body. Many stomach sleepers have found that foam mattresses do the best job of relieving the pressure that can build up on your upper body when you sleep on your stomach. Others prefer spring and hybrid designs to take advantage of the qualities that these construction methods offer. The hybrid and spring options need to be thoroughly researched to ensure that they can offer the right kind of support, hug, and firmness.
Stomach Sleepers and Mattress Firmness
Stomach sleepers put more weight onto the bed at once than side or back sleepers do. As a result, they will benefit from a mattress that is medium to slightly-firm. On a scale from 1-10, with 10 being the most firm and 1 being the least firm, stomach sleepers generally want to be in the 4-7 range. This level of firmness can prevent your back from arching, which results in stiffness when you wake up in the morning. Additionally, a mattress that's too soft will result in your pelvis sinking down, misaligning your spine and creating the risk of other pains in your lower back, hips, or knees.
However, not everyone prefers a firm mattress. If you fall into this category then you should look into mattresses that have a more advanced foam or a combination of materials that can offer a combination of softness and support. You can also look into a mattress with a thin, soft foam or pillowtop layer. These options allow you to enjoy a softer mattress and get the comfort you deserve while at the same time providing the support that you need.
Another thing to keep in mind when it comes to getting the best mattress for stomach sleepers is that these sleepers have a thinner margin for error in the level of firmness that's best for their bodies given their sleeping positions. Getting the level just a bit off can result in intense and nagging pains that can be come severe if not dealt with properly.
Pillows for Stomach Sleepers
Oftentimes people will spend a good amount of time researching their next mattress purchase, but won't put any effort into looking at the different options they have for pillows, or to decide what kind of pillow is best for them.
This makes a degree of sense, given the cost involved with buying a new mattress relative to that of buying a new pillow, but just because it makes sense doesn't mean it's the right approach. Stomach sleepers have particular needs for their sleeping position, and the right pillow can make a difference between a good night's rest and a literal pain in the neck.
Attentive readers will have noticed that we've talked a lot about support and keeping your spine in alignment, and that theme continues with pillows. In order to get the best sleep experience, you'll want a pillow that helps to keep your spine and neck at the same level as your back. As a result, stomach sleepers generally benefit most from a flatter pillow, as these help to keep your body as flat as possible, maintaining a consistent alignment throughout your neck, upper, and lower back.
Many stomach sleepers prefer pillows that are made with shredded foam or noodled foam. There are latex and memory foam versions of these pillows. One of the best things about these kinds of pillows is that they are very adjustable, so you can make sure your head is resting at the best height to keep the rest of your body in the proper alignment, reducing neck and back pain.
If you're looking for more advice on how to select a new pillow, make sure to check out our handy pillow guide. It has even more tips and advice on how to find the perfect pillow for your good night's rest.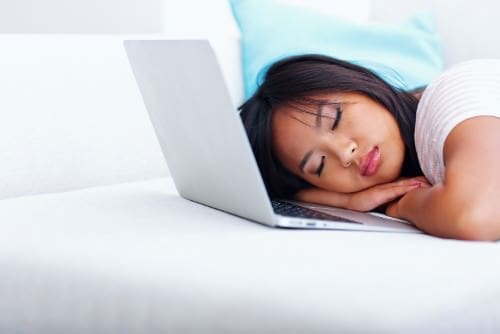 Best Mattress for Stomach Sleepers
| | | | |
| --- | --- | --- | --- |
| Mattress | Notes | Price | Review |
| Leesa | Offers a balanced feel, good bounce for a memory foam mattress, and great hug and support. Excellent value for price point. | $865 | Review |
| Amerisleep | Americana model, simple design is very appealing, has a great feel and uses high quality foams. Medium firm feel | $999 | Review |
| Loom & Leaf | Uses natural materials and offers great support for stomach sleepers while at the same time providing a balance with hug, contour, and cooling. Comes in three firmness levels | $1,099 | Review |
| Purple | Made from gel polymer and polyfoam construction. Provides fastest response and good bounce and cooling, especially among foam mattresses | $999 | Review |
| Brooklyn Bedding | Has more sinkage and hug while offering great bounce. Stomach sleepers will prefer the middle of the three firmness options. Offers excellent value for cost | $750 | Review |
| Alexander Hybrid | Offers good softness combined with support from zoned microcoils. Microcoils also provide good bounce, edge support and cooling. Comes in two different levels of firmness | $999 | Review |
| Helix | Allows the most customization by customer out of all mattress options. Also comes in split design for couples | $945 | Review |
| Saatva | Uses coil-on-coil design, gives great bounce and edge support from coils, along with excellent cooling. Comes in three firmness levels. | $999 | Review |
| | | | |
Scroll to see rest of the table  >>>