Best Place to Buy a Mattress
Jake Comfort  |  Updated: August 2023
Jake Comfort  |  Updated: August 2023
We have an affiliate relationship with and receive compensation from companies whose products we review on this site. We are independently owned and the opinions expressed here are our own.
Sometimes figuring out where to buy your new mattress can be almost as much of a challenge as deciding
which mattress to buy
. After all, humanity has never had more options when it comes to making purchases and receiving the goods and products they want and need.
In order to make the purchase process a bit simpler, we've put together this guide to give you a better idea of the pros and cons of various types of mattress vendor. We'll go over the different ways to shop for a mattress online, look at the different types of brick and mortar shops that offer mattresses, and then give you some guidelines on how to make a decision about the best place to buy a mattress for you.
Online Mattress Shopping
Online shopping is increasingly popular. Every year a greater percentage of commerce is conducted online, so why should mattresses be any different? After all, it can take time to shop for a mattress, and not everyone has the time or energy to drive from store to store to find out who has the best mattress at the best price.
There are three primary ways to buy a mattress online, direct order from the factory or manufacturer, online marketplaces like Amazon, and the websites of specialty stores the focus on selling mattresses and other home goods products.
Direct Order
The first option is one of the most commonly used when it comes to buying a mattress online: buying directly from the mattress maker. This purchase method comes with the advantage of reducing the costs. Because the customer is buying directly from the manufacturer, there's no intermediary who also needs to get paid. This results in a lower price for the customer, generally in a better profit for the mattress maker.
Another benefit to buying directly from the company is that many mattress makers do not have showrooms in most cities, so their website is usually the only place you can buy their mattress. Companies that sell mostly direct to consumers are known for generous trial periods and excellent return and refund policies.
The trial periods and return and refund policies are a boon to consumers, as one of the biggest downsides to buying a mattress online is that you don't have a way to try it out before you buy it to make sure it preforms like you want it to. After all, people are (rightfully) much more picky about their mattress than they are another appliance like a toaster, because while all toasters maker toast, all mattresses don't offer a great night's sleep to every person.
Marketplaces
Online marketplaces are sites that offer a wide variety of goods. Amazon is a great example of an online marketplace. These marketplaces are usually populated by sellers who also have their own website, but enjoy the increased exposure they get from having another channel to make sales. Additionally, these sites frequently have gift cards, so you can put your holiday present toward buying the mattress of your dreams.
One thing that's important to note is that manufacturers are less likely to offer the same return and refund policies or trial period that you would get if you made your purchase directly from them. Moreover, because the marketplace takes a piece of the sale, the prices for these venues might be a bit higher.
Specialty Stores
There are plenty of stores that specialize in selling sleep goods and other home goods, and most of these stores have a website of their own. This is a good option if you want to buy from a physical store, but they are out of stock for the mattress you have your eye on.
Brick and Mortar Shopping
Of course, there's nothing wrong with doing things the old-fashioned way. Plenty of people prefer to make larger purchases in person so they know who they are dealing with, and brick and mortar mattress options are readily available.
Online Company Showrooms
Some online mattress retailers have showrooms. Usually these only exist in the biggest cities or close to where the mattress company is based, so your access to them might be limited.
Department Stores
Department stores are another common option for buying mattresses in person. Department stores have been the go-to source for large purchases like mattresses and appliances for years before stores started to specialize and the internet made instant transactions over vast distances a breeze. Buying at a department store means that you'll get to see a wide range of options from different companies. Moreover, these stores almost always have a staff member on hand who can help point you to the best options for you to consider. However, you're likely to face a steep markup if you're buying a mattress at a department store, as the department store has a great deal of overhead and also has to turn a profit.
Specialty Stores
Finally, there are stores that focus on home goods and sleep products. Bed, Bath, & Beyond is an excellent example of a store that specializes is a few things, one of them being mattresses. These stores have the advantage of offering all the accessories you'll need for your new mattress in the same place as your mattress, so you can leave the store with a mattress from one company, pillows from another, and sheets from a third all while making one transaction. Moreover, because of their specialization, they're likely to have more on offer than a department store. You should know, however, that they face the same issues as department stores when it comes to cost, although their specialization usually means they're one of the cheapest brick and mortar options available.
Best Place to Buy a Mattress
As you can see, there are plenty of places to get your new mattress, so here are some guidelines to help you determine if you should be buying online or buying from a physical store.
Buy Online If….
The first reason to buy online is that you want the best price. Online sales usually cut out intermediaries, which keeps the cost down. Moreover, if a manufacturer runs a sale you'll know it, so any savings go directly to you, instead of padding a middleman's profit margin.
Online shopping is also the best option if you want the biggest range of options. Brick and mortar stores are limited in the amount of showroom and storage space they have to display and keep their inventory, which necessarily limits it. The digital realm doesn't have this problem, so you'll get many more options
Finally, online shopping is the best bet if you want to shop from home. You can avoid interacting with pushy salespersons and use different tools to quickly and simply compare the mattresses you are considering. This allows you to make an informed decision while maintaining your peace of mind.
Buy from a Brick and Mortar If….
The best reason to buy a mattress from a brick and mortar store is if you want to try it before you buy it. Even with wonderful reviews, it can be hard to tell how a mattress will feel until you are laying on it. However, this advantage is slightly reduced by the generous trial offers and return policies that most online mattress retailers offer.
You should also look at a physical store if you're not as worried about price. Buying a mattress is a large expense, and there's nothing wrong with preferring to interact with a real live human when you're spending large amounts of your hard-earned money.
Our Top Picks
These are the best mattresses we found according to customer reviews and expert reviews. 
EDITOR'S CHOICE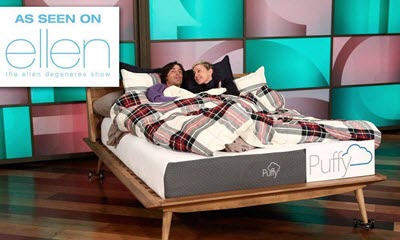 What Makes Puffy so Good?
101-night sleep trial to ensure total comfort
Free shipping
Place on any surface
Get $300 off - Limited time only!
Check out Puffy
EDITOR'S CHOICE
Why we chose Saatva:
Best-priced luxury mattress
Features Lumbar Zone Technology for back-relieving support
Highest quality materials and eco-friendly
Handcrafted in the US
 
Check out Saatva