Jake Comfort  |  Updated: February 2023
Jake Comfort  |  Updated: February 2023
We have an affiliate relationship with and receive compensation from companies whose products we review on this site. We are independently owned and the opinions expressed here are our own.
Casper and Purple are two American mattress makers that have grown to share a large portion of the online mattress industry. Both of these companies have their own unique sets of advantages that have helped them become extremely popular manufacturers in the industry. Today we will take an in-depth look at both manufacturers to help you determine which of the two mattresses is most suited for you. Keep in mind there are plenty of other mattress reviews on our website, so if you find that neither of these mattresses is right for you, keep having a look.
Purple Mattress Review
Purple is a primarily foam based mattress that also uses polymer to make up some of the layers in their products. They're one of the only mattress companies taking advantage of this unique material combination.
If you order a Purple mattress, you'll also benefit from a 10-year warranty. If you're not satisfied with your bed in the first 100 days of usage, you can return it completely free of charge. In addition, if you order online, the bed will be shipped directly to your home completely free of charge.
Construction
The Purple mattress is a three-layer mattress that uses both foam and polymer to create the composition of the bed. While it has less layers than the Casper mattress, it has different benefits that may be more suitable to different consumers. A full exploration of each of these components is provided in the next section.
Layers
Top
This layer is manufactured using hyper-elastic polymer. It is 2" thick. The purpose of this portion of the mattress is to provide as comfortable and cool of a sleeping experience as possible. It also provides a bit of resistance in the form of a bounce that is not seen in many other top layers.
Middle
This layer provides some transition between the top and bottom layer of the mattress. Without this layer, there wouldn't be any buffer between the top layer and the support region of the mattress. This is actually constructed with polyurethane foam – it is 3.5" thick, which is considerable for a middle layer.
Bottom
The bottom layer is also made from polyurethane foam – it is 4" thick. The foam that makes up this layer is slightly more dense – it's employed to supply support to the rest of the mattress.
The three layers that Purple uses are designed to provide the owner with the best traits possible. The mattress aims to provide as much comfort as possible without creating too much heat retention. This it the primary aim of many modern mattresses and Purple mattress manages to hit the nail on the head.
Cover
The Purple mattress cover is fairly similar to that of the Casper cover, there's not much differentiation. The only major difference is the materials used to construct it. Instead of polyester. Purple mattress uses a blend of polyester-lycra, viscose, and polyester. This gives the mattress cover the breathable texture it needs to allow the owner to fully experience what's under the sheets.
In terms of aesthetic design, the mattress looks clean and modern. There is a diamond pattern exhibited on the mattress along with a Purple mattress logo.
Mattress Comfort and Support
At the end of the day, the most important thing about a mattress is how it feels. The primary deciding factor in your mind will be whether or not you think you will be able to sleep enjoyably in the mattress. Luckily, the popularity of the Purple mattress is largely down to how comfortable it is. But this isn't to say that it's perfect for everyone. Depending on your size and weight distribution, the Purple mattress might not be right for you. The mattress scores just above average when it comes to firmness – 6.5/10. So, it's not a bad choice if you're trying to find something if you're not too heavy.
This being said, if you're part of a normal weight distribution, you'll probably find that this mattress is extremely enjoyable to sleep on. Many past owners rave that there is plenty of support without the unwanted pressure points that some mattresses can cause. That's why this has become a really popular mattress with people who sleep in unorthodox positions. If you like sleeping face down or on your side, this is one of the best mattresses to buy.
Another group of people who have really enjoyed the Purple mattress have been those who have bad joint or body pains. The solid support combined with comfortable, hugging materials has made it extremely pleasant to sleep in. Many people claim it has helped them get a great sleep despite ongoing joint pain.
Overall, this has been one of our favorite mattresses to review. The unique materials used to manufacture that mattress really allow the Purple mattress to differentiate from the crowd. The elastic polymer that is used for part of the mattress is a great addition – it means that you don't feel like you're sinking into the mattress like you sometimes do with memory foam. No matter what your preferences, if you think this is the type of mattress you'd be interest in, it's most definitely worth checking out.
Pricing
The price of the Purple mattress is in-line with many of the top-end competitors in the market. Although it must be said, their smaller mattresses are a bit more expensive than many of the other mattress makers. Keep in mind that you won't have to pay for any shipping when you order a Purple mattress, this means there are no hidden fees or charges.
| | |
| --- | --- |
| Size | Price |
| Twin XL | $699 |
| Queen | $999 |
| King | $1,299 |
| California King | $1,299 |
Other Info
Shipping– Free, compressed in a box
Warranty– 10 years
Trial Period– 100 nights
Made in the USA
Weight– Queen size mattress weighs 110 pounds
Casper Mattress Review
Casper mattress is a favorite amongst our readership. The American based mattress maker has grown exceedingly popular – they're now one of the most recognizable online mattress brands on the market. They were one of the first companies to truly penetrate the online mattress industry and provide free shipping to all their customers. While at first glance the Casper and the Purple mattress seem quite similar, there are really a lot of differences when you take a deeper look.
The Casper mattress also comes with a 10-year warranty, as well as a 100-day money back guarantee. If you're not satisfied with the mattress in the first 100 days, you can return it for a full refund – no questions asked. In addition, like Purple, Casper offers free shipping on all their mattresses.
Construction
One of the primary differences that separates Casper from its competitors, including Purple mattress, is the fact that it has four layers. This may not sound like a major difference, but the amount of research and development that Casper has put into this decision would indicate otherwise. Casper has become extremely successful because of the way they design their mattresses. We'll explore each layer in additional detail below.
Layers
Top
The top layer is one of the most important components of Casper's design. It consists of 1.5" of poly foam – this foam segment is highly responsive and retains a bit of bounce, something that you don't find with traditional memory foam mattresses. This level of the mattress also allows for more breathability as the material doesn't hold heat. One of the major complaints with modern foam mattresses is that they don't dissipate heat well enough – Casper ensures this isn't a problem.
Second
This layer is another important component of the Casper mattress – it consists of 1.5" of memory foam. Because memory foam often holds heat, Casper has made this the second layer in order to allow the top layer to prevent too much heat retention. This has done a great job of making this mattress as comfortable and easy to sleep in as possible.
Third
The third layer is the same as the top layer – this is done in order to provide a transition layer, as well as provide extra breathability for those who are sleeping on it.
Bottom
As with any foam mattress, the bottom layer is all about support. This bottom layer is 5" of extremely dense poly foam. It ensures that those who sleep on it aren't simply sinking into foam. Without this layer, the mattress would have no firmness.
The Casper mattress's four separate layers allow owners to benefit from a range of materials that have been proven to complement one another. You'll find that the mattress provides as much comfort as possible, without sacrificing too much support.
Cover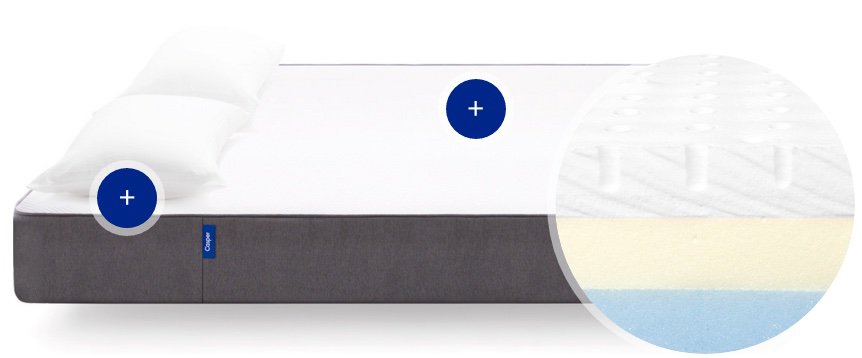 As with the Purple mattress, the Casper's cover is nothing particularly special. It is a light and stretchy plane white cover that does its best not interfere too much with the texture of the mattress. You may think that this is a bit of a short cut by Casper, but it's actually a well thought out strategy to prevent heat retention. One of the easiest ways to make a bed too hot is too put a thick cover on it.
One of the only differences between the Casper and Purple mattress's cover is the materials it's made out of. The Casper mattress is made out of 100% polyester (on top) which allows for minimal interference with the mattress. The sides are made of a mixture of polyester and polypropylene – this allows for extra thickness on the sides. This design allows for additional edge support, which is always a plus when it comes to foam mattresses.
Mattress Comfort and Support
Casper has tried to avoid extremes in regards to how firm their mattress is. On our scale of 1-10, Casper scores 6/10 for support – landing it somewhere in the middle of the mattresses available on the market. This is quite a considerable amount of support for a foam mattress, but it won't be suitable for everyone. If you find that you weigh more than 250 pounds, the Casper mattress is probably not best for you – it won't give you the support you need to have a good night's sleep.
The great thing about Casper, as well as most other modern mattresses, is that you don't have to decide if it's the right mattress for you until the first 100 days are over. You should make sure that you truly feel that this is the best mattress for you before your money back time period is over.
If you are in the right weight distribution, you'll find that the Casper is a really comfortable bed. It has the traits of memory foam mattresses without as many problems with sinking. This is because the top layer of the mattress does a better job of creating a general impression of your body.
Pricing
As you can see, Casper is slightly cheaper than Purple mattress. As mentioned previously, you don't have to pay for delivery with Casper either so there are no hidden fees or charges. If you're looking to buy a twin bed, you can save considerable money going with Casper instead of Purple mattress. The low price Casper offers is one of the reasons this mattress brand has been so popular – you're not forced to sacrifice money for quality.
| | |
| --- | --- |
| Size | Price |
| Twin | $550 |
| Twin XL | $600 |
| Full | $800 |
| Queen | $950 |
| King | $1150 |
| California King | $1150 |
Other Info
Shipping – Casper offers free shipping and will deliver in 2-7 days, although Amazon Prime customers can get guaranteed two-day shipping.
Warranty – 10 years, standard for the mattress industry.
Trial – 100 nights, which is also about the standard amount of time you get for a trial these days.
Verdict
Both of these mattresses score highly with their customer base. They provide the benefits of memory foam without too much of a hugging effect. The heavier you are, the more you might be inclined to go with Purple mattress as there is slightly more support in the base of the mattress. This being said, if you are a lot heavier, neither of these mattresses are going to be a great fit for you. Check out some of our other mattress reviews if this is the case.
In terms of pricing, you're looking at similar prices, although Casper is a bit cheaper. This may surprise people as Casper has a lot more brand recognition around the country. Either way, the prices are competitive given the quality of the mattresses.
Before you decide on which mattress is right for you, you should write down a list of factors that are most important to you and truly assess which mattress fits these requirements the most.