Jake Comfort  |  Updated: August 2023
Jake Comfort  |  Updated: August 2023
We have an affiliate relationship with and receive compensation from companies whose products we review on this site. We are independently owned and the opinions expressed here are our own.
Ghostbed and Purple are two mattress producers that have taken the industry by storm. They're part of a broader group of domestic producers that have aimed at providing the everyday American consumer with top-end mattresses for a fraction of the price. Foam mattresses have long been
a favorite product amongst Americans
– the Tempurpedic Cloud is one of the most sought after mattresses on the market.
We've compiled this comparison to help you choose between the two mattresses if you're having trouble deciding. Both companies have provided their own unique advantages while manufacturing their mattresses, so it's important to understand which ones are more relevant to you. Think to yourself or talk to your partner about the exact things you're looking for in a mattress. It's really important that you're honest with yourself about the types of things that you value when you're looking for a mattress – this is one of the most important long-term investments you can make in your comfort.
Purple Mattress Review
Purple is one of our favorite mattress providers. They provide a really unique combination of comfort and support. The top layer of the mattress is well known for feeling like a cloud. But Purple hasn't just done a good job at providing affordable mattresses. They've also been really great about including a lot of extra benefits.
If you order a Purple mattress, you will be given free shipping straight to your door. In addition, you'll be given a 10-year warranty on your mattress which will protect against any defects. Lastly, you can try the mattress for 100-night and return it free of charge if you are not happy with it.
Construction
The Purple mattress is constructed using three-layers of different foams. The total width of the mattress is 9.5" – a fairly decent size. In the section below, we will overview the different layers and what their functions are.
Layers
Top
This layer of the mattress is constructed using a unique hyper-elastic polymer. The nature of the material means that the mattress provides a lot of extra bounce. It also means the top of the mattress is extremely soft while still maintaining its consistency. The polymer is designed in a grid like formation to provide breathable spaces which reduce heat retention. This layer of the mattress is 2" thick.
Middle
This layer is a transition layer that is made from polyurethane foam. It provides a buffer region that ensures the top layer doesn't transition too quickly to the support layer. This layer is 3.5" thick.
Bottom
This layer is 4" thick – it is made with extremely dense polyurethane foam. It is the foundation for the entire mattress.
Cover
The Purple mattress has an extremely comfortable cover that is made from a combination of different materials. The company has used a blend of polyester, viscose, and polyester-lycra to make an extremely flexible and durable cover. This provides extra breathability that you might not find in a thicker mattress cover. The cover is also very easy to wash.
Mattress Comfort and Support
The main things that you should consider when deciding on a mattress are comfort and support. These two elements are what decide whether or not a mattress is viable for you or your partner. Too little support, and you'll sink right to the bottom, which will result in a bad sleep and back problems. Too much support, and you'll find that the mattress is entirely unenjoyable to sleep in. For this reason, it's important to consider your weight and the type of mattresses you enjoy when you are assessing what levels of support you may need.
The Purple mattress falls right into the middle of the support ranges. We've done a variety of tests on the mattress and have come to the conclusion that it will be suitable for anyone who weighs a normal weight, or who is underweight. Those who are overweight will most likely need to find a mattress that has a bit more to offer in the firmness department. Unfortunately, Purple only offer one mattress, so you will have to look at other brands if this is the case.
As mentioned previously, the Purple mattress does really well in staying cool. The breathability of the mattress is truly exceptional when compared to other foam mattresses. This is largely down to the grid shaped layer that is on top of the mattress – the air pockets allow for air to flow through and prevent heat buildup.
In terms of comfort, this is a mattress that is extremely hard to beat. The top layer of the mattress feels as soft as a cloud – literally. Purple have released promotional material that shows you can forcibly push an egg onto the top of the mattress, and it still won't break!
Prices
As with many of the new foam mattresses on the market, Purple mattress is much more affordable than the foam mattresses that have dominated the scene for the past few decades. If you compare a Purple mattress with a Tempurpedic mattress, you'll be astonished at how much cheaper they are. This being said, when compared to other newcomers in the industry, the Purple mattress is a bit more expensive than many competitors.
| | |
| --- | --- |
| Size | Price |
| Twin XL | $699 |
| Queen | $999 |
| King | $1,299 |
| California King | $1,299 |
Other Info
Shipping– Free, compressed in a box
Warranty– 10 years
Trial Period– 100 nights
Made in the USA
Weight– Queen size mattress weighs 110 pounds
Ghostbed Mattress Review
Ghostbed is a bed that is manufactured by parent company Nature's Sleep. It has been designed to be their hallmark foam mattress that is provided at a reasonable cost when compared to competitors. The mattress has become extremely popular with American consumers. It is one of the cheaper options for those who are seeking to enter the foam mattress market at an affordable price. As with all Nature's Sleep products, the Ghostbed is manufactured right here in the United States.
The Ghostbed is sold to you with a wide variety of additional benefits. The warranty on the mattress is actually 20 years long – which is twice as long as most mattress producers in the country. In addition, you can return the mattress within the first 101 days of purchasing – you will receive a full refund. Lastly, you never have to pay for shipping, which means that the price you pay is the full price – no hidden fees or charges.
Construction
The Ghostbed is constructed using a three-layer system that takes advantage of a few different unique materials. We will overview each of these materials and the different layers in more detail below.
Layers
Top
This layer is made from a unique latex foam – it is a much more breathable approach to a foam mattress. The latex also provides a bit of resistance which many people find more appealing than traditional memory foam. This layer is 1.5" thick.
Middle
This layer is made from a very comfortable gel memory foam material. Again, this is much more breathable than your typical memory foam. It allows for a great degree of comfort and relief that can help alleviate stress and pain. This layer is 2" thick.
Bottom
This is the foundation of the Ghostbed mattress. It is 7.5" thick – making it by far the thickest part of the mattress. It is manufactured using high-density foam that does a great job of supporting the rest of the mattress.
Cover
The cover of the Ghostbed follows recent trends in the foam mattress industry – it has been constructed using 100% polyester. The reason for this really comes down to functionality. Nature's Sleep wants you to be able to interact with the top of the mattress, so they have decided against a thicker mattress cover which may get in the way.
Typically, a thick mattress cover means the manufacturer is trying to hide something about the quality of the mattress. This mattress cover allows for plenty of breathability and also allows for easy washing. It also provides some additional support. The material is very stretchy and durable – it won't lose its ability to be strong and tight anytime soon.
Mattress Comfort and Support
The Ghostbed is a uniquely comfortable mattress. It has been made to appeal to the mass market, which means that its traits are not extreme in any particular direction. We have done extensive testing on the Ghostbed mattress and have concluded that it ranks at about a 6.5/10 on the support scale. This means that it is slightly above average in terms of support.
The mattress may not be suitable to someone who is underweight – this isn't the best mattress to purchase a child or young teen. It is also not the best option for someone who is very overweight. It may seem like a decent level of support, but this won't apply to someone who weight over 260 pounds.
The Ghostbed mattress provides you with the feeling that you are sinking when your fist lie on it. This may be startling at first, but it is quite a nice feeling when you get used to it. The compression really allows you to feel the mattress around you as you sleep.
You'll find plenty of praise for this mattress online. It has managed to solidify itself as one of the best mattresses on the market, especially in terms of value. This has been a real winner for Nature's Sleep, who were trying to find an affordable way into the foam mattress industry.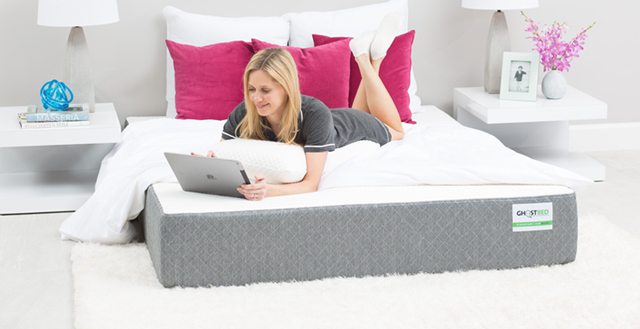 Pricing
You might be expecting the Ghostbed to be really expensive after hearing all the wonderful advantages it brings its sleeper, but this isn't actually the case. The Ghostbed is one of the most affordable foam mattresses on the market. In fact, one of the only brands that has managed to beat the Ghostbed is Tuft & Needle. This mattress is much cheaper than the Purple mattress mentioned above. Look below for a list of prices and mattress sizes available:
| | |
| --- | --- |
| Size | Price |
| Twin | $495 |
| Twin XL | $650 |
| Full | $775 |
| Queen | $795 |
| King | $975 |
| California King | $995 |
Other Info
Shipping – Shipping is free, which is nice considering a queen mattress weighs 89 lbs. The mattress will go out within 24 hours of your order, and arrives compressed in a box. We'd also like to note that the 24 hour turnaround time from order to shipping is faster than many of the other foam mattresses sold by online retailers.
Warranty – 20 years. This is longer than the industry standard of 10 years and a good indication that Nature's Sleep stands behind the GhostBed mattress.
Trial Period – Nature's sleep will let you try the bed for 101 nights to ensure it's right for you.
Made in the USA
Weight Limit – The GhostBed is designed to hold up to 700 lbs.
Overview/Comparison
After reading this comparison, you're probably a little overloaded with information. It can be hard to decipher everything when you're trying to decide on the right mattress. You should consider all of the information that we've mentioned in this article. But we've also compiled a table that provides a more specific look at the details of each product. If you'd like to understand a bit more about the products at hand, have a look at the table below:
| | | |
| --- | --- | --- |
| | GhostBed | Purple |
| Foam Layers | 1.5″ latex foam, 2″ gel memory foam, 7.5″ support foam | 2″ hyper-elastic polymer, 3.5″ polyfoam, 4.0″ polyfoam |
| Height | 11″ | 9.5″ |
| Cover | Soft, thin, good stretch, good cooling | Soft, moderately thin, great cooling, great stretch |
| Firmness | 6.5 out of 10 | 6-6.5 out of 10 |
| Support | Very Good, supports up to 400 pounds per side | Very Good, supports up to 300 pounds per side |
| Motion Transfer | Minimal | Minimal |
| Price – Queen | $795 | $999 |
| Price – King | $925 | $1,299 |
| Warranty | 20 years | 10 years |
| Trial Period | 101 nights | 100 nights |
| Shipping | Free, compressed in a box | Free, compressed in a box |
| Refunds & Returns | Yes, 100% money back | Yes, 100% money back |
Verdict
Both Ghostbed and Purple have awesome mattresses to choose from. Unfortunately, they are quite restricted in their offerings in terms of support. If you don't enjoy how supportive the mattresses are, there aren't different editions to choose from.
In terms of value, the Ghostbed is really hard to beat. It is one of the cheapest mattresses on the market, and it also happens to have the longest warranty – Nature's Sleep have a lot of faith in their product.
Purple mattress is a bit more expensive, but it has its advantages. It truly has one of the most comfortable top layers available. It also has one of the most breathable top layers on the market. If you get hot easily when you sleep, this is the perfect mattress. It is also slightly less firm than the Ghostbed, which some people may enjoy more.
Remember, if you don't like either of these mattresses, there are still plenty of other great brands out on the market. You can see reviews and comparisons of other mattresses right here on our website.