Guide for Buying New Mattresses
Jake Comfort  |  Updated: February 2023
Jake Comfort  |  Updated: February 2023
We have an affiliate relationship with and receive compensation from companies whose products we review on this site. We are independently owned and the opinions expressed here are our own.
Having a good night's sleep is crucial for staying healthy and happy. Though it depends on various factors such as stress level, comfort, room temperature etc, your mattress is the prime thing you should focus upon. Remember that picking up the wrong mattress would simply lead to sleepless nights and lazy mornings. There're different kinds of mattresses available in the market that can cost you anything between a couple of hundreds and several thousands.
Things to Consider Before Buying New Mattress
Ideally, a mattress should provide optimum support to your body in neutral positions, which means your spine should have a fine curvature and your head, shoulders, heels and buttocks are supported in appropriate alignment. In this post, we've jotted down a complete guide to offer help when you're out there in the market to purchase your new mattress.
Is it time for a new mattress?
Ideally, you should change your mattress when you find unsupportive springs and lumps on it. However, it may not be possible to find out these signs, at times. But there're some easy-to-see pointers that can tell you it's time to change your mattress, some of the most common ones being:
You wake up with pains and aches that take time to dissipate
Your mattress exhibits visible signs like sides breaking down or sagging
You feel the mattress's coils when lying on the bed
You roll toward the center of the bed or toward the edge of your bed
You hear creaking sounds on the mattress when moving around
Regardless of the room temperature, you feel extremely hot in bed
You've developed a recurring back pain
A valley has grown in the section of your mattress where you normally sleep
You're using it for over eight years
Budget
Budget varies from one person to another. Unlike a couple of years ago when the only option was visiting a brick and mortar store when it comes to buying a mattress, the ecommerce industry has evolved  lot today, making it possible for you to shop for a great mattress online. Remember that in the mattress industry, more money isn't synonymous with better mattress.
Price of mattresses varies greatly – like we said earlier. So, at first, decide on your budget and make sure that you don't cross it and then focus on the key things such as comfort, durability, support and size. If price is your first consideration, then you should focus on online mattress retailers because they eliminate the middleman and offer the consumers the lowest possible price. You should also keep in mind that all mattresses aren't created equal. That's why it's crucial to invest in a mattress that offers a good warranty and look for a company that provides great customer service.
Ideally, your budget for buying a new mattress should be around a few thousand bucks. It may seem like a lot of money sometimes, but remember that the mattress will be with you for a significant time period, thus making it worth spending the money.
Talk to your doctor
Sleeping on the wrong mattress can lead to or aggravate back pain. An ergonomic mattress advocates fine sleeping postures, eases muscles and usually provides wholesome, healthy sleep. That's why you should consult your doctor first before buying a new mattress. Doctors aren't definitely mattress experts but they have a good knowledge of your medical condition and thus would be able to provide some effective suggestions from that point of view.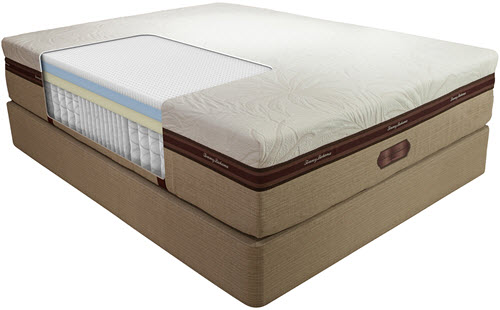 Types of mattress
The kind of mattress a person needs varies in accordance with his/her preference. You can find a lot of variations in mattress types, which often makes it a daunting task to decide on the perfect one. But fret no more as we've listed down the most common types of mattresses to help your selection process.
Hybrid mattress: These mattresses are created from a combination of polyurethane foam, latex, coils and/or other components. Hybrid mattress are generally designed to maximize specific benefits while lowering certain negative effects. For instance, a memory foam + latex hybrid mattress is capable of providing substantial pressure relief and support through the memory foam, along with offering good bounce, responsiveness and cooling through the latex.
Latex mattress: As the name suggests, these are full of latex foam, which is a particularly breathable material. This means you won't be overheated during your sleep. In addition, Latex mattresses are known for their great comfort, responsiveness and bounce. They provide extreme durability and should last almost for a decade. It might become difficult to turn these mattresses because of their heavy weight.
Memory foam mattress: Built exclusively from memory foam, memory foam mattresses are famous for their great pressure relief, support and body contouring. Though in the earlier days, memory foam had a poor reputation of 'getting hot', the scenario has changed now with new-age memory foams coming with finer cooling properties that make these mattresses much cooler compared to their earlier counterparts.
Innerspring mattress: These are the mostly used among mattresses. They fundamentally comprise of a comfort layer and a spring zone. The innerspring provides appropriate support during your sleep and the combination of different fibers and foams provide differing levels of comfort and softness. Pillow top mattresses come equipped with additional comfort coating on the top for providing extra supportive comfort on the surface.
Mattress sizes
It's crucial to decide on the size that you'll need when it comes to buying a new mattress. When determining, make sure to consider your bed frames that may be extended than the length and width of your mattress. In case your bed frame has drawers underneath, consider that as well so that you can have room to open them. Next, you need to make sure that your mattress suits your needs and is comfortable so that you can have a good sleep to keep your mind and body healthy. Here's is a list of size and respective dimensions of mattresses.
Twin size                –                 39 inches wide x 75 inches long
Queen size             –                 60 inches wide x 80 inches long
King size                 –                 76 inches wide x 80 inches long
Ideally, you shouldn't look for anything less than a queen size. If a king size mattress is within your budget and you have space to accommodate it, getting one would be even better.
Sleeping positions
We all have our own sleeping habits and way of attaining comfort throughout the night. The sleeping positions can be divided into three main categories – side, back and stomach. Unfortunately, many people don't look for a mattress that can support their sleeping style. Each of these styles comes with its ideal firmness level and certain needs.
Side: Side sleeping position is considered as one of the healthiest positions as it helps lower acid reflux. Side sleepers don't always stay in the same position meaning they change their position a significant number of times throughout the night. A mattress that provides soft to medium amount of firmness is ideal for such sleeping position.
Back: Support and firmness are both crucial for back sleepers. A mattress that's too soft can trigger pressure points on the back of the sleeper. Additionally, if the mattress fails to support the sleeper, the spinal alignment might be disturbed, which could generate prolonged back problems. The ideal mattress for this position should provide adequate softness with great support.
Stomach: Sleeping on the stomach puts a huge pressure on your lungs and breasts making this an unhealthy sleeping position. Hence, stomach sleepers should look for a soft or plush memory foam mattress.
Mattress firmness
This refers to how soft or hard your mattress feels and it's important to consider since it significantly affects your sleep. It's important to note that firm mattresses aren't always good for your back. Firmness of a mattress is highly subjective and depends on different factors such as your body weight, type and size, among others. Consumers often get confused between firmness and support. Firmness is somewhat related to comfort provided by the mattress while good support means it helps keep the spine in appropriate alignment without generating pressure points. Here, we've explained the level of firmness that's ideal for different kind of sleepers.
Soft: Ideal for those who sleep in side positions.
Medium soft: Perfect for people who frequently change their sleeping positions throughout the night.
Firm: Ideal for front sleepers or those dealing with back pain.
Medium firm: Best for the people who sleep in the back position.
Test-drive your new mattress
When buying a new mattress, go to several stores and try out different kinds of mattresses by lying down on them for a minimum of 10 to 15 minutes and see which one you find comfortable. Remember that a firm mattress doesn't have to be comfortable always; instead, it all depends on you. Ideally, you should try them by lying down on them in every way possible – right side, left side, stomach and back. Don't feel hesitant because it's a crucial part of the buying process.
Check the warranty
Warranty is definitely an important thing but that not much as you may think. A mattress can come with a 20 year warranty but the life expectancy of good mattresses is only approximately 10 years. A warranty safeguards you from problems and defects. When purchasing a new mattress you must checkout things like the return policy of the company, whether there is any restocking fee, return fee or penalty fee. It's important to note that the warranty can be made void due to certain reasons such as use of any inappropriate frame / foundation and presence of soiling, staining or fluid penetration. To make the warranty of your mattress work, you should maintain the following:
You must keep it free of any rips, stains, damage or tears.
Your mattress must fulfill the guidelines set by the manufacturer and as outlined in the warranty card.
Mattress toppers
Mattress toppers are additional layers of cushioning that go above the mattress before you put the bed sheets on. They not only provide additional comfort and support but enhance the feel of your bed in terms of a cozy and luxurious quotient. If you want to have a good night's sleep, improve your health and save money, you should consider purchasing a mattress topper. A mattress topper accomplishes the following things:
Gives the mattress a "new" feel for a prolonged time
Keeps it polished
Helps safeguard the warranty
Helps avert dust mite allergies from developing
You can choose your mattress topper from a wide array of materials such as polyester, goose feathers, wool and cotton, just to name a few.