Hampton and Rhodes Mattresses: Good, Bad, and Everything Else
Jake Comfort  |  Updated: February 2023
Jake Comfort  |  Updated: February 2023
We have an affiliate relationship with and receive compensation from companies whose products we review on this site. We are independently owned and the opinions expressed here are our own.
Finding the right mattress can be difficult for consumers. It's important to know more about each mattress based on user experience to determine the quality of the mattress and brand you're looking at, especially since the reviews come from real people who have used it before. Since each person is unique, their needs will differ. Some people prefer firmer mattresses. Others prefer a softer mattress that contours more to their body type and sleep pattern.
Hampton and Rhodes isn't as well-known as some of the other brands out there. However, this company still offers quality mattresses at affordable prices, depending on the consumer's specific needs. The cost and style can vary depending on the type of their mattress while still serving the vital purpose of helping the individual buyer getting a good night's sleep. Keep reading to find out information regarding the good, bad, and everything else when it comes to Hampton and Rhodes mattresses.
Construction
Hampton and Rhodes has lots of mattresses on offer. That means it's likely that that'll have the type of mattress you're looking for, whether it's a traditional innerspring, a memory foam, or a hybrid pillowtop mattress.
Each type of mattress that Hampton and Rhodes makes has a few different variations. These variations have to do with the thickness of the specific mattresses. Keep that in mind as we review the construction for the three types of mattresses the company makes.
Memory Foam
Memory foam mattresses are increasingly popular. Hampton and Rhodes offers an 8" memory foam mattress called the Cool Gel Mattress.
The Cool Gel mattress consists of two layers. The top layer is a special cooling memory gel that helps to dissipate heat. The second layer is a firmer foundational layer that acts as the base of the bed's support.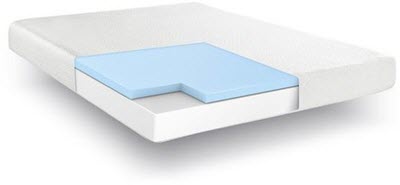 Innerspring and Hybrid
There are more innerspring and hybrid mattresses on offer from Hampton and Rhodes than any other type of mattress. A prime example of their hybrid mattress is the Trinidad. This mattress is a 10.5" hybrid. It features two foam layers over a pocket spring setup.
The soft upper layers provide good support for most sleepers. However, heavier sleepers may encounter the springs directly, rather than just getting the base support they're designed to offer. If that's the case then you might be more interested in the pillow top mattresses that Hampton and Rhodes manufacture.
Pillow Top
Hampton and Rhodes pillow top mattresses are organized into the HR series, going from HR 100 to HR 500.  The greater the number after the HR, the greater the thickness of the bed. For example, the HR 100 is 6.5" thick, the HR 320 is 10", and the HR 500 is 10.75".
The construction of the pillow top mattresses differs from the innerspring and hybrid options that Hampton and Rhodes makes because it has a low profile foam pillow top over another layer of foam. These two layers reset on an array of pocketed springs. This gives more support for some sleepers that want an innerspring mattress but don't want to feel the springs while they sleep.
Hampton and Rhodes also offers the San Martin and the Aruba. The San Martin has a gel memory foam and polyfoam layer in the comfort sections, while the support for the mattress comes from a system of 768 pocketed coils. The Aruba is a luxurious 14" thick. It has layers of gel memory foam and polyfoam in the comfort section. Its core support comes from 768 pocketed coils and a quilted stretch-knit cover.
Cover
The cover of the Cool Gel mattress is better than you usually get from gel foam mattresses. It's made from a stretched and quilted material that has additional padding stitched in.
The innerspring, hybrid, and pillow top mattresses that Hampton and Rhodes offers share a similar cover to each other. The cover is stretch-knit with a quilted diamond pattern. The cover has pillowing stitched in to further enhance the comfort you get from the mattresses.
Firmness, Feel, and Support
Now that you understand the construction and cover each that makes each Hampton and Rhodes mattress unique, you'll want to know about the firmness, feel, and support each mattress offers. We'll break this section down into the three main types of mattresses that Hampton and Rhodes produces, with notes on the variations for each type in the appropriate section.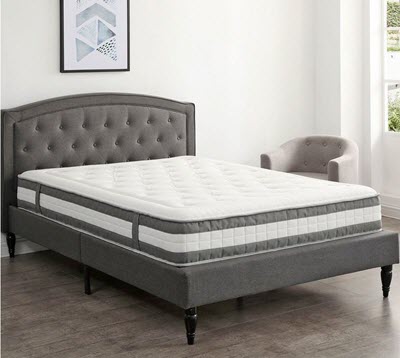 Cool Gel
The Cool Gel mattress has a classic memory foam feel. The different foam layers do an excellent job of providing a combination of comfortable softness with a solid support foundation. The foam produces a more rounded body contour, more similar to a latex foam mattress than something like a Tempurpedic. As a result, you doing get as much of a sinking or walled-in feeling that can happen with some memory foam mattresses.
Innerspring/Hybrid
The HR Series ranges in its firmness, feel, and support. The firmness runs from medium to extra-firm. The firmness doesn't relate to the series number. The HR 100 is extra firm. The HR 200, 300, 320, 340, 440, and 500 are medium to medium-firm. The HR 400 qualifies as a firm mattress.
The support you get from these mattresses depends on your body size. Lighter sleepers are more likely to feel a greater amount of support at lower firmness levels. However, heavier sleepers should look for a firmer mattress option to get the idea amount of support.
Pillow Top
Each of the pillow top options from Hampton and Rhodes has its own unique feel. The Aruba has medium firmness, and the Trinidad is closer to firm. The makeup of the pillowtop foam layers has a lot to do with how much support you'll get when comparing the different pillowtop options. All of the pillowtop beds have the save 768 pocketed coil support base, so you'll get the same foundational firmness and feel from each mattress.
Speaking of the 768 pocketed coil support base, it provides an excellent amount of support. The pocketed nature of the coils, along with the high number of coils, means that you'll get the support you need in the right places. Moreover, the springs are very responsive, which makes these pillowtop mattresses an excellent option for adult fun time.
Other Information
One thing that's important when it comes to purchasing a Hampton and Rhodes mattress is that the company doesn't sell their mattresses directly. Instead, you'll need to buy the mattress from another retailer.
This has its own set of positives and negatives. One good example of this is on pricing. On one hand, the fact that you're buying from a third-party retailer means that the price will generally be higher than you'd get if you were purchasing directly from the manufacturer. On the other hand, because there are multiple retailers that carry Hampton and Rhodes mattresses, there's competition on price. That means you can shop around and find the best price.
Another issue with third-party retailers is delivery. Every store and company will have their own delivery policies. We'll explain what we found to be most common among these retailers, but it's something else to keep in mind when you're taking the pricing into account.
However, the fact that these mattresses are sold in brick-and-mortar retail stores means that you'll be able to test the mattress before you buy it. As a result, you don't need to worry as much about trial periods or dealing with the hassle of return shipping. This is also a bonus if you want one of their innerspring or hybrid mattresses, but you aren't sure which one has the right level of firmness for you.
Generally, going through third-party retailers makes the purchase process take a bit more work. That's because you have to do comparison work and check on lots of different factors. If you like this and enjoy searching for the best deal, then this is a plus. However, if you want to make straightforward, simple decisions, then this could complicate matters.
Warranty, Trial Period, Shipping, and Financing
Each retailer will offer their policies on warranties, trial periods, shipping, and financing. That means you'll need to shop around for the retailer that offers the right combination of these factors to suite your personal preferences. Once again, it's nice to have more options, but you need to do more work to take advantage of it.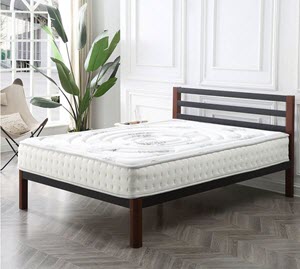 Price Range, Availability, And More
Hampton and Rhodes offer a level of convenience in terms of shopping that other mattress brands don't. Typically, many consumers will still go out to a showroom for mattresses. As such, several brands only sell their products this way.
For buyers looking for a quick and easy way to purchase a mattress, Hampton and Rhodes are available for purchase online. This adds a level of convenience to the mattress buying experience for customers. The price of the mattresses range, with some starting at approximately $100 and topping out near $800. Individuals who need to upgrade or replace their old mattress should take a look at Hampton and Rhodes for themselves to see if one of their mattresses is right for their price range and overall comfort needs, so they can get a relaxing sleep at night.
Hampton and Rhodes has quite a few mattresses on offer. We've created this helpful chart with three of their most popular models to give you an idea of the pricing. The HR series includes the HR 100, 200, 300, 320, 340, 400, 440, and 500. The prices for the series increase with the numbers. That means the HR 320, which we show in the chart, is a good representation of the middle of the HR series.
| | | | |
| --- | --- | --- | --- |
| Size | Cool Gel | HR 320 | Trinidad |
| Twin | $299 | $379.99 | $299 |
| Twin XL | $349 | $419.99 | $309 |
| Full | $429 | $409.99 | $339 |
| Queen | $499 | $409.99 | $369 |
| King | $599 | $739.99 | $439 |
| California King | $599 | $739.99 | $439 |
The Good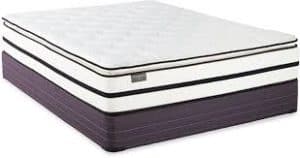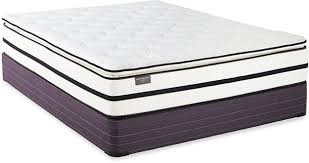 Hampton and Rhodes has a unique construction that offers relief for consumers frustrated by morning aches and pains. The mattresses include an innerspring, but also feature a memory foam layer on top.
This upper layer serves as a way for the buyer to get a comfortable night's sleep without the back pain or aches other mattresses sometimes cause. The innerspring layer works to provide an added level of support missing from other memory foam mattresses. By combining the two, Hampton and Rhodes has created a unique design that offers the comfort and support of both at one price.
Additionally, many of their mattresses also come with a gel-infused layer. This is a great feature for individuals who often suffer from night sweating, as the layer works to keep your body cool throughout the night. These features serve to provide greater comfort and relaxation abilities for the buyer, as they will be able to rest easy without losing support or experiencing too much heat throughout the night.
The mattresses also don't require flipping. This can be a pain for buyers, as well as time-consuming and hurting durability if not done on a timely basis.
The Bad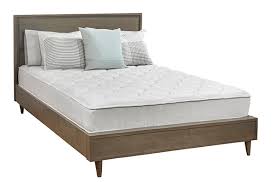 One issue associated with mattresses from Hampton and Rhodes is that they tend to grow softer over time. While this isn't much of a downside for people who prefer soft mattresses, this can become problematic for other users, who prefer support over softness.
Added softness can create other problems, such as sagging in the mattress. Sagging can cause discomfort for users who suffer aches and pains on certain mattresses. This is an issue that happens over time though, so it could still serve as a good mattress for years.
Some customers have also complained that the mattresses can develop an odor. While they've also noted that the odor tends to disappear after a few days, this can be an issue for buyers. Dependent on the price, the lifespan of the mattresses also seems to be an issue for consumers. The higher priced models have a longer lifespan and greater durability, but can be out of the price range of customers simply looking for an affordable and comfortable mattress.
Should You Buy the Hampton and Rhodes Mattress?

The answer to this question comes down to a few easy factors. If you're the kind of person that wants to search amongst different retailers to construct the best deal possible on your mattress purchase, then Hampton and Rhodes is probably an excellent option for you.
Additionally, Hampton and Rhodes has a huge array of options. Combined with the fact that you can usually find a store near you that sells these mattresses, that means you can certainly find one that works for your needs. You can go to stores and try the different options and get a real-life assessment of how it feels. That makes it more convenient for people that don't want to go through the hassle of trial periods and return shipping.
However, if you're looking for the lowest possible price on a mattress, or a company that offers limited, straightforward, and simple options, then Hampton and Rhodes probably isn't the choice for you.
Alternatives to Hampton Rhodes
Hampton Rhodes does have some quality mattresses. However, our job is to make sure you have all the information you need to find the best mattress on the market. That's why we want you to know about some of the alternatives to a Hampton Rhodes mattress. Each of these options offers most or all of the benefits you get with a Hampton Rhodes, along with some additional features.
Saatva
Saatva is one of the biggets names in the mattress industry today. The company offers a host of different branded beds and almost certainly have something that's perfect for you. Their most famous offering is one of the best hybrid mattresses on the market today, the Saatva Classic Hybrid.
This mattress features a luxury Euro Pillow Top, great perimeter edge support, and individually wrapped coils to prevent motion transfer. The result is a bed that gives you the best of what memory foam and innerspring technology have to offer. All of this plus their Spinal Zone technology means that you'll get the support you need to have the perfect night of sleep!
SAATVA
What Makes Saatva a Great Alternative?
Best-priced luxury mattress
Features Lumbar Zone Technology for back-relieving support
Highest quality materials and eco-friendly
Handcrafted in the US
 
Check out Saatva
What They Say
4.6 out of 5 stars (based on 22 reviews)
Excellent68%
Very good23%
Average9%
Poor0%
Terrible0%