When it comes to choosing a high-quality mattress, it is tough to find one that fits you and your lifestyle. Maybe you have searched countless stores and can't seem to find one that satisfies your budget, value, and to your body.
King Koil has met the needs of 65% of their customers worldwide from owner satisfaction, durability, and the comfort of your body; I give King Koil a thumbs up.
The Good
When it comes to the top of the line innerspring mattresses, King Koil is considered to be the most trusted. Not only is King Koil trustworthy, but it is also highly affordable. With prices beginning at $350 and ending at $2,800, the opportunities are endless. From firm to soft, King Koil offers many great model options. One concern that consumers like us deal with is whether or not we will be comfortable temperature wise. With King Koil, only 5% or less report their bed retaining heat. The rest have dealt with cooler and comfortable nights in their King Koil mattress. The King Koil mattresses include 10 to 25-year coverage when it comes to warranty. If you are ever dissatisfied about your King Koil, they offer you a guaranteed warranty to create the satisfaction you desire. With choosing your King Koil mattress, the company stays true to their word when describing their mattresses. They are very accurate with their descriptions so when you receive your mattress, you know King Koil won't let you down.
The Bad
So, we all know that mattresses are not perfect by any means. King Koil mattresses may be highly rated on the spectrum, but they still have their downsides. For one, King Koil mattresses have an overall 65% owner satisfaction. This is average to most innerspring mattresses but is considered to be below average when it comes to all mattresses on the market. The average customer satisfaction for all mattresses is 72%. King Koil's is fairly low compared to the average. The dissatisfaction that is created from the King Koil mattresses is the reporting of sagging and depressions on the mattress. This was after three years of frequent use, not light uses. This leads to my review on the durability and longevity of King Koil's mattresses. King Koil is below average when it comes to the lifespan of their innerspring mattresses. With King Koil, having a coil system isn't always a good thing. Innerspring mattresses have the potential to squeak and creak when getting into bed or moving around in your sleep. This causes disturbances when it comes to your sleep or even your partner's sleep.
The Company
King Koil was founded in 1898 by a man named Samuel Bronstein. He established his business in St. Paul, Minnesota. By the time 1930 rolled around for his business, the innerspring mattress was so greatly approved. The technology and quality of King Koil as changed over the years. They have also endorsed by the International Chiropractors Association (ICA).
Final Thoughts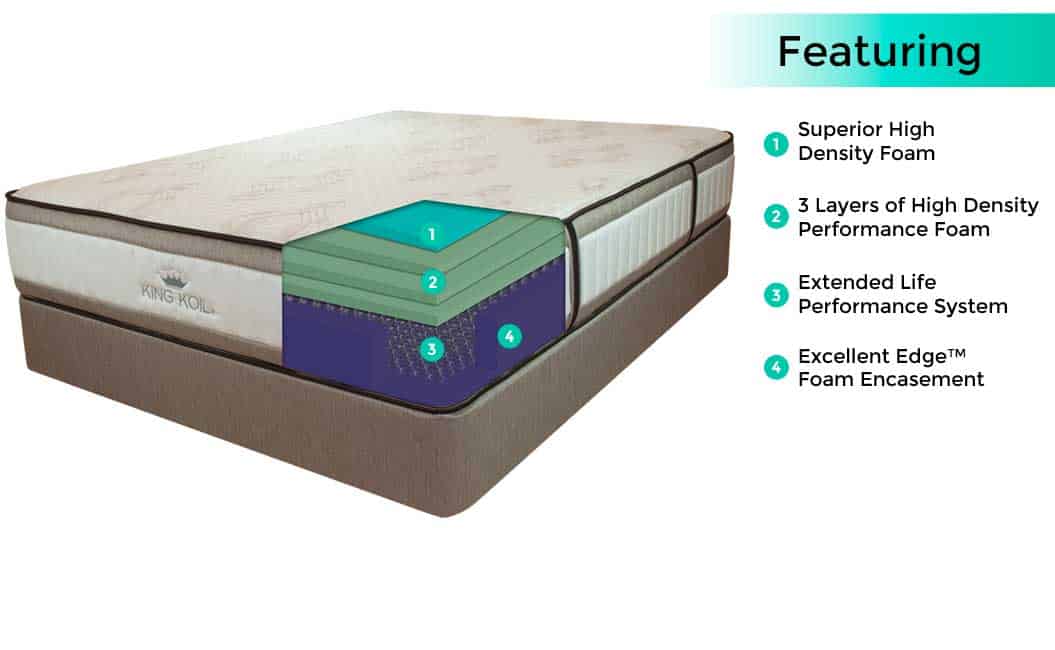 When it comes to King Koil's mattresses, I give it a solid A-. It provides excellent quality service when it comes to their bedding products. King Koil does have downsides when it comes to being an innerspring mattress. These type of mattresses do not last long; 3 years. However, King Koil has stayed committed to its customers with their prestigious qualities. With their slogan,"The rest of the world depends on us," they have proven time and time again as top notch in the mattress world.
Mattresses Made By King Koil
King Koil Brilliance Plush Two Sided Advantage Mattress
King Koil Laura Ashley Catalina Firm Eastern King Mattress Set
King Koil Hannah Plush Queen Mattress Set