Kingsdown Mattress Reviews
Jake Comfort  |  Updated: March 1, 2021
Many Kingsdown mattresses are made of conforming materials, feature a high coil count for support, and have advanced features. Kingsdown helps customers find the perfect mattress by providing a diagnostic tool on their website and at select retailers. This tool is designed to recommend the best mattress based on a person's unique profile. Kingsdown is a well-established company, having been founded over 100 years ago. The company is headquartered in Mebane, North Carolina. Here's a look at the features and quality of mattresses sold at Kingsdown:
Kingsdown Mattresses at a Glance
Offers Great Support
Kingsdown mattresses offer great support due to their high coil count. Higher coil counts are generally associated with more supportive and comfortable mattresses. Most Kingsdown models have an average to above average coil count.
The Mattresses May Sag After 3 Years of Ownership
As is common in innerspring mattresses, Kingsdown mattresses may sag or develop body impressions after three years of ownership. According to consumer experiences analyzed by Sleep Like the Dead, 20% of Kingsdown mattress owners reported sagging within three years of ownership. They sell a few foam-based mattresses that don't suffer from the same sagging issues as innerspring mattresses.
Lower Ownership Satisfaction Ratings
One of the downsides to Kingsdown mattresses is they have an overall ownership satisfaction rating of 64% based on reviews analyzed by Sleep Like the Dead. For comparison, all innerspring mattresses have a customer satisfaction rating of 63% and all mattresses have a 72% customer satisfaction rating.
Wide Price Range
Kingsdown mattresses have a wide price range of $400-$4,000, which is great because you can find a cheaper mattress if you're on a smaller budget. The price depends on size and whether or not the mattress comes with a foundation. An average queen size Kingsdown mattress costs $2,000.
Excellent When New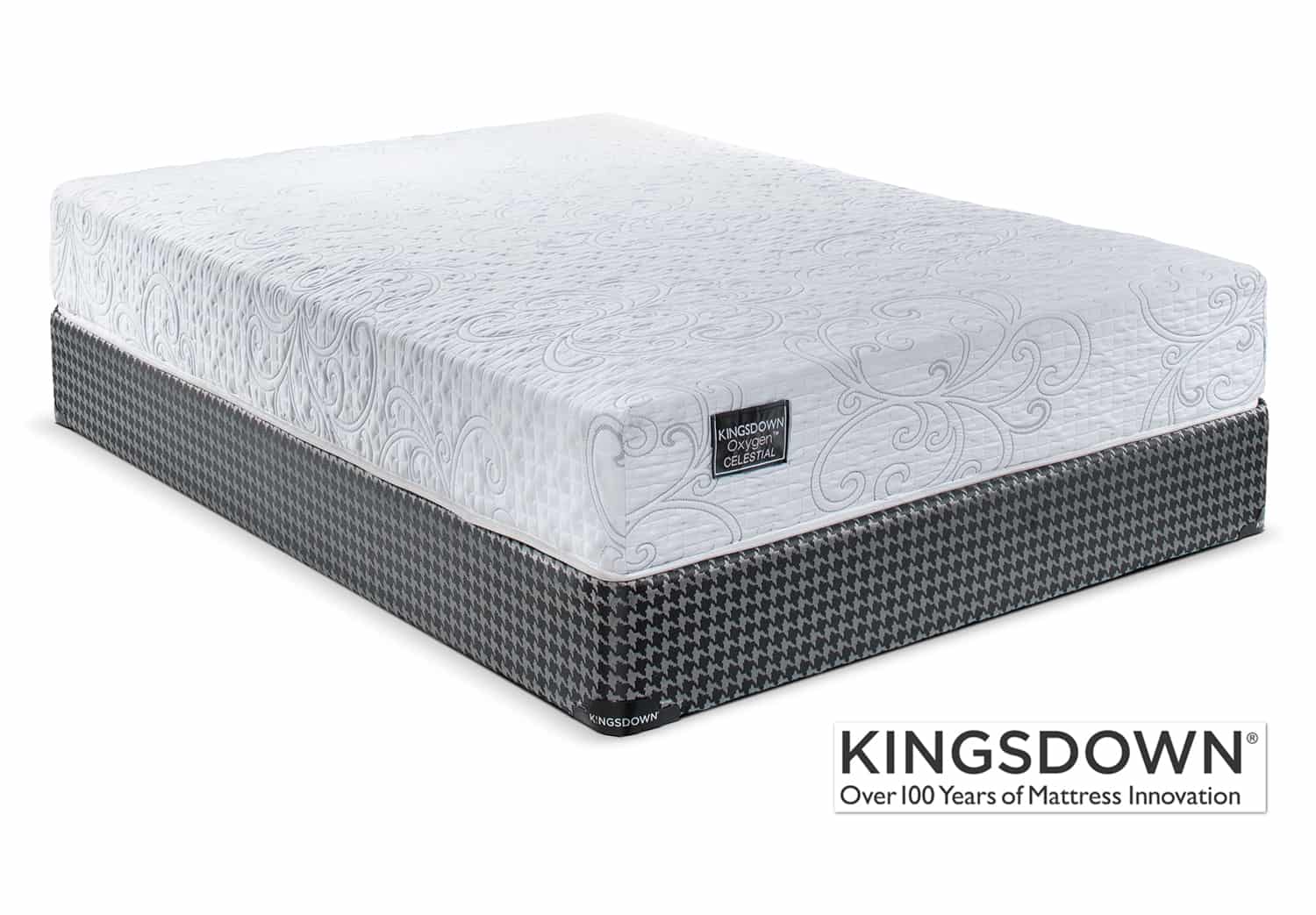 Many customers report that their mattresses are comfortable upon first buying them. It's after about three years that they state they're no longer comfortable, and in some instances, the sagging causes back pain.
Good in Conforming
In general, people find conforming mattresses to be more comfortable than those that don't conform. A conforming mattress molds to an individual's body, allowing a pressure-point-free and cradling sensation. Kingsdown models with two inches or more of memory foam or latex usually rank above average in conforming.
Options in Firmness
Most Kingsdown models consist of firm and soft firmness. Customers have reported that there are limited middle firmness options. This is good news for you if you prefer either firm or soft mattresses.
Some Models Offer Motion Isolation
Motion isolation is important if you or your partner is easily woken up from the other moving in bed. Kingdown has a selection of mattresses that provide motion isolation. To find the motion isolation mattresses, look for models with individually wrapped coils. Mattresses with open coils aren't good at motion isolation.
Few Cases of Off Gassing
Off gassing is a chemical-like smell that some new mattresses emit. Most Kingsdown mattresses don't off gas. Only 6% of customers, according to Sleep Like the Dead, reported that their Kingsdown mattress off gassed.
Must Be Flipped or Rotated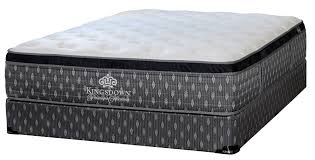 Kingsdown mattresses usually need to be flipped or rotated at least once per year to slow down the sagging process. Some models are flippable, whereas others can only be rotated. make sure you know whether or not the mattress has a two-sided design that can be flipped before you buy. Kingsdown models with a no-flip design should be rotated 1-3 times per year.
Kingsdown Mattress Construction
Kingsdown has lots of different mattress options available. We'll break down some of their most popular lines and explain the materials and construction techniques that go into each mattress. Additionally, we'll explain how these different materials and construction methods are intended to provide a good night's sleep.
One that that's true across all of the mattresses that Kingsdown produces is that they're all made with top-quality materials. These materials are specially sourced, and they are chosen to optimize the core elements of what makes a good mattress. That means that they're selected based on their ability to provide a soft, comfortable sleeping surface, while at the same time ensuring that the mattress has good airflow and heat dissipation abilities.
It's also important to note that we'll be reviewing collections of Kingsdown mattresses. Each collection has lots of choices, so you'll have plenty of options to get the mattress you want at the price of your dreams.
Bodyperfect Collection
The Bodyperfect collection is a great option for people that need the most support possible from their mattress. That's because the beds in this collection use a proactive customized support system. The mattress makes adjustments to help ensure you have the correct alignment and posture support while providing relief from pressure points that can keep you up at night and/or cause aches and pains in the morning.
The way this mattress works is by using a series of interconnected air chambers that are constantly monitored according to programing you set. There are 21 independent air chambers on each side of the mattress. Moreover, each size includes sensors to help to bed inflate or deflate different air chambers depending on how you're sleeping.
Another benefit of this system is that it has excellent edge support in the form of a high-density foam. This provides an edge-to-edge sleeping experience, meaning that you'll get to enjoy more of the surface of your bed while you sleep. Enhanced edge support also helps couples looking to spice things up during adult fun time.
Couples can also benefit from this mattress because each person gets customizable support zones and alarms. You can control the support you get from the bed from a Bluetooth connection on your smartphone. You can also use the FREE Android tablet to control the support you get from this mattress. That's right, you get a free tablet to help control the bed when you purchase a Bodyperfect mattress by Kingsdown. Kingsdown has a special app that connects to your bed and allows you to adjust it in any way you see fit.
Finally, this collection is compatible with adjustable bases. That makes it a great option for people that need an adjustable bed to help them get up in the morning, as well as those that just like the flexibility that an adjustable bed provides, whether it's for reading, watching TV, or just for your own personal preferences.
Prime Collection
Kingsdown's Prime collection consists of beds that are made in a hybrid style. That is, they have a combination of innerspring systems and specialized foams to provide a unique sleeping experience.
The coils that you get from Kingsdown's Prime collection are individually wrapped. That means they minimize the motion transfer you get from your partner. It also opens up lots of air channels in the bed. This helps keep the mattress cool while you sleep and also helps wick away moisture. The innerspring system that Kingsdown uses provides solid levels of zoned-support. That means you're less likely to have issues with pressure points and are more likely to wake up feeling refreshed and rested.
The memory foam used in the construction of the Prime collection is a special gel-infused foam. The gel infusion creates air channels within the foam. As a result, it will sleep much more cool than other foam mattresses. Additionally, the way the gel-infused foam works provides good support at the most vital areas. That's because this foam does a good job of providing more pushback the more it's compressed. That means you can get support for your knees and hips without losing the softness or comfort that people expect from a modern memory foam mattress.
The foam used in the Prime collection is arranged in a multi-level support system. This support system is enhanced by the use of micro-coils to help give you the best forms of body-contouring memory foam without creating a sinking or trapped feeling that some people get from other foam mattresses. Additionally, the microcoil system further enhances the support that you get from the mattress.
Finally, the Prime collection benefits from perimeter coils. These coils are reinforced to provide the most possible edge support. The result is more surface area for sleeping on. Additionally, many people like to sleep against the edge of the bed. This unique edge support system lets you do that without feeling like you're going to tumble out in the middle of the night.
Vintage Collection
The Vintage collection is the Kingsdown mattress that you want if natural materials are important or essential to you. The mattress is made from a combination of soft cotton, Joma wool, genuine horsehair, Alpaca wool, and natural latex foam.
Beds in the Vintage collection are made with a hybrid design. That means they have layers of latex and fabric on top of an innerspring system.
The innerspring system you get in the Vintage collection is very different than old-school innerspring systems. Each coil is individually wrapped to prevent motion transfer. Moreover, the coils exist in three specialized zones to give you extra support for your lumbar. As a result, your back will feel better and you're less likely to have aches and pains when you wake up in the morning.
The latex foam used in the Vintage collection is also very special. This foam is designed especially to help with pressure relief. Unlike many other latex mattresses, the Vintage uses a special type of Airflow technology. This helps keep the surface of the bed cool and dry while ensuring that you still get a soft, comfortable sleeping surface.
Finally, the cover on the Vintage collection is also innovative. It's made with tufted damask silk and interwoven with specially selected wool fibers. These wool fibers help the cover breath easily. As a result, you get more airflow and thus a cooler night's sleep. Another unique feature you get with the cover of the Vintage from Kingsdown is that it has gel fibers and a cushioning layer. This adds pressure relief and comfort and takes the cooling abilities of the mattress to the next level.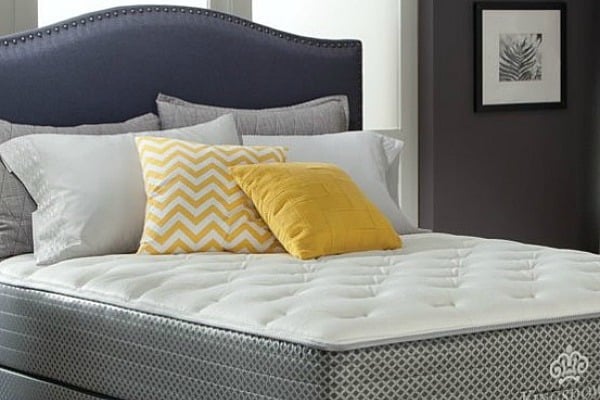 Pros and Cons of Kingsdown Mattresses
It's important to keep in mind that Kingsdown makes and sells a lot of different mattresses. That means that some mattresses may or may not have all of the pros or cons listed below. Additionally, with so many mattresses sold, it's essential that you don't let single bad experiences prevent you from considering these mattresses.
After all, even the best mattresses in the world have people that just don't like them. Additionally, even the best mattress makers sometimes have an issue with a specific mattress they've made. What's important is how well customer service responds to these various issues. That's why we recommend checking out customer service reviews for Kingsdown when making your choice.
Pros:
There are quite a few pros when it comes to Kingsdown mattresses. The company does a good job of focusing on the core elements of what makes a goodnight's sleep, no matter what mattress collection you choose.
Made of luxurious, conforming materials
High coil count
Wide price range
Few instances of off gassing
Some models feature motion isolation
Cons:
Unfortunately, nothing's perfect. There are a few issues that people have reported with Kingsdown mattresses. Keep in mind that Kingsdown makes a lot of different mattresses, so these issues may or may not be relevant to the mattress you're considering. That's why we recommend checking out reviews for the specific Kingsdown mattress you're considering to get a more complete picture of what you can expect from that particular mattress.
That being said, some of the more commonly cited cons of a Kingsdown mattress includes:
Some models are expensive
Might sag after three years of ownership
Some models are heavy
64% overall ownership satisfaction rating
Should I Buy a Kingsdown Mattress?
Given that Kingsdown mattresses are something of a mixed bag, it's time to answer the all-important question: Should you buy a Kingsdown mattress?
It's important to carefully weigh the pros and cons of any mattress before you make a purchase. The question of whether or not you should buy a Kingsdown mattress largely comes down to how much you're looking to pay for your next mattress.
If you're looking to get a reasonable mattress at a reasonable price, then a Kingsdown mattress is a good option. Kingsdown mattresses are also good options for those in need of a bed for a guest room or college students in their first apartment.
However, if you're looking to spend a bit more on your mattress, then you might want to look elsewhere. Kingsdown certainly has mattresses available at a higher price point, but these mattresses don't compete as well with their products that are a bit cheaper.
Kingsdown mattresses are comfortable to own, as long as you remember to rotate them 1-3 times per year to minimize sagging. They are made of luxurious, conforming materials and have a high coil count that makes them comfortable and supportive. Some models provide motion isolation, an ideal feature for couples.
Alternatives to Kingsdown
Kingsdown has a lot to offer sleepers. But we want to make sure you find the perfect mattress. That's why we think you should consider these alternatives to Kingsdown. Each of these options provides most or all of what you get with a Kingsdown mattress, while also sporting some additional benefits.
Puffy Mattress
Puffy is a great alternative to the mattress options at Kingsdown. This mattress is designed to work with side, back, and stomach sleepers and ships for free right to your door. 
Puffy is also awesome because it can be placed on any surface. As a result, you can use it with an adjustable frame, salts, or even the floor. That means you can have more control over the look and style of your bedroom. It also saves money by allowing you to use the bedframe you already have.
Finally, Puffy offers a 101-night sleep trial. Give it a go and if you don't like it you can return it free of charge. That's an option you don't get with most mattresses.
EDITOR'S CHOICE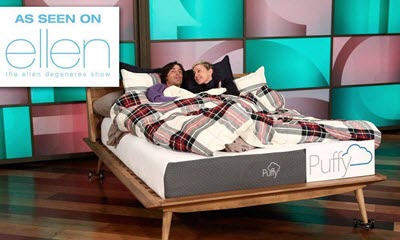 What Makes Puffy a Great Alternative?
101-night sleep trial to ensure total comfort
Free shipping
Place on any surface
Get $300 off - Limited time only!
Check out Puffy
Saatva
Saatva is one of the biggets names in the mattress industry today. The company offers a host of different branded beds and almost certainly have something that's perfect for you. Their most famous offering is one of the best hybrid mattresses on the market today, the Saatva Classic Hybrid.
This mattress features a luxury Euro Pillow Top, great perimeter edge support, and individually wrapped coils to prevent motion transfer. The result is a bed that gives you the best of what memory foam and innerspring technology have to offer. All of this plus their Spinal Zone technology means that you'll get the support you need to have the perfect night of sleep!
SAATVA
What Makes Saatva a Great Alternative?
Best-priced luxury mattress
Features Lumbar Zone Technology for back-relieving support
Highest quality materials and eco-friendly
Handcrafted in the US
 
Check out Saatva
Helix
Helix can be a great alternative choice to almost any mattress. That's because Helix customizes every single mattress they deliver to make sure it's exactly what you're looking for. Mattresses are customized based on the results of a survey you take when you start to look at Helix mattresses. The survey will tell you and them what kinds of mattresses and features will be best for your needs.
Something that's even better about Helix is that they can take information from partners and use it to find a good compromise mattress. If there isn't a good option, then they can also do a split mattress, so each partner can get the mattress qualities they need for a good night's sleep.
HELIX
What Makes Helix a Good Alternative?
Fully customized beds for ultimate comfort

Free shipping within the US

100-night sleep trial

10-year warranty
What They Say
4.1 out of 5 stars (based on 16 reviews)
Excellent31%
Very good44%
Average25%
Poor0%
Terrible0%