Jake Comfort  |  Updated: February 2023
Jake Comfort  |  Updated: February 2023
We have an affiliate relationship with and receive compensation from companies whose products we review on this site. We are independently owned and the opinions expressed here are our own.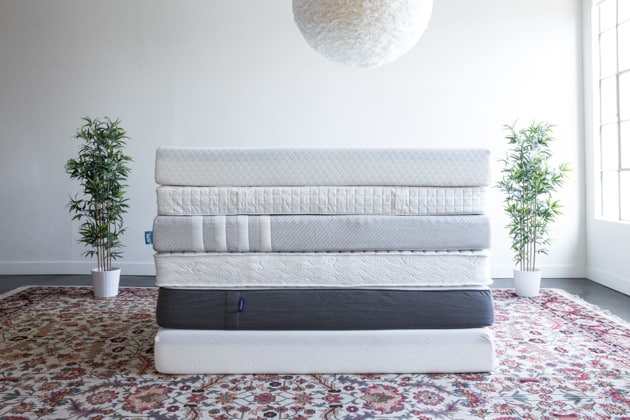 A staple of Ikea, the Matrand mattress is an affordable memory foam mattress that ranges in price from $249 to $499. While this isn't a "luxury" mattress, it does offer good support paired with high-quality materials. Since this mattress is exclusive to Ikea, you'll only be able to try it out in-person if you live in or near a large city that has one of the big box furniture stores. That said, you can still buy the mattress online
We understand that buying a mattress is a big investment and not an easy decision to make (especially when you're shopping online). With hundreds of mattresses online, sorting through the details of each one is a tedious task. To help make the decision easier for you, we included important details in our review such as the physical construction of the mattress, the warranty, return policy, and other important factors that might influence your decision to buy a Matrand mattress. To begin our review, we will first look at the design of the Matrand mattress and then transition into the mattress's construction.
The Design
The Matrand memory foam mattress has a layer of latex to help you fully relax. Although the mattress may seem too firm at the beginning, you will find that the mattress will conform to your body as you use it. The bed measures 79.5 inches and has a thickness of 7 1/8 of an inch.
Memory foam mattresses are designed to provide contouring to ensure that the mattress is supporting every part of the body. These types of mattresses work well for couples because they absorb motion. That means when one sleeper moves around, the other doesn't feel the motion as much as on a traditional spring mattress.
Matrand Construction
There used to be two primary versions of the Matrand mattress – a memory foam version, and a latex version. As of the end of 2020, Ikea only sells a memory foam Matrand mattress. We'll do a breakdown of the Matrand memory foam mattress in the sections below. Use this information to make sure you understand what you're getting when you buy a Matrand mattress.
One thing that's important to note about the Matrand's construction is that IKEA doesn't use the same kind of organic or all-natural materials that you find in a lot of comparatively priced mattresses. That's not a big deal for many sleepers, but it's an important distinction for one. The company is well-known for their environmental stewardship, so it's not likely that the synthetic materials used in the Matrand are toxic or harmful in any way. But people with sensitive skin, allergies, or asthma that react badly to synthetic materials may want to look elsewhere for their mattress neds.
Matrand Memory Foam Mattress
Layers
Top
At the top of this mattress, you'll find a layer of memory foam that contours to the shape of your body and helps you fall into a deep, relaxing sleep. There's a removable layer of fabric that covers the inner layers of the mattress. You can easily remove the cover and throw it into the washing machine, making it a breeze to get rid of stains. The mattress is white – almost bleach white in appearance.
Middle
The core of the mattress has a soft filling that helps support your body and keep you comfortable at the same time. There are various comfort zones strategically placed in the inner layers of the mattress. These comfort zones relieve pressure and provide extra support in sensitive areas such as your hips, shoulders, and various joints.
Bottom
This mattress isn't dual-sided, and it doesn't have an expansive foundation layer as some memory foam mattresses do. You should finish off your mattress with a slatted bed base or a mattress base. All Matrand mattresses come packaged in a role, so they're easy to move before setting them up. It can take up to 72 hours for the mattress to inflate to its full shape and comfort level. As a side note, you may notice slight smells when you first unpackage the mattress. These smells will go away within a few days or a few hours.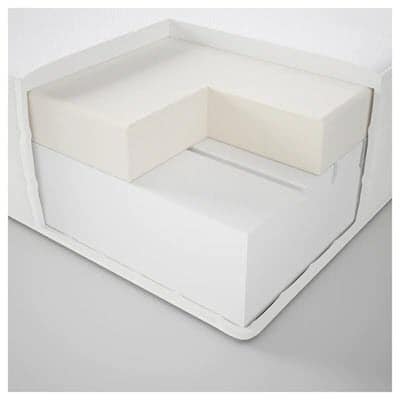 Matrand Latex
The Matrand Latex mattress is very similar to the Matrand Memory Foam mattress. It has the same 7 1/8" thickness and the same general structure, but there are some key differences.
The first layer of the mattress is still a combination of foam and filling. The layer encases the rest of the layers, making it easy to remove and replace the cover for hand-washing. This is a good feature, as the ability to wash the mattress cover without taking special steps because it's on the bed is good to have.
The biggest difference comes in the nature of the internal layers. In the Memory Foam Matrand there is a much thicker base support layer than memory foam comfort layer. In the Latex version, the latex comfort layer is much thicker than the polyurethane base support layer. This means there's more latex feel in this mattress than there is memory foam feel in the memory foam version of the Matrand.
The additional thickness for the latex is a good touch. The synthetic latex used by the Matrand provides a good combination of bounce, softness, and body contouring. At the same time, it avoids some of the problems you get with some memory foam mattresses – like a sinking feeling or sharp contours forming around your body.
The polyeurathane base-support foam also has zoned support layers that work with the main latex comfort layer. These support zone are intended to help your back, knees, neck, and hips stay in alignment while you sleep. Poor alignment in these areas is what causes the majority of tossing and turning at night. Moreover, bad alignment while you sleep can cause back and neck pain and aggravate other existing issues.
One thing that many mattress shoppers might want to know is that the latex used in the Matrand latex is a synthetic latex, so it's not the same type of natural or organic latex you get from some of the other online mattress retailers on the market today. The synthetic latex is completely safe, and IKEA is a company that's known for good environmental stewardship, but it is a key difference that many shoppers want to be aware of.
Matrand Firmness, Feel, and Support
No matter which mattress you purchase from Ikea, each will have various features that promote comfort, support, and an outer layer that is soft-to-the-touch. While Ikea doesn't label the Matrand mattress with a "comfort level" several reviewers note that the mattress leans toward the firm side. Nonetheless, the mattress still offers targeted support thanks to its comfort zones. To make the mattress soft and appealing when you touch it, the company designed this mattress with polyester/viscose (rayon) fiber wadding ("comfort material") along with polyurethane memory foam. Even though this isn't a plush mattress, you'll be certain to sleep comfortably on a Matrand mattress from Ikea.
Matrand Memory Foam
The Matrand Memory Foam mattress has something of a stiff feel about it. The thinness of the mattress means that it's hard to get both softness and support. That means the feel of the mattress is pretty firm, coming in at about a 7.5 on a 10-point scale. For reference, most US sleepers prefer something in the 6.5 to 7.5 range.
The reason the mattress is so firm is that most of the softness comes from the filling that's added to the first encasing layer of the mattress. This layer is made from a non-woven polypropylene that has rayon fiber wadding added to it. The base foam and memory foam themselves are actually much firmer than you would expect.
The feel and support you get from the Matrand Memory Foam mattress depend very much on how you sleep and what you look for in a bed. Side sleepers and stomach sleepers might have a hard time getting the support they need with this mattress. That's because of the relative thin comfort layer and the relatively thicker base support layer. However, back sleepers will be comfortable and supported.
Another thing that's important to note is that you need to give the mattress up to 72 hours to fully "inflate" to its real size. The way the mattress is packaged shrinks it down. As a result, you won't know what the mattress will truly feel like for a couple of days. Moreover, it can take up to four weeks before your body adjusts to the new mattress (that's why Ikea doesn't let you exchange it until you have owned the mattress for more than four weeks).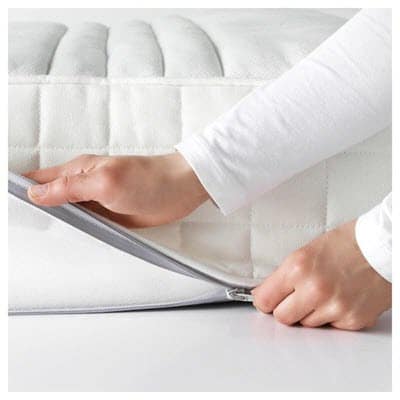 Matrand Latex
The Matrand Latex mattress is a bit softer than the memory foam mattress, and it comes in at about a 7 on our 10-point scale.
The feel of the latex Matrand is generally better and softer than what you get with the memory foam mattress. That's because, in addition t the same outside layer of non-woven polypropylene with rayon fiber wadding, you also get a much thicker comfort layer made from synthetic latex.
The thicker synthetic latex layer does a good job adding softness without compromising the support you get from the mattress. That means the five-zone support system in the latex mattress functions just as well as the one in the memory foam mattress. This system works to prevent back and neck pain and tossing and turning at night by making sure your knees, hips, back, and neck get the support they need to be in the proper alignment.
One thing that's true about the memory foam Matrand that's also true for the latex version is that the feel and support you get from the mattress aren't the best options for heavier sleepers, side sleepers, or stomach sleepers. It's really only a good option for people that sleep on their back. That's because the nature of the mattress can't adjust to the way that pressure points move when you're sleeping on your sides or stomach. As a result, most side and stomach sleepers can expect at least some neck and/or shoulder pain while their body adjusts to the mattress.
Other Information
Each year, you're likely going to spend more than 2,900 hours on your mattress, which means it's important to find the right one. Aside from the physical construction and characteristics of the mattress, there are several other important factors to consider. Since a mattress is an investment (often an expensive one, too), you want to make sure the company offers a solid warranty should there be any flaws or defects with your mattress. In addition, it's always good to review the return policy, any trial period, and the availability of customer support. Finally, you should read customer reviews on the internet and see what others are saying. The best places to find reviews include Amazon, the mattress brand's website, and websites that aggregate reviews like Google. Here's a look at the "good" and "bad" of the Matrand mattress, along with several other important factors.
The Good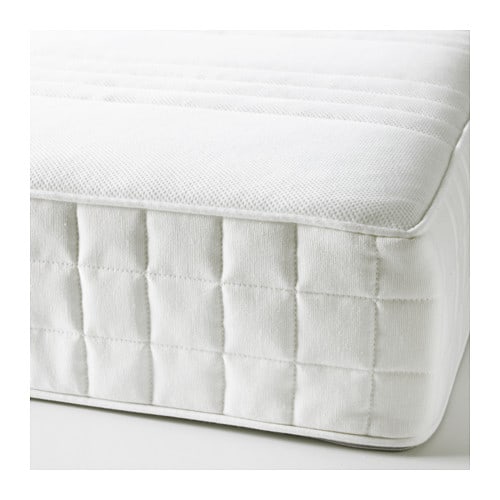 As a mid-range Ikea mattress, the Matrand mattress may help alleviate back pain and sleep difficulties. The mattress resists bounciness and eases movement of sleepers.
Many owners praise the Matrand and are satisfied with their purchase. To expand the mattress's lifespan, IKEA offers a removable, washable cover, which is made of high-quality materials such as wool and cotton. The covers also reduce moisture and help regulate temperature. In addition, Ikea uses environmentally-friendly materials and notes on its website that the product is "possible to recycle for energy recovery, if available in your community."
The price is affordable, and Ikea provides a generous exchange or return policy. The mattress can be shipped directly to your home and assembly is simply unrolling the bed.
The Bad
Some sleepers may find the Matrand mattress too firm. Some consumers have questioned the durability and longevity of the mattress for everyday adult use, couples, or heavier people. Another negative aspect of this mattress is that it can give off a smell during the first couple of days of ownership. This smell is typically associated with cheaper mattresses that may use toxic or lower-quality materials.
Competing Mattress Brands
The Matrand mattress by Ikea competes with other low-priced mattresses such as Zinus and Signature Sleep.
Customer Recommendations
Sleepers who prefer to sleep on their back or their side may like this mattress. It's also a good option for people on a budget or those looking for a mattress for a guest room. However, for the price you pay for this mattress, there are several better alternatives that we'll cover shortly. We recommend trying out some of these alternatives using the trial offers each company has. That way you can test the mattress at no risk to you and then get a Matrand from IKEA if you're convinced it's what you want. However, you can't get a Matrand and then return it to move to another mattress without losing some money (you'll have to pay the return shipping costs if you don't live close to an Ikea).
The Company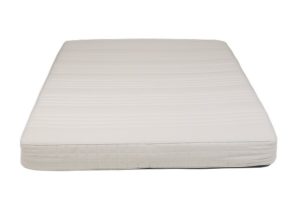 IKEA, a Swedish company selling home furnishings, offers latex, foam, and spring mattresses. The company sells less expensive spring mattresses to high-priced latex and memory foam mattresses. IKEA is known for its quality furniture and states that every mattress it sells is designed to offer comfort and support at a good price. The company is also notorious for its low-cost products and maze-like showrooms, as well as its famous Swedish meatballs.
As a company, IKEA provides home furnishing products that are affordable to many people. It focuses on combining function, quality, design, and value and works to be as sustainable as possible using a variety of eco-friendly materials in the production of its products. This mindset is ingrained in the design department, its sourcing activities, and its packing and distribution tasks. The downside to Ikea is that you'll only find it in larger U.S. cities – no small towns or mid-sized metro areas. Ikea typically doesn't build a store unless the surrounding area has a population surpassing one million. Cities with Ikea stores include Minneapolis, Kansas City, Frisco, Las Vegas, and Tempe.
Warranty
All Matrand mattresses come with a 25-year warranty. Many mattresses only come with a 5 or 10-year warranty, so Ikea's Matrand mattress stands out among its competitors. The warranty covers defects in construction and workmanship – not the standard wear and tear that comes with using a mattress. If you use the mattress improperly, Ikea may void the warranty. Furthermore, you need to hold on to your original receipt. If your mattress has a defect that falls under one of the categories that the warranty covers, Ikea will send you a replacement or repair the mattress for you. If you don't get the chance to try the mattress out in the store, the warranty functions as a good safety net.
Shipping
If you purchase a Matrand mattress directly from Ikea's website, you'll receive it via UPS Ground. Shipping can take a few weeks, depending on how far away you live from an Ikea and what time of the year it is. Moreover, you can expect to pay anywhere from $100 to $200 for delivery. Those who live close to an Ikea can pick it up at the store for free. Since Ikea is known for high delivery fees, you may be able to save money if you combine your purchase with another product, such as a foundation for the mattress. Keep an eye out for deals and coupons because sometimes Ikea offers free shipping if you spend a minimum amount online.
Return Policy
As of October 22, 2020, you can return all new and unopened products within 365 days for a full refund. You can return opened products within 180 days if you still have the receipt. Depending on where you live, Ikea may offer a pick-up service – meaning all you must do is place your product on your porch or doorstep. An extra caveat to Ikea's return policy is that mattresses can be exchanged for another mattress within 90 days of the purchase. And as of the end of 2020, Ikea is no longer buying back old products, so you can't sell back your old mattress.
Trial Period
A great advantage of buying a mattress from Ikea is that you get 90 days to return the mattress if you decide it isn't a good fit for you. There is one exception to the rule – you must own the mattress for at least four weeks before exchanging the mattress (this ensures that you give your body enough time to adjust). Certain mattresses are excluded, so make sure you carefully read Ikea's trial period policy before you buy a mattress or attempt to make an exchange.
Customer Service
Ikea is very responsive when it comes to customer service. You can either email the company or contact its customer support line between the hours of 9 am and 8 pm (ET). The company's website boasts a detailed FAQ section, product guides, and an easy-to-use self-service cancellation tool. Compared to competing companies that sell mattresses, Ikea ranks very high in the category of customer service.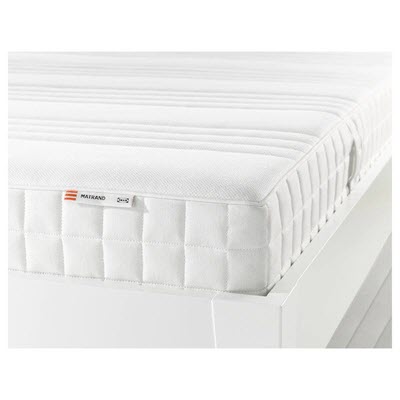 Should You Buy a Matrand Mattress?
If you're looking for a low-priced mattress from a reputable brand, then you should consider buying a Matrand mattress. While this mattress isn't loaded with advanced technology, it has the basic features to keep you comfortable and well-supported during the night. Aside from the physical components of the mattress, the product comes with a competitive warranty, trial period, and a decent return policy. However, if you don't leave near an Ikea, you may have to pay up to $200 in shipping costs. The only way you can test out the mattress before buying it is if you visit an Ikea store in one of the larger U.S. cities. With that said, expect to add a couple of hundred dollars to the purchase price if you don't live near an Ikea.
The Matrand mattress is a good option for those who want something more on the "firm" side and value the ability to easily wash the mattress's cover. And if you ever have any issues with the mattress, you can easily get ahold of Ikea's customer service to resolve them. Overall, this is a good mattress to pick if you need something fairly basic and don't want to spend a lot of money.
Alternatives to the Matrand Mattress
There are some people that will like the Matrand and all it offers. However, there's a few alternatives you should know about before you pull the trigger on this IKEA mattress. All of these options are priced near or below the level of the Matrand, and they all offer something extra you don't get with IKEA's option. Take a look and see what makes them great alternatives!
Plushbeds
If you're looking for certified natural and organic materials at an affordable price, then Plushbeds is another great option for you. You can get natural latex and memory foam mattresses for any budget or size.
One of the things we like most about Plushbeds is that they make a wide variety of non-standard mattresses, like RV mattresses, Sofa bed mattresses, and so on. As a result, they're a great choice if you're trying to add some new life to an existing bed or guest room without going all out and breaking the bank.
Another thing to love about Plushbeds is that they have free delivery and return shipping. That means you can take advantage of their 100-night trial offer with zero risk.
PLUSHBEDS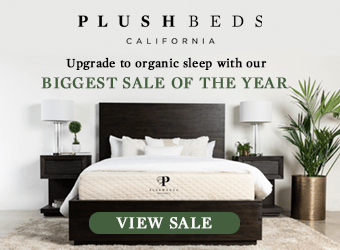 What Makes PlushBeds a Great Alternative?
Lots of options means there's something for everyone
Natural and organic latex mattresses
Free shipping and return pickup
Check out PlushBeds
Saatva
Saatva is one of the biggets names in the mattress industry today. The company offers a host of different branded beds and almost certainly have something that's perfect for you. Their most famous offering is one of the best hybrid mattresses on the market today, the Saatva Classic Hybrid.
This mattress features a luxury Euro Pillow Top, great perimeter edge support, and individually wrapped coils to prevent motion transfer. The result is a bed that gives you the best of what memory foam and innerspring technology have to offer. All of this plus their Spinal Zone technology means that you'll get the support you need to have the perfect night of sleep!
EDITOR'S CHOICE
What Makes Saatva a Great Alternative?
Best-priced luxury mattress
Features Lumbar Zone Technology for back-relieving support
Highest quality materials and eco-friendly
Handcrafted in the US
 
Check out Saatva
4.4 out of 5 stars (based on 11 reviews)
Excellent46%
Very good45%
Average9%
Poor0%
Terrible0%