An In-depth Review of Night Therapy Memory Foam Mattresses
Jake Comfort  |  Updated: August 2023
Jake Comfort  |  Updated: August 2023
We have an affiliate relationship with and receive compensation from companies whose products we review on this site. We are independently owned and the opinions expressed here are our own.
Night Therapy memory foam mattresses, manufactured by Zinus, are conforming mattresses that boast layers of therapeutic memory foam. For a price point under $700, these mattresses offer premium comfort without the high price tag that typically comes with it. With thousands of positive reviews, it's easy to see why Night Therapy mattresses are preferred over competing brands.
We understand that picking out the right mattress is tricky, especially if you're a sensitive sleeper or suffer from chronic conditions such as osteoporosis or arthritis. To help you ensure whether or not a Night Therapy memory foam mattress is right for you, we wrote an all-encompassing review that considers its advantages, disadvantages, and outlines important decision-making techniques that you must consider when shopping for a new mattress.
Advantages of Night Therapy Memory Foam Mattresses
You'll notice that Night Therapy mattresses offer durable memory foam, several inches of high-density support, and pressure-relieving technology. These are just a few of the advantages that these mattresses offer. Other selling points include premium body support, ease of use, top-of-the-line customer service, and a free warranty.
Low Cost Paired with a Strong Reputation
Night Therapy Memory Foam mattresses offer therapeutic benefits at low prices. These mattresses range from $95 for a child-size 5-inch mattress to $700 for the larger, 14-inch Pressure Relief mattress. Most mattresses that Night Therapy offers average around $200 to $300. Consumer reviews generally favor these mattresses. They are popular on Amazon with reviews ranging from four to five stars, depending on the mattress. The consensus is that the mattresses are a great deal for the money.
Premium Body Support
The mattresses offer back support and motion isolation. These qualities result in health benefits that arise from proper body alignment during sleep. Night Therapy creates their mattresses with high-quality CertiPUR-US certified memory foam which is made without ozone-depleting chemicals. The brand's signature memory foam also provides optimum airflow and body temperature regulation, ensuring that you don't overheat during the night. With natural active charcoal elements, the mattress also expels moisture and retains its lightweight body.
Ease of Use
All Night Therapy memory foam mattresses are easy to set up. Their mattresses are shipped in a vacuumed sealed wrapping and fit snuggly inside the box. Its convenient packing makes them a breeze to transport. Once you have the mattress in the room you want it, all you have to do is remove the wrapping and watch the mattress inflate. According to Amazon reviews, the mattress only takes a couple of hours to inflate. While box springs and frames are ideal, you don't need one. If you had an empty room, you could just plop the mattress down on the floor and get some shut-eye.
Responsive Customer Service
When you're in the market for a new mattress, it's important to buy from a company that offers excellent customer service. Even though Night Therapy has great reviews on Amazon, things happen. Packages get lost in the mail. Mattresses get punctured during shipment. Zinus is the company behind the Night Therapy brand and the go-to for customer support. The company's website has a 24/7 live chat feature and a dedicated support line. You can also easily register your product and submit a warranty claim.
Free Warranty
As previously mentioned, all Night therapy memory foam mattresses come with a warranty. If there are any manufacturing defects, Zinus will replace your mattress at no cost to you. This is a manufacturer's warranty, so it's offered to you even if you don't purchase a mattress directly from Zinus. Keep in mind that certain acts of negligence, such as altering your mattress, will make the warranty void. Zinus makes it easy to get a replacement mattress – all you must do is submit a warranty claim request on its website.
Disadvantages of Night Therapy Memory Foam Mattresses
Like most memory foam mattresses, the Night Therapy brand has a few disadvantages that are often unavoidable. To start, you won't be able to use the mattress right after taking it out of the box. Keep that in mind and plan accordingly. You'll want to start setting it up several hours before going to sleep. Moreover, due to the type of memory foam used in its production, don't expect these mattresses to last forever. And, when you unpack the mattress, you might need a hand or two. To keep the cost of shipping down, the mattresses are packed tight. Depending on the size of your mattress, it can be quite heavy to carry the mattress inside.
Delay Between Delivery and First Use
Do not expect to be able to sleep on the mattress the night it arrives. These memory foam mattresses take four to five hours to develop into their plush shape once out of the box. In some cases, one of their memory foam mattresses can take up to 48 hours to reach its full shape. Consumers have also reported a chemical odor once opened, but this quickly dissipates within a couple of days.
Limited Lifespan
An evaluation of consumer reviews has shown that buyers typically enjoy their Night Therapy mattresses, but that they tend to only have a lifespan of four to five years before they start to sag. Night Therapy offers a limited warranty of five to fifteen years, but it is voided if improper foundations are used underneath the mattresses. The memory foam mattresses also tend to retain heat, but this can be minimized if the gel version is purchased.
Handling
While the mattresses are easy to set up, the box that they arrive in does not have handles. Depending on your strength, you may need an additional person to help you bring the mattress into your house. A few other reviewers also reported that the boxed arrived damage, but this could easily be the fault of the mail carrier, not the Night Therapy brand itself.
The Mattresses
Night Therapy memory foam mattresses come in a variety of sizes and types, all made from high-quality BioFoam. The smallest is a five-inch foam mattress that would be the perfect fit for a child. The other memory foam mattresses range from 6 to 14 inches thick in twin to king and California king sizes. You can find these mattresses both on Amazon and at a variety of brick-n-mortar stores. Most of the mattresses have multiple layers, including high-density foam, comfort foam, memory foam, and a knitted jacquard cover to top it off.
Some mattresses are infused with green tea extract, keeping the bed fresh. They also come in Pressure Relief and Gel Memory Foam varieties. Night Therapy claims that the Pressure Relief mattresses are "clinically proven to improve both sleep time and efficiency." The Gel Memory Foam versions are designed for a cooler night's sleep. These advanced technologies are especially beneficial for those who suffer from chronic back pain, sore joints, and tense muscles.
The firmness of Night Therapy mattresses ranges from "extra plush" to "medium." If you need extra support and spinal alignment, it's in your best interest to get a mattress that leans toward the "firm" side of the spectrum. Reviews on Amazon state that even the extra plush option doesn't have a deep sink, meaning you won't have trouble getting out of bed. In fact, a mattress that sinks in too deep can actually be counterintuitive and cause more pain and back problems.
Is a Night Therapy Mattress Right for You?
Everyone sleeps differently, and everyone has different pain points and sensitivities. With medium firmness levels, Night Therapy mattresses are suitable for sleepers who want contouring body support, not a plush bed that makes them feel like they're sleeping on a cloud. These mattresses are especially beneficial for those who suffer from body pain (especially upper and lower back pain), as the conforming memory foam promotes spinal alignment.
Considering that Night Therapy offers an array of mattress varying in size, you should be able to find one that meets your needs. And while chances are slim that you'll get the chance to test out a Night Therapy mattress in person, you need to consider your personal preferences. Some people prefer 100% memory foam mattresses while others prefer a hybrid of memory foam and coil mattresses. If you do prefer a hybrid mattress, you're in luck, because Night Therapy sells a gel memory foam and pocket spring hybrid mattress.
The Thickness of the Mattress and Its Importance
The thickness of a mattress isn't just for cosmetic purposes – it's an important factor to consider if you're in the market for a Night Therapy mattress. As a general rule-of-thumb, thicker mattresses are softer because of their extra layers of foam. If you're a side sleeper, you should consider the 10" Night Therapy Memory foam mattress. On the other hand, back sleepers would get the optimum level of comfort from an 8" mattress. Lastly, the 13-14" mattress is designed for all sleepers, including those who sleep on their stomach.
The Company Behind the Night Therapy Mattress
The Night Therapy Memory Foam Mattresses are manufactured by Zinus, a company that holds an A+ Better Business Bureau rating. They are also accredited with Consumer Affairs where the company has received an overall satisfaction rating of five out of five stars from verified reviewers. The company has extensive experience when it comes to mattress manufacturing. The team at Zinus first launched their bedding products line in 2004 and now have over 2.8 million sq. ft. of production facilities in China. The four core values of Zinus are evolution, efficiency, ethos, and expertise.
Throughout its sixteen years in operation, Zinus has received over 510,000 positive customer reviews. The company is continually looking for ways to advance its manufacturing processes and provide innovative products. The man who founded Zinus, Youn Jae Lee, has come a long way from building tents back in 1979.
Night Therapy's Competition
As with any memory foam mattress brand, Night Therapy has many competitors. These include Best Price and Signature Sleep. More expensive competitors include Serta, Tempur-Pedic, and DreamFoam. You can find these competing brands on Amazon and in retail stores.
What Sets Night Therapy Apart from the Competition?
When it comes to facing its competitors, Night Therapy uses its price tag as the main selling point. Since Zinus manufactures these mattresses in China, it can offer a lower price compared to American-made mattresses. With that said, Night Therapy still retains quality certifications such as CertiPUR-US, which are often not associated with Chinese mattresses. Zinus goes out of its way to produce mattresses that are free from harmful chemicals, partially by using natural ingredients such as castor oil to promote freshness. In addition to its price, Night Therapy mattresses have thousands of positive reviews that speak for themselves.
Retailers that Sell Night Therapy Memory Foam Mattresses
You can purchase Night Therapy memory foam mattresses directly from Zinus, on Amazon, and at a variety of different retail stores such as Sam's Club and Kmart. With that said, Zinus' focus is on e-commerce, so you will find the best selection of mattresses from Amazon and other online stores such as Wayfair. Most consumers tend to buy Night Therapy mattresses on Amazon because the website gives them increased visibility regarding customer feedback, product specifications, and they also have the option to purchase the same mattress model from different sellers.
A Final Glance at Night Therapy Memory Foam Mattresses
Night Therapy memory foam mattresses offer many features that consumers are looking for: enhanced airflow, pressure relief, temperature regulation, and odor elimination. While they are not necessarily luxurious mattresses, they do have a lot to offer at a low price point. Backed by the large e-commerce company Zinus, the mattresses come with warranty protection and quality customer service. If you're not quite confident that a Night Therapy mattress is right for you, you can look at one of the thousands of positive reviews on Amazon. This mattress brand is a strong contender for anyone that wants a supportive and durable mattress at a fraction of the cost of competing brands.
Alternatives for Night Therapy mattresses
Night Therapy mattresses might be right for some people, but they're not right for everyone. That's why we've put together this list of alternative mattresses that anyone who's thinking about Night Therapy Memory should consider.
Each of these options offers most or all of the benefits you get from a Night Therapy, but they also have something else – more features, better selection, better price, and so on. So, check out these great deals today:
Saatva
Saatva is one of the biggets names in the mattress industry today. The company offers a host of different branded beds and almost certainly have something that's perfect for you. Their most famous offering is one of the best hybrid mattresses on the market today, the Saatva Classic Hybrid.
This mattress features a luxury Euro Pillow Top, great perimeter edge support, and individually wrapped coils to prevent motion transfer. The result is a bed that gives you the best of what memory foam and innerspring technology have to offer. All of this plus their Spinal Zone technology means that you'll get the support you need to have the perfect night of sleep!
SAATVA
What Makes Saatva a Great Alternative?
Best-priced luxury mattress
Features Lumbar Zone Technology for back-relieving support
Highest quality materials and eco-friendly
Handcrafted in the US
 
Check out Saatva
PlushBeds
PlushBeds are another option if you want certified natural and organic materials for your mattress but don't want to break the bank to pay for it. PlushBeds offeres natural latex mattresses, memory foam mattresses, sofa bed mattresses, and even RV mattresses. That means they've got an amazing mattress no matter what your needs are.
One of the things we like best about PlushBeds is that they have a more flexible product line than other mattress companies. You can even get adjustable beds from PlushBeds. Very few mattress companies offer adjustable memory foam and latex beds, and those that do charge an arm and a leg. PlushBeds gives you the options you deserve while keeping within your budget.
PLUSHBEDS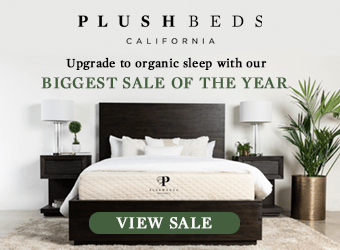 What Makes PlushBeds a Great Alternative?
Lots of options means there's something for everyone
Natural and organic latex mattresses
Patented cooling gel memory foam
Free shipping and return pickup
Check out PlushBeds
4.3 out of 5 stars (based on 12 reviews)
Excellent25%
Very good75%
Average0%
Poor0%
Terrible0%