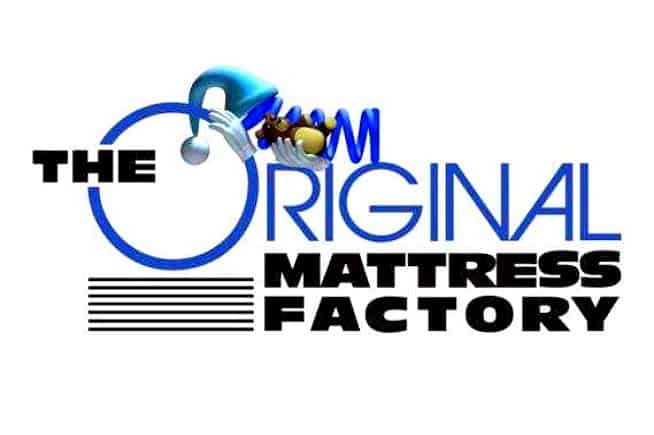 The Original Mattress Factory opened its first location in Cleveland, Ohio in 1990 by partners Ron Trzcinski, Perry Doerman, and Larry Carlson. Today, it has 11 factories and more than 100 locations throughout the United States. The company prides itself on eliminating the middle man and manufactures their own products in factory.
The Good:
The Original Mattress Factory is easily accessible. It has stores in 9 different states and offers shipping to most others. The mattresses come in many price points, from affordable classics to the more expensive luxury lines. The Classic starts at $249 and is competitively priced with other mattresses of its type. Their luxury mattress, the Serenity Latex, starts at $1,429. There are a wide variety of mattresses to choose from. Innerspring, orthopedic, pillow top, and foam mattresses are all offered in various styles and price points.
The company itself is known for its excellent customer service and vast selection. Consumer Reports has placed it at number one in customer satisfaction multiple years in a row. The general tone of reviews is positive, with many happy customers describing comfortable, long-lasting beds.
The Bad: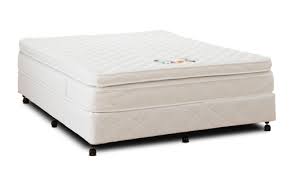 The biggest complaint is that their innerspring mattresses, like most regardless of brand, tends to sag within a few years. Complaints of slopes forming in the middle and on the edges occasionally come up. Warranties are offered by the company but have very strict guidelines. In order to qualify for a replacement mattress the bed must have a noticeable indent of 1 1/2 inches. Transportation costs are not included in the warranty and are up to the consumer to pay for. Another common complaint is that the mattresses are too firm and differ from the store model's firmness.
The Products:
Many mattress styles are available including: The Classic, Regency, Orthopedic, Serenity, foam mattresses and customizable mattresses. All come in various comfort levels from ultra-firm to ultra-plush. Customizable mattresses can be made for hard to find specialty items such as boats, bunk beds, corner cuts, and even sleeper sofas.
The Original Mattress Factory doesn't just sell mattresses, but also bedding and accessories, headboards, daybeds and adjustable bed frames.
Regency Construction
The Regency is one of the Original Mattress Factory's most popular mattress lines. It's an innerspring mattress that comes in variable thicknesses depending on the options you choose. The primary difference is between the 10-inch standard Regency Sapphire mattress and the Regency Sapphire Eurotop. The Eurotop design adds an extra inch of quilted padding to the mattress, producing a softer feel.
The Regency mattress is made from a combination of innersprings and compressed cotton padding and foam. you'll get about 4 inches of padding and foam and 8 inches of innerspring depth. That means you can expect a medium-firm mattress that has consistent support.
However, this hybrid-type system doesn't offer many of the features that'd you'd expect from top-end hybrid mattresses. That's because the foam used with this mattress isn't memory foam or any kind of body-conforming or contouring foam. Instead, it's standard poly-foam. That means the mattress construction is cheap and reliable, but it's not the highest quality.
One thing we do like is that the matching box-spring works as a shock absorber. This extra support means that the mattress will last longer before you need to replace it.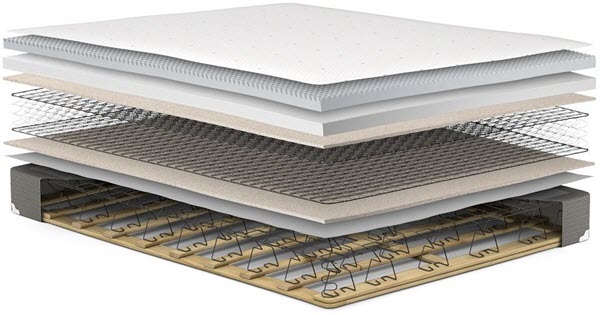 © The Original Mattress Factory
Classic Construction
The Original Mattress Factory's Classic mattress is even simpler than the Regency line. This is a traditional innerspring mattress that has .75 inches of foam on each side. This lower foam amount means it's a much firmer mattress. As a result, it can be a good option for people that want a firm innerspring mattress for health reasons, but most other people will find it too firm to be enjoyable.
Serenity Mattress Construction
Serenity is The Original Mattress Factory's line of memory foam mattresses. It is designed around a high-density foam core and has a one-sided design. This mattress has 4" of high-density memory foam and an "air flow layer" that helps the mattress stay cool at night. The Original Mattress Factory says that this layer also works to make the top layer of memory foam more responsive.
You can also get the Serenity in latex and extra-soft versions. The latex version of the Serenity is two-sided, so you can flip the mattress over to evenly distribute wear. It replaces the memory foam comfort layer in the standard Serenity with a layer of latex foam. It also adds a layer of latex foam to the other side of the high-density foam core. That means you get 3 inches of Talatech Talalay Latex on each side.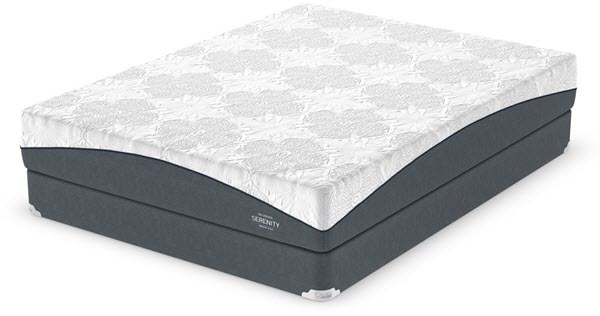 © The Original Mattress Factory
Orthopedic Mattress Construction
Finally, The Original Mattress Factory's line of Orthopedic Mattresses is fairly extensive. The Orthopedic comes in super-pillow top, pillowtop, Eurotop, Plush, Firm, Extra Firm, Ultra firm, and Adjustable. This range of options means that there's a good bet that The Original Mattress Factory has an Orthopedic mattress that matches your needs. The mattresses in this line with a pillow top or Eurotop are one-sided. The firm, extra firm, ultra firm, and plush options are two-sided.
The Orthopedic is designed to be right for people that need extra support at the common pressure points people experience while sleeping. That means it's an option for people that wake up with hip, back, neck, shoulder, or knee pain.
Regency Firmness Feel and Support
The hybrid design you get with the Regency means that it has decent firmness, feel, and support. One thing that's important to keep in mind is that there are multiple versions of the Regency mattress. That means that there's a lot of room for flexibility in these areas.
For example, you can get a Regency with or without a pillow top. Adding the pillow top will make the mattress itself have a softer sensation when you lay down. However, this softness can also affect the way that your body gets support from the underlaying systems in the mattress.
This setup makes it easy for consumers to get the mattress they want with the qualities they're looking for. However, it also makes it more likely that someone will order the wrong mattress by mistake. It can also make it overwhelming to choose a mattress, as there are so many options to pick from.
One piece of advice is to remember that the greater the amount of padding added to the top of a mattress, the softer the feel of that mattress. As a result, you can expect the pillow-top Regency and the Euro-top Regency to be much softer than the standard Regency.
© The Original Mattress Factory
Classic Firmness Feel and Support
The Original Mattress Factory's Classic line of mattresses has a lot of the same qualities as the Regency line, in the sense that there are lots of different options to choose from. When comparing standard models, the Classic will be much more firm than the Regency. That's because the additional foam layer on the Regency gives it an extra level of softness.
However, most people report having much better support from the Classic mattress. That's because the classic innerspring design is very stiff. This helps force your neck, back, and hips into alignment when you're sleeping. As a result, the Classic is an ideal choice for people that are looking for an extremely firm mattress.
Serenity Firmness Fill and Support
The Serenity mattress also has all of the different topper options. It comes in multiple different firmness levels. On the whole, we've found that the different firmness levels for this mattress closely match the levels we would assign. That means you can expect the plush version of this mattress to be extra soft, for example.
One thing to note about the Serenity mattress is that, regardless of what level of firmness you get, the memory foam or latex foam you get in the mattress does a fairly good job of providing support for pressure points while also giving a gentle hug to the sleeper through mattress contour.
Something that customers should consider when getting a Serenity mattress is that the pillow top options will be much softer than the standard options. Additionally, the pillow top will reduce the amount of interaction you get with the memory foam or latex layers. That means a pillowtop or Eurotop Serenity can be a good option for those who like having some sensation of memory foam, but don't want to get the complete sensation of the mattress conforming to your body.
At the same time, people who want the qualities of memory foam and want to experience them directly should stay away from the pillow top and Eurotop versions of this mattress. This is true for the same reasons as previously explained. Adding a topper reduces the amount that your body interacts with the memory foam. Less interaction means less hug and contour.
Orthopedic Firmness Feel, and Support
The Orthopedic mattress is designed with an eye towards giving people the best support possible. It does this by providing additional layers of support foam before the innersprings. However, the innersprings aren't pocketed. This means that you'll get more motion transfer at night when someone tosses or turns. As a result, partners may have a hard time staying asleep at night.
However, the support you get from the additional foam layers on the Orthopedic mattress line means that it's much better for pressure points and spinal alignment. It also makes this mattress appealing for side sleepers, especially the softer versions of it. That's because the additional foam can handle the pressure that your shoulder puts on the rest of your body when you're sleeping on the your side.
A Note About Returns:
The company does not accept any returns, but does offer a one-year comfort policy in its place. This entails a 25% fee based on the cost of the lowest priced mattress. It also may include the difference in price between the two mattresses and a delivery fee. A size change policy is also available. The consumer may pay a 25% fee and change the size of their box spring to split or low profile, or to change the overall size for a 50% fee. Again, price differences and delivery fees may apply.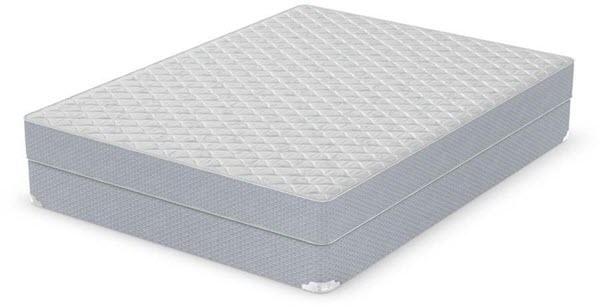 © The Original Mattress Factory
Should You Get An Original Mattress Factory Mattress?
There are several different types of sleepers that might enjoy an original mattress factory mattress. However, you need to be sure that this is the mattress you want, as the company doesn't accept any type of returns other than warranty claims. That means you can only get your money back if your mattress breaks.
However, if you live near an Original Mattress Factory store and prefer to get your mattresses in-person so you can actually experience how they feel, then you should certainly stop by the original mattress factory. Their different mattress lines cover all of the basic types of mattresses you can get on the market today. At the very least, this will help you understand the difference between an innerspring, hybrid, and foam mattress so you can narrow your search even more.
If you don't live near an Original Mattress Factory, then you should probably look elsewhere for your mattress. The risk that you don't like the mattress you order is too high given the fact that the company doesn't accept returns without elaborate fee structures. This is especially true when nearly every online retailer gives you at least 100 days to try a mattress out before you're committed to it.
At the end of the day, the Original Mattress Factory has some good options, but it isn't the best consumer choice for most sleepers. You should only make them a priority if you live near one of their stores and can try the different mattresses for yourself.
Alternatives to Original Mattress Factory
Given the limits on the appeal for the Original Mattress Factory, we thought it'd be smart to list some alternatives. Each of these three companies have mattresses that are as good as or better than those you get from the Original Mattress factory. They usually have them at a better price, and all have at least 100 nights for you to be sure you love your mattress.
Puffy
Puffy is one of the premier mattress companies for people looking for the best possible sleep experience they can find. The company uses an innovative combination of materials to ensure that you get the support and comfort you need.
Another reason that we like the Puffy mattress so much is that it's designed with lots of important features in mind. It works for all sleep positions and has spinal alignment and pressure relief systems that work great for nearly every person. Their materials even react to temperature to ensure you stay cool while you're sleeping so you can wake up feeling refreshed.  Finally, you get 101 nights to make sure it's perfect for you.
EDITOR'S CHOICE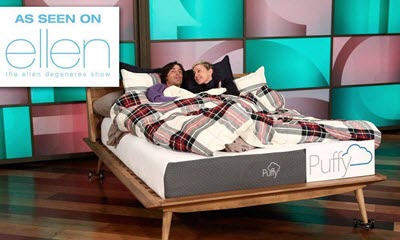 What Makes Puffy a Great Alternative?
101-night sleep trial to ensure total comfort

Free shipping

Place on any surface

Save $300 when you use our link
PlushBeds
If you want your mattress to be made from eco-friendly all natural and organic materials, the PlushBeds is an excellent option for you. The beds are made with natural latex and memory foam. PlushBeds also offers mattresses for a wide variety of needs, including RV mattresses and adjustable mattresses. That makes them a one-stop mattress shop for lots of different consumers.
Plsuhbeds also gives you 100 nights to make sure your mattress is perfect. If you don't like it, then the return shipping is free. The delivery is also free with PlushBeds. Given all these great benefits, there's no reason not to give them a try.
PLUSHBEDS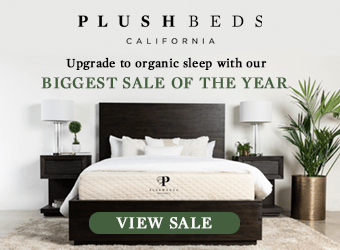 What Makes PlushBeds a Great Alternative?
Lots of options means there's something for everyone

Natural and organic latex mattresses

Free shipping and return pickup
DreamCloud
DreamCloud is an online mattress company that gets more popular every day. They offer a range of hybrid and foam mattresses. The different lines at DreamCloud mean there's something for every sleeper and something for every budget, as prices start at just under $400.
One of the things we like best about DreamCloud is the amount of attention that goes into the materials used on the mattresses. Things like organic cashmere covers and activated-charcoal infused foam normally cost much more, so these details help DreamCloud punch above its weight class in a big way. You get 365 days to try the mattress to make sure it's perfect for you.
DREAMCLOUD
What Makes DreamCloud a Great Alternative?
Loaded with features – Cashmere cover, 5-zone compression, pocketed coils, and more

365-day trial to ensure the perfect night's sleep

Lifetime Warranty for your peace of mind

Get an instant $200 off by using our link
What They Say
3.9 out of 5 stars (based on 9 reviews)
Excellent22%
Very good45%
Average33%
Poor0%
Terrible0%