A Review of Cuddle Mattress
Jake Comfort  |  Updated: February 2023
Jake Comfort  |  Updated: February 2023
We have an affiliate relationship with and receive compensation from companies whose products we review on this site. We are independently owned and the opinions expressed here are our own.
There are several different mattress selections that are readily available. They come in a variety of shapes and sizes that are designed for many different sleeping styles. The Cuddle Mattress looks nothing like its standard counterparts. It utilizes an innovative module system to help support key body parts like your shoulders. This review is going to cover some the main pros and cons of the product and offer a final verdict.
Construction
Cuddle has two different options for mattresses, the Cuddle PU and the Cuddle Mattress Memory-Gel. Both mattresses are made from three layers of foam and designed to provide a good combination of support and comfort. The main difference between the two mattresses is that the Memory-Gel mattress has gel-infused foam for the top and bottom layers. This gel-infused foam assists with removing excess heat from the mattress so you sleep cooler.
One nice thing about the construction of the Cuddle mattresses is that they have foam slats in the foot and head space. There are six foam slats that allow for support for your head and feet. These slats also allow couples to cuddle without creating a pinching effect.
Top Layer: The top layer has 2" of memory foam. This Is designed to help with pressure points. These are the sensitive areas of your body that can give you aches and pains in the morning if they don't get the right support while you're sleeping.
Middle Layer: The middle layer acts as the foundation of the mattress. It's made from 5.5" of high-density core foam. This foam is designed to help the mattress keep its shape while providing spine support.
Bottom Layer: the bottom layer of the Cuddle mattress consists of 1" of memory foam. It's intended to provide pressure point relief.
One important thing to note is that, unlike many other foam mattresses on the market today, the Cuddle mattress can be flipped. Astute readers will notice that the "bottom" layer of the mattress is very similar to the top layer, differing only in thickness. That means you can flip the mattress to get a firmer feel. As a result, Cuddle Mattresses will provide the right feel for a wide range of sleepers. We'll look at the firmness, feel and support in the next section.
Firmness, Feel, and Support
The firmness you get from a cuddle mattress depends on which side you're sleeping on. You'll get a softer mattress if you sleep on the standard side, which is the side with 2" of memory foam. The side with 1" of memory foam will give a firmer feel.
On a scale from one to ten, with ten being the firmest and one being the softest, the standard mattress rates at a 5-6. On the same scale, the flipped mattress comes in at a 6-7. That range covers the vast majority of firmness levels that most sleepers look for. It's very rare for someone to favor a mattress that is either much softer or much harder than this.
In terms of support, the Cuddle mattress does an above average job. The foam slats in the head and foot areas of the mattress do a wonderful job providing couples with the support they need while cuddling or holding each other without creating awkward pressure points or pinching.
Additionally, we found the core support foam that makes up the middle of the mattress to be exceptional at doing its job. The mattress is responsive with a bit of bounce (it is designed for couples, after all), but it doesn't have the taut feel that you get from something like a latex mattress.
The result of all of this foam and innovative construction is that you can expect the Cuddle mattress to give you a comfortable night sleep while supporting your pressure points to make sure you don't wake up with aches and pains in the morning.
Cover
The Cuddle mattress features an attractive, off white cover. It's 100% removable for easy washing, and is made from non-chemically treated polyester. As a result, it provides a nice, soft feel without creating any of the saggy, loose fabric sensation that you get from the cover of other popular foam mattress options.
We particularly liked to cover that comes on the Cuddle. It's a nice change of pace from the standard grey or white covers that you usually see with direct order mattresses. The polyester construction does a good job of wicking moisture, which will help people sleep dry and comfortably. The fact that the cover can be removed also helps set it apart from some of the cheaper foam mattress options on the market today.
The Pros of Cuddle Mattress
Cuddle Mattress is designed completely differently than other mattresses that are available. It is a memory foam style mattress that is composed of different sections. These sections fit together to create folds that you can rest areas of your body.
The theory is that these folds alleviate pressure on those areas of your body. It is customizable during assembly to supply varying degrees of support where you want them most. The mattress has a firm and soft side that you can alternate as necessary during assembly to create the perfect combination.
Below are the main pros of Cuddle Mattress.
Covered by an impressive 25-year warranty
Constructed with fire retardant Radon material
Offers a high degree of customization
90-day return period minus shipping costs
The Cons of Cuddle Mattress
While Cuddle Mattress offers a unique approach to a restful night's sleep, it has many design flaws. For one, the mattress requires an extensive amount of initial assembly. Each core and section must be carefully assembled and then screwed together.
Also, the mattress takes quite a bit of time to expand. It is delivered in a vacuum packed seal that results in an extensive amount of time for expansion. It also causes wrinkles in the product that take time to release as well.
Another downside of the Cuddle Mattress is that it requires a special elastic style sheet. This limits your sheet choices to those supplied by the company. If the company were to close, you would be left without other purchase options.
Pricing
Cuddle has two different mattresses available. It's important to note that these mattresses are only available in full, queen, king, and California king sizes. That means you'll need to look elsewhere if you're looking for a twin or twin XL mattress.
| | | |
| --- | --- | --- |
| Size | Cuddle Mattress Memory Gel | Cuddle Mattress PU |
| Full | $1,599 | $1,249 |
| Queen | $1,749 | $1,449 |
| King | $1,949 | $1,599 |
| California King | $1,999 | $1,649 |
As you can see, the Cuddle costs a bit more than similar mattress options. Additionally, it doesn't have a Twin or Twin XL size for its mattresses.
Other Information
It's important to find a mattress with the right feel and at the right price. However, there are other important considerations to take into account as well. This section looks at other important things you should consider before buying your next mattress, whether you choose the Cuddle, or something else.
Financing
Cuddle offers 6 months of interest-free financing through PayPal credit. It's important to note that this is actually a deferred interest period. That means if you don't completely pay off your balance before the special financing period ends, then you'll get hit with the totality of the interest charges that you would have accumulated over the six-month special interest period.
The fact that financing is offered through PayPal is one nice feature of cuddle mattress. PayPal credit is usually pretty easy to get. It also means that people who use PayPal as their primary operating account can easily pay their bill without transferring money between different banks and getting hit with the fees that go with said transfers.
Shipping
Cuddle ships to all 50 states and internationally. You'll be charged shipping costs if you live outside of the US. One important thing to note is that Cuddle has a slightly different shipping and manufacturing process compared to other companies. Order processing can take up to 7 weeks depending on when in the month you ordered. All orders received by the 20th of a month will be shipped by the end of the following month.
As a result, it can take longer to get a Cuddle mattress than it takes to get a new mattress from other companies. That means Cuddle isn't the best option if your current mattress is completely shot and you need a new one right away.
Trial Period
Cuddle offers a 90-day trial period when you order their mattress when you buy directly from them. This trial period lets you try both sides of the mattress and ensure that the Cuddle is the mattress you've been looking for.
Foundation
The Cuddle mattress, like most foam mattresses, works best when it's on an even foundation. As a result, slats and bedframes aren't going to produce the best results, either for the quality of your sleep or for keeping your mattress in tip-top shape. That's why Cuddle recommends using a mattress foundation instead of slats or a traditional bedframe.
Verdict
Initial odor that is common with memory foam style mattresses
Not compatible with traditional sheets
Lengthy and extensive product assembly required
Overall, the Cuddle Mattress provides a unique approach to offering a great night's sleep. It is comprised of folds that work to alleviate pressure on areas of the body. It also allows for unique customization options that many other mattresses do not provide.
It is also supported by an impressive warranty and return period. This shows the company is fairly confident in the capabilities of their product. It also provides peace of mind to consumers who are debating this mattress choice.
However, there are several glaring design flaws with this mattress. For one, the initial assembly may prove to be complicated for many users. The unique sectioned design also means that standard sheets cannot be used with this mattress. This can be cause for concern for many owners.
With these issues in mind, the Cuddle Mattress offers a unique approach not seen in many other mattresses. This may make trying the mattress out worthwhile especially with its warranty and return period backing the product.
Should You Buy the Cuddle Mattress?
The Cuddle Mattress is a good option for many people. However, we recommend it mostly for couples. Single sleepers won't get the same benefits from the innovative design methods that the company uses to enhance their mattress.
The other thing to consider is the price. While the features you get with the Cuddle mattress are good, the mattress is fairly costly when compared to other options. That means you'll want to ensure that you're getting the greatest amount of benefit from the mattress before you commit. We recommend buying directly from Cuddle so you can take advantage of the 90-night tryout period. That way you can try both sides of the mattress and give your body enough time to become used to each side. This will allow you to tell if the Cuddle will be a good option for you.
There are some situations where you should avoid buying the Cuddle mattress. For example, if you need a new mattress right away, then Cuddle probably isn't the best option. The mattress is incredibly popular, so it can take some time to get your mattress shipped to you.
Additionally, the popularity of the mattress poses another problem. Cuddle can occasionally run out of stock for some of their options. For example, when writing this article we found that the Cuddle PU was completely sold out.
Finally, people that are looking for a Twin or a Twin XL mattress should look elsewhere. Cuddle simply doesn't make mattresses in those sizes. As a result, Cuddle won't be an option for you.
That being said, there's a lot to like about the Cuddle. After all, there's a reason that the company is sold out of stock! If you think you might like the Cuddle mattress, or if you're tired of trying to find a comfortable sleeping position that will let you and your partner cuddle without feeling pinched and sore in the morning, then give the 90-night free trial period a go. However, if you're looking for the most cost-effective mattress on the market, then you should look elsewhere.
Alternatives to Cuddle Mattress
Cuddle Mattress is pretty appealing. However, we want to make sure you get the perfect mattress for your needs. That's why we've assembled this list of alternatives to Cuddle mattress. All of these mattresses give you some, most, or all of the features you get from Cuddle, but have some other benefits as well. Check out our list of alternatives to the Cuddle mattress below.
Puffy
Puffy is one of the fastest growing names in the mattress market today. One of the best things about the Puffy mattress is that it's one of the few options that are specifically designed to accommodate all different types of sleepers. That means side sleepers, back sleepers, and even stomach sleepers can get the support they need to wake up feel fresh and rested.
Another thing we love about Puffy is the 101-night sleep trial that you get. This option means that you can try out a Puffy mattress and see if it gives you the sleep you've been searching for. If it's not right for you, then you can send it back free of charge for a full refund. That means you've got everything to gain and nothing to lose!
EDITOR'S CHOICE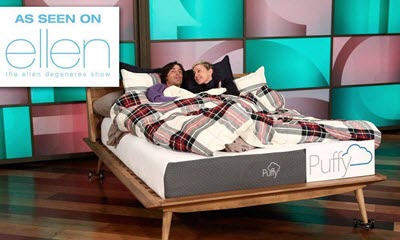 What Makes Puffy a Good Alternative?
Designed for all types of sleepers – side, stomach, and back
Free shipping
Can be placed on any surface
Save $300 when you use our link
Check out Puffy
PlushBeds
PlushBeds is one of the best options available for people that want to be sure their mattress is made with 100% eco-friendly materials. All of their mattresses are certified organic and natural, with a host of professional certifications to back up their claims.
Another thing we love about PlushBeds is that you can try them for 100 nights. As a result, you can make sure PlushBeds is right for you. We're confident that the combination of high-quality organic and natural latex with the other sleep innovations you get at PlushBeds will blow you away and help you sleep easy. Give them a try and see what natural and organic latex can do for you!
PLUSHBEDS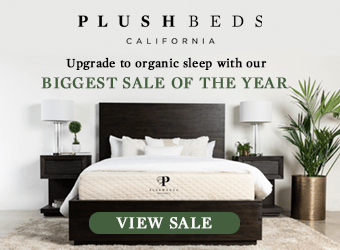 What Makes PlushBeds a Good Alternative?
Lots of options means there's something for everyone
Natural and organic latex mattresses
Free shipping and return pickup
Check out PlushBeds
What They Say
4.6 out of 5 stars (based on 16 reviews)
Excellent63%
Very good37%
Average0%
Poor0%
Terrible0%