The Pros and Cons for the Therapedic Mattress Collection
Jake Comfort  |  Updated: February 2023
Jake Comfort  |  Updated: February 2023
We have an affiliate relationship with and receive compensation from companies whose products we review on this site. We are independently owned and the opinions expressed here are our own.
Therapedic mattresses are some of the most popular mattresses in the United States. The brand boasts patented technology and responsive customer support, making it the go-to choice for many customers. Therapedic has such a wide reach because it extends licenses to other mattress factories, allowing them to manufacture mattresses under the Therapedic name. The mattress brand has granted over fifty licenses across the world – making it easy to get a Therapedic mattress, no matter where you are. Now, we'll go into more information about some of the collections available and the specifications of each.
Introduction
While the Therapedic Mattress Collection isn't as well-known as its competitors, it has a decent range of options available for its customers. In fact, there are three different core options available for purchase. The company was actually started in 1957, but it doesn't have as much brand recognition as you find with some of the other leading mattress brands.
For the purpose of this review, we'll be taking a closer look at one of the company's most popular mattresses — their hybrid mattress.
There are a few different hybrid mattress options, but the most affordable option is the Bravura — it also happens to be one of the best mattresses on offer from Therapedic.
Another option, as mentioned, is the Innergy 2 mattress – equipped with an interactive comfort system. This is like a hybrid, boasting a base layer of foam-encased innersprings along with various foam layers. With that said, it's not as much of a hybrid as the models in the actual "Hybrid collection."
Is the Therapedic Hybrid mattress or Innergy 2 right for you? Let's look at the core features that you'll find when you purchase this mattress.

Construction
The construction of your mattress is the most important aspect of your mattress. The way that it is constructed will determine how it feels and how long it lasts. It's critical to purchase a mattress that is constructed using the best materials. So, what type of materials and construction methods are used to develop the Therapedic's Bravura Hybrid mattress?
Like most hybrid mattresses, the Bravura Hybrid mattress uses a combination of foam, latex, and coils to ensure that the mattress benefits from a range of different materials. The combination of these materials ensures that the mattress provides comfort, support, and pressure relief for its users. This combination of materials also provides users with excellent breathability benefits. The Innergy 2 is very similar, minus the latex. 
Therapedic Bravura Hybrid
To get a better idea of how this mattress is constructed, we're going to take a quick look at the layers on offer with the Therapedic Bravura Hybrid.
Top Layer
This is the layer that your body will interact with the most, so It's critical that it prioritizes the comfort you're looking for. The top layer is made from a thin but practical Energex Foam that provides ample comfort and sinkage for its users.
Middle Layer
Talalay Latex makes up the middle layer of this mattress. This provides a transition layer that also adds additional support to the person lying on the mattress. Latex has become a common material for many top mattress products.
Third Layer
The last layer of the Therapedic Bravura Hyprid mattress is close to the base layer. This is the laying the provides stability and support you need to sleep comfortably through the night. Without this layer, you'd simply sink to the ground. This layer is made from a foam that has infused coils — these coils provide bounce, support, and breathability.
Base Layer
The final base layer is simply a relatively thick, high-density foam that provides that last realm of support for the mattress. Again, this is another layer that is needed to prevent too much sinkage or a lack of support.
Edge Layer 
Not only does this mattress have three core layers, it also has an edge layer to provide extra edge support to sleepers. This layer is made from micro pocket coils and Quantum Edge coils. These provide additional breathability and support for those who use this mattress. This is an excellent feature that you don't find in many competitors.
Bravura Hybrid Cover
When the Bravura first entered the market, it made headlines because of its use of the well-known textile designer Bekaert Deslee. The textile producer is well-known for its knitted zip-covers for a variety of premium mattresses. As you'll see in the cover of the Bravura, it provides its users with a traditional quilted pattern.
The cover provides additional support and protection for the mattress. Fortunately, the cover is quite thin — it doesn't take away too much from the top layer of the mattress. Some mattress producers aim to provide too much cushion with their top covers, which can result in unwanted heat retention and interference with the natural texture of the cover.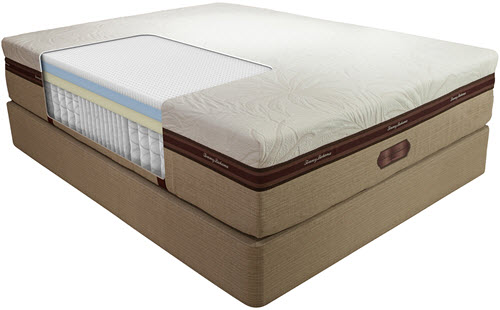 Innergy 2 Innerspring Mattress
Top Layer
The top layer of a mattress plays a big role in the overall comfort and firmness level. With a top layer of high-density gel foam, the Innergy 2 mattress molds to the shape of your body while maintaining a cool temperature. As an extra bonus, the top layer of the mattress mirrors the bottom layer of the mattress, making it flappable.
Middle
Right underneath the high-density gel foam is a layer of comfort foam that provides additional support in conjunction with the gel foam layer. The high-quality memory foam provides pressure relief and helps keep your spine aligned throughout the night. Like the top layer, this middle layer also contours to the shape of your body.
Third Layer
After the comfort foam layer, there's a layer of 5-zone foam – a layer that provides key support, comfort, and targeted pressure support. This layer gets its name because it literally has five different zones sculpted into the surface of the layer, each of which plays a crucial role to support your body while you sleep.
Base Layer
At the bottom of the mattress, you'll find a foam-encased innerspring foundation. Not only does this foundation provide extra support, but it also helps support the multiple layers above it. As it sounds, this foundation has a network of innersprings that are sounded by a sturdy frame.
Innergy 2 Innerspring Mattress cover
The Innergy 2 boasts a soft-to-the-touch cover that's like that of the Therapedic Bravura. While you won't have any trouble falling asleep on this mattress, you can also purchase a plusher pillowtop should you wish.
Firmness, Feel, Support
At the end of the day, you must consider the firmness, feel, and support of any mattress that you choose to purchase. If you're going to spend 1/3 of your life on a mattress, it's critical to choose an option that has the combination of features that you're looking for. So, how do the Therapedic Mattress Collection Bravura Hybrid mattress and Innergy 2 Innerspring mattress feel? Let's find out.
The Therapedic Mattress Collection Bravura Hybrid is extremely comfortable. It provides a nice hug and contour for the person lying on the mattress. It's safe to say that this mattress is on the firmer side when you compare it to other foam mattresses. Still, this doesn't mean the mattress isn't comfortable — it's a medium-firm mattress option.
When it comes to the Innergy 2 mattress, there are both firm and plush options, depending on the set you buy. The most affordable option, and the firmest, is the Innergy 2 Cypress Mattress Set. On the other hand, you can get a plusher mattress, such as the Innergy 2 Sided Monterrey Plush Mattress Set, if you're willing to shell out more money.
If you're someone who wants a mattress that has decent resistance without sacrificing too much comfort, the Bravura Hybrid Mattress is a good option. Best of all, the coil system in place helps ensure that the mattress doesn't lose too much of its bounce. It's an extremely durable option for those who want a mattress that will last long into the future — you don't find this benefit with all foam mattresses.
The Innerspring 2 is very similar to the Bravura in the sense that it has both coils and memory foam to provide optimal support. The main different is most notably the use of latex and a few different unique layer properties. No matter which mattress you choose, you'll have premium support and comfortability and have no problem falling asleep at night.
Changes Over the Years
Therapedic has had a number of changes over the years. As the company has been in business for over five decades, there have been a variety of different mattress collections released by the firm. As with most mattress companies in the 1950s and 1960s, Therapedic provided traditional coil mattresses for a long period of time.
It wasn't until recent decades that the company has begun to offer other more modern options for its clients. The Bravura Hybrid is one of its most recent additions — there haven't been many updates to this mattress model. In most cases, Therapedic Mattress will provide new mattress models instead of updates on current models. Therapedic Mattress currently has four main lines of mattress collections: Innerspring, Hybrid, Specialty, and Heavy-Duty.
Sinkage
The sinkage in a mattress can determine its suitability for a particular person. If you're heavy-set, it's critical not to choose a mattress with too much sinkage — you won't receive the support you need for a good night's sleep.  Depending on your weight, you may want to choose a firmer mattress, as plush mattresses tend to experience more sinkage.
The Therapedic Bravura Hybrid is known as a 'medium sinkage' mattress. The coil system and latex layer provide plenty of bounce that prevents too much sinkage from occurring. Still, you should expect a of couple inches of contour when you lay on this mattress. This is primarily due to the softness of the top layer of the mattress.
As for the Innergy 2 mattress, the sinkage level is not set in stone – it varies greatly depends on the type of Innergy 2 mattress you buy. By nature, plush mattresses will experience a greater level of sinkage. Typically, customers don't report quick sinkage as you see in other mattress brands. You can get roughly seven years out of Innergy 2 mattress without experience noticeable sinkage.
If you're someone who is a bit heavier-built, these mattresses are good options. They're also decent options for those who enjoy a bit of resistance and don't want to fall too far into the mattress. Given that there are various pillow tops available, all ranging in ''plush" level, it should not be difficult to find a mattress that suits you.
Pricing
If you can't afford a mattress, there's no point researching it extensively. In the past, it could cost thousands of dollars to access a high-end foam mattress. At present, your options are much more affordable. It's never been easier to access a truly premium mattress at a luxury price. Let's take a look at the price structures below in more detail — keep in mind, the prices will vary depending on the retailer you work with:
Bravura Hybrid Mattress
| | |
| --- | --- |
| Size | Price |
| Twin | $819 |
| Twin XL | $869 |
| Full | $989 |
| Queen | $1,089 |
| King | $1,329 |
| California King | $1,429 |
Innergy 2 Innerspring Mattress (Monterrey Pillowtop)
| | |
| --- | --- |
| Size | Price |
| Twin | $1,002 |
| Full | $1,160 |
| Queen | $1,254 |
| King | $1,555 |
Other Info
In addition to the mattress's physical features, there are various other factors you should consider before making a purchase. The most important features include a warranty (or lack thereof), a return policy, the mattress company's customer service. Even if you purchase a stellar mattress, there's always a chance there could be a manufacturer defect. Without these three important features, you might be out of luck. Let's look at these features with respect to Therapedic:
Warranty
Most of Therapedic's mattresses come with a limited warranty. The warranty covers manufacturer defects that don't derive from misuse of the mattress. Therapedic's policy clearly states that you should contact the retailer you purchased the mattress from first and that not every issue involves a warranty. If for some reason you don't have any luck with your retailer, you can fill out the company's warranty claim form. If you purchase a Therapedic mattress, make sure to keep your receipt! You'll need it to file a warranty claim.
Return Policy
If you purchase a Therapedic mattress from a retailer, your product will fall under the retailer's return policy, not Therapedic's. If you purchase from Therapedic directly, you essentially have 90 days to return the mattress (as part of the trial period) if you don't like the new mattress. While you get 90 days before you're obligated to keep the mattress, Therapedic asks that you try the mattress for 30 days and then decide whether you want to keep the mattress.
Customer Service
There are various customer service contacts, which are determined by who manufactured your mattress (remember, Therapedic licenses out its brand). You can direct general questions to Therapedic using its online form. And, similar to the return policy, if you purchase a Therapedic mattress from a retailer, you should reach out to them for service.
Customer Reviews
Across the board, Therapedic mattresses consistently get 4 and 5-star reviews. Many customers enjoy the dual-sided mattress options. Furthermore, customers seem quite pleased by the fact that Therapedic mattresses don't sag (or at least as quickly) compared to other memory foam mattresses. There are a few reviews, however, that complain that the mattress overheats (this complaint is about a small handful of models).
The Pros and Cons of Therapedic Mattresses
Below, we've summarized the pros and cons of Therapedic mattresses. This is a high-level overview that will make it easier for you to decide whether a Therapedic mattress is right below. Here are both the pros and the cons of Therapedic mattresses:
The Pros:
Almost all the mattresses come with a lifetime warranty
There are various firmness levels to choose from, ranging from very plush to very firm
Therapedic mattresses come with a 90-day trial period, allowing you to try the mattress before buying it
The mattresses come with multiple layers of contouring material that promotes pressure relief
Multiple product lines available – a hybrid, luxury, and even Tommy Bahama
Made with high-quality proprietary materials that help invoke healthy sleep
The Cons:
Some models of mattresses begin to sink after a couple of years
Price range is a bit higher compared to other mattress brands
No central customer support contact – Therapedic beds are made by various manufacturers
The amount of customer reviews online is limited making it more difficult to know the reputation of different models
Should I Buy the Therapedic Mattress?
If your budget allows for it, a Therapedic mattress is worth the investment. Nearly all models have technology that promotes strength and durability, comfortability, pressure relief, and motion transfer reduction. Likewise, you can choose from various firmness levels, thanks to the wide availability of pillow tops and custom packages.
In addition to the mattress's features, you can stay confident knowing you're purchasing from a highly-regarded mattress brand that uses premium materials. If you aren't satisfied with the mattress, you can return it within 90 days and get all your money back (provided you purchase the mattress directly from Therapedic). Overall, if you're looking for a mattress that will last a long time and help ease pain and promote uninterrupted sleep, a Therapedic mattress is a good option. While there aren't a lot of reviews available online, you can go to one of many retail showrooms and try out the mattress for yourself. Therapedic has been around for a while, and definitely knows a thing or two about creating high-quality mattresses. So, without delay, it's time to find that perfect Therapedic mattress for you.
Alternatives to Therapedic Mattress
It's easy to understand why the Therapedic mattress is so appealing to many sleepers. However, Therapedic isn't the only mattress company that offers great deals on mattresses that help you get an amazing night's sleep. If you're considering Therapedic, then we think you might also be interested in these fine alternatives. 
Saatva
Saatva is one of the biggets names in the mattress industry today. The company offers a host of different branded beds and almost certainly have something that's perfect for you. Their most famous offering is one of the best hybrid mattresses on the market today, the Saatva Classic Hybrid.
This mattress features a luxury Euro Pillow Top, great perimeter edge support, and individually wrapped coils to prevent motion transfer. The result is a bed that gives you the best of what memory foam and innerspring technology have to offer. All of this plus their Spinal Zone technology means that you'll get the support you need to have the perfect night of sleep!
EDITOR'S CHOICE
What Makes Saatva a Great Alternative?
Best-priced luxury mattress
Features Lumbar Zone Technology for back-relieving support
Highest quality materials and eco-friendly
Handcrafted in the US
 
Check out Saatva
Puffy Mattress
Puffy is a great alternative to the mattress options at Therapedic. This mattress is designed to work with side, back, and stomach sleepers and ships for free right to your door.
Puffy is also awesome because it can be placed on any surface. As a result, you can use it with an adjustable frame, salts, or even the floor. That means you can have more control over the look and style of your bedroom. It also saves money by allowing you to use the bedframe you already have.
Finally, Puffy offers a 101-night sleep trial. Give it a go and if you don't like it you can return it free of charge. That's an option you don't get with most mattresses.
PUFFY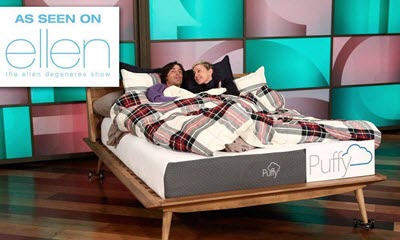 What Makes Puffy a Great Alternative?
101-night sleep trial to ensure total comfort
Free shipping
Place on any surface
Get $300 off - Limited time only!
Check out Puffy
Nolah
Not sure that the Therapedic mattress is the right fit for you? Nolah makes three different mattresses that you should consider: the Nolah Original 10", Nolah Signature 12", and Nolah Evolution 12." The price ranges for a queen ranges from $899 for the Original model to $1,499 for the Evolution model. Nolah makes all its mattresses in the United States and each one comes with a lifetime warranty and free trial period.
Nolah mattresses stand out from the competition because they have proprietary material such as the cooling Nolah AirFoam™ — a temperature-neutral alternative to memory foam. The mattresses also have a high-density base foam that provides premium support and pressure relief. As a company, Nolah supports sustainable business practices, gives back money to protect the environment, and uses organic materials in its mattresses. Even though it is a new company, Nolah has already amassed hundreds of positive reviews from customers.
NOLAH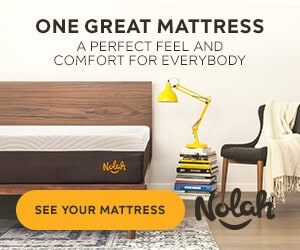 What Makes Nolah a Great Alternative?
A versatile design that is suited for any type of flat surface
Lifetime warranty and 120-night trial period
Made with organic materials that are free from allergens
Up to $800 off + 2 Free Pillows!
See Current Offers
What They Say
4.4 out of 5 stars (based on 26 reviews)
Excellent58%
Very good27%
Average15%
Poor0%
Terrible0%