Verlo Mattresses: The Good, The Bad, and Everything Else
Jake Comfort  |  Updated: August 2023
Jake Comfort  |  Updated: August 2023
We have an affiliate relationship with and receive compensation from companies whose products we review on this site. We are independently owned and the opinions expressed here are our own.
Finding the right mattress is a necessity for everyone, as a good night's sleep leaves you feeling well-rested and ready for the day ahead. When looking for the right mattress, there are any number of factors that should be considered, including cost and comfort. Verlo mattresses, sold out of their factory stores across the country, offer features that appeal to a variety of consumers, but that are also viewed as a disincentive for others.
Along with the mattresses themselves, the experience of buying a Verlo mattress is also unique for consumers, as the mattresses can only be purchased in one of their showrooms, and not online like other companies and retailers offer. A deeper dive into Verlo mattresses shows the good, bad, and everything else about the mattresses and the experience of buying from one of their local stores.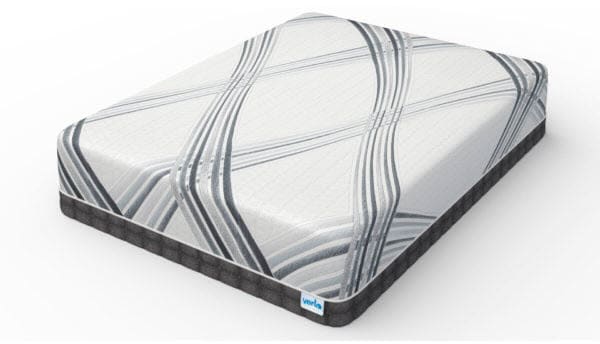 Construction
Verlo has a huge range of mattresses for sale. They are organized into different collections. Moreover, each of the collections has a range of options for plush or firm, pillow top, no pillow top, and so on. As a result, it's highly likely you'll be able to get the mattress you like at a price you can afford.
We'll go over the basic construction of each of the different collections that Verlo has on offer. The price increases with the collection number. Use this information to help narrow down the best option for you.
Intro
The intro mattress is Verlo's cheapest mattress. It's made from a double thermal bonded cotton insulator which offers body support. You can get this mattress in pillow top or standard form. However, it isn't offered with the plush option.
One appealing thing about the options for this mattress is that you can get it double sided. You can do this with both the standard and pillow top versions of the mattress. As a result, you can get longer life out of your mattress. That makes it a great option for a frequently-used guest room or for children.
V1
Starting at $130, the V1 is the most basic of the Verlo mattresses and the most affordable. The V1 collection features mattresses with both foam and springs. At the surface of the mattress, you'll find a thick quilt layer that provides an extra layer of comfort. There's also a zippered cover, so you can access and wash the layers below the surface.
When compared to similar mattresses, the V1 has 30% more – meaning more support. And even though it is the most affordable mattress line, V1 mattresses still come with a five-year non-prorated warranty and are made in the USA. If the mattress isn't to your liking, Verlo will adjust it for free within the first 180 days.
V3
For this review, we'll look at the V3 plush single-sided mattress that sells for $600 to $1,300. This mattress boasts gel memory foam that enhances the mattress's durability and provides you with optimal support. Moreover, the V3 features various layers and thick quilting at a fraction of the price when compared to competing mattresses. Additionally, it uses thermally bonded cotton insulators to add extra support, heat reduction, and moisture wicking in the areas of the mattress that take up most of your body weight.
Since this mattress is single-sided, you don't have to worry about flipping it. If you do prefer a dual-faced mattress, Verlo does have options available. To promote temperature regulation and heat dissipation, the gel foam has an open cellular design. Even though it's denser than competing mattresses, the V3 is breathable and will keep you from overheating during the night. In addition to the mattress, you'll get one free Comfort Adjustment and 10-year non-prorated warranty.
V5
If you want to step up a notch, you may want to consider the V5 double-sided mattress. This soft mattresses contours to the shape of both your body and your partner's, ensuring that you sleep without interruption. While the mattress ranges from $1,250 to $2,380, there's also a single-sided mattress if you prefer a more budget-friendly mattress.
Like the V3, the V5 mattress has gel foam with an open cellular design that assist with temperature regulation. It's made in the United States and you get a free adjustment if you're not happy with the mattress. And, because this mattress is double-sided, it will last longer than Verlo's one-sided mattresses.
V7
Take a step up the ladder and you'll find the V7 mattress collection, with both pillowtop and hybrid single-sided and double-sided mattress options. The V7 starts at $1,190 and can surpass $2,500. The extra price is due to the mattress's CoilMax support system – a network of coil-on-coil construction with both individually wrapped coils and ultra-premium micro coils. With this support system, you'll get optimal airflow and motion isolation.
To ensure superior temperature regulation, the V7 mattress is made with specialty fibers and textile treatments that boast cooling properties. It also comes with one of the longest warranties: 12 years. And like its counterparts, this mattress is made in the United States and is "flip free." You get up to 365 days to use one of Vero's free Comfort Adjustments if needed. 
V9
The next mattress is the V9 – available in both double-sided and single-sided models. This mattress has all the high-quality materials that other collections have and in addition, boasts an improved coil system and a layer of natural latex. These two additions provide ultimate pressure relief and increase the mattress's longevity.
The v9 series adds extra pressure point support to help improve blood circulation while you sleep. This reduces the pressure points that you experience and, as a result, helps to eliminate aches and pains when you wake up.
With CoilMax technology, the mattress has improved support and airflow – helping reduce sleep disturbances during the night. The coil system relieves built-up in areas such as your hips and your shoulder. Moreover, the V9 mattress features thermal conductive sleep technology and gel foam that has an open cellular design (another feature that improves temperature regulation). The latex layer is made from premium materials derived from the Havea Brasiliensis rubber tree. This mattress comes with a 12-year non-prorated warranty and one free Comfort Adjustment within the first year of ownership.
V11
Verlo's V11 mattress comes in two different models – plush and firm. Both mattresses are customized with 3-piece construction and tailoring to meet your sleeping needs. Out of all Verlo's mattress lines, the V11 is one of the most luxurious. Like the V9, it has CoilMax technology that improves airflow and increases the mattress's longevity. It also features a layer of latex foam which provides premium support and comfort.
This mattress also boasts thermal conductive sleep technology and gel foam with an open cellular design that will keep you cool during the night. In addition to its CoilMax system, the mattress has improved edge support for all-encompassing support and pressure relief. The price of this mattress ranges from $2,130 for a twin XL to $3,850 for a California King. If you buy this mattress, you'll get a 15 year non-prorated warranty and one free Comfort Adjustment in the first year of ownership.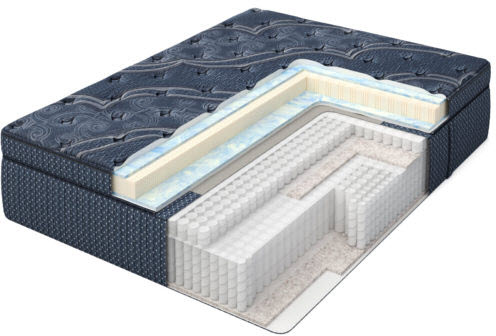 vLatex
The last mattress on our list is the vLatex. While Verlo sells various foundations for this mattress ranging from 2" to 9", the mattress itself is only available as a single-sided model. Verlo constructs this mattress with 100% natural and sustainable latex – an alternative to synthetic foam that some people could have sensitivities to. The company designed this mattress to provide soft, conforming support without sinking. And at the top of the mattress, you'll find a cover made with organic cotton and Lycra spandex yarns quilted to wool and specialty fibers.
Out of all Verlo's mattresses, the vLatex is without a doubt the most "eco-friendly," with its 100% natural components. These premium materials provide pressure relief to your hips, shoulders, and various other parts of your body. As an extra bonus, the mattress is hypoallergenic, so you don't have to worry about mold or dust mites. It also boasts a zippered mattress cover which makes it a breeze to wash. Like the V11, this mattress comes with a 15-year non-prorated warranty and one free comfort adjustment during the first year of ownership. The vLatex is available in twin XL, queen, and king sizes.
Cover
The cover you get on a Verlo mattress depends on the type of mattress you order. The traditional mattresses and gel-foam mattresses have different covers to help each mattress be at its most effective.
Traditional
The cover of a traditional Verlo mattress is a standard diamond-quilt pattern design. The cover is nice and does a good job handling body heat and moisture. However, this cover isn't removable. That makes washing the bed a bit of a hassle.
Gel-Foam
The gel-foam cover is made from a combination of cotton and advanced fabrics. This allows it to wick away moisture and heat. Additionally, the gel-foam mattress cover is removable. That means you just need to unzip and remove it to be able to wash it with ease.
Firmness, Feel, & Support
One of the best things about Verlo mattresses is the fact that every mattress can be customized to get the exact firmness and feel you're looking for. The mattresses are all available in at least two different levels of firmness. Moreover, most of the mattresses on offer have four different options to help you get the exact right sensation that you've been after for the perfect night's sleep.
Pricing
A Verlo mattress can cost as little as $130 all the up to $3,850 plus. Keep in mind, the price of the mattress will vary depending on where you buy it from. There are also financing options available if you'd rather make payments over purchasing the mattress outright. Here's a look at each of the Verlo mattresses and the prices for the indicated model:
| | | | | | | | |
| --- | --- | --- | --- | --- | --- | --- | --- |
| Size | V1 (Basic Single-Sided) | V3 (Plush Double-Sided) | V5 (Plush Double-Sided) | V7 (Pillowtop Double-Sided) | V9 (Pillowtop Double-Sided) | V11 (Plush) | vLatex (Single-Sided) |
| Twin | $130 | $1,490 | $1,250 | $1,570 | $2,070 | N/A | N/A |
| Twin XL | $150 | $1,620 | $1,380 | $1,690 | $2,190 | $2,130 | $2,049 |
| Full | $180 | $2,050 | $1,630 | $2,130 | $2,880 | $3,000 | N/A |
| Queen | $190 | $2,400 | $1,880 | $2,500 | $3,130 | $3,250 | $2,899 |
| King | N/A | $2,780 | $2,250 | $2,880 | $3,630 | $3,750 | $3,329 |
| California King | N/A | $2,880 | $2,380 | $3,000 | $3,750 | $3,850 | N/A |
The Good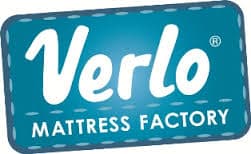 Verlo's business model is unique in today's all-online world. While other companies sell their mattresses both in-person and online, Verlo has eschewed the idea that to be competitive you have to be online. They continue to only offer their products in one of their showrooms. This may seem odd from a company in 2017, but it's important for their business model. Since Verlo makes their mattresses custom for each consumer, the personal touch of talking to a sales representative is crucial for the customer to get the best mattress for their needs. This personal touch for those considering a Verlo mattress is a nice touch and offers greater insight into the necessary features each consumer should be looking for in a mattress.
The showroom isn't the only personalized touch offered to customers by Verlo, who pride themselves on making their mattresses unique for each and every person that walks through their doors. Every Verlo mattress comes with a lifetime comfort guarantee. What does this mean? It means that customers who feel the comfort of their mattress is no longer working can contact the store they purchased it from, and Verlo will pick up their mattress, bring it back to their factory, and adjust the settings to the customer's correct levels. This feature guarantees that consumers are going to get a good night's sleep as long as they have their Verlo mattress. This is a guarantee you can't beat.
The Bad
Verlo's individualized process is great for many individuals looking for mattresses tailored to their needs. However, that same positive for some people can serve as a negative for customers looking for the ease and convenience offered by the ability to purchase a mattress over the internet. The inability to purchase a Verlo mattress this way is undoubtedly a deterrent for many modern consumers but is essential to their business model.
Similar to many other mattress companies, Verlo offers a varying warranty on their product, with options from 9 to 15 years. This is a relatively standard feature for mattresses and should last for the lifespan of any of Verlo's double-sided mattresses. However, one of the most common complaints about the company and their mattresses are related to their warranty service for double-sided models. These models are supposed to last longer, but some have complained about the comfort of these models after a relatively short period. They also have mentioned that the service they've been offered through their warranty was slow, and not up to the usual standards of Verlo's customer service.
Everything Else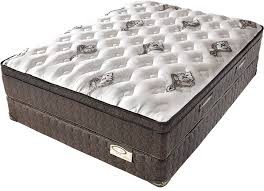 When it comes to buying a new mattress, you must consider a lot more than just the physical specifications. You should pay careful attention to the warranty offered with the mattress, the mattress's return period, and whether the company offers a trial period, among others. We did the hard work and gathered all this information for you. Here's a detailed look at Verlo's warranties, trial period, return policy, support, and shipping methods.
Warranty
All Verlo mattresses come with a 100% non-prorated warranty. The length of the warranty will range depending on which mattress model you purchase (ranging from 3 to 15 years). Verlo's warranty covers defects in both the mattress and the foundation including broken coils, indentations that measure 1 ½ inch and greater, and loose or split wooden slats. The warranty does not cover damage caused by excessive weight, stains or burns, and any damage caused by inadequate use of the mattress. When it comes to exercising the warranty, Verlo has full discretion. Depending on the warranty, you may be responsible for shipping costs to return the mattress. Also, certain sale items are excluded from the warranty. Overall, Verlo's is comparable to competing mattress brands.
Shipping
If you purchase a mattress directly from Verlo, the mattress brand ships it from one of its nearest factories (for this reason, shipping times can vary). Unlike some mattress brands, Verlo does not offer free shipping. Shipping is determined based on the weight of the product you bought and where you live. Another important thing to note is that each mattress is made to order and therefore, you'll have to wait longer to get your mattress than you would with other companies. Upon delivery of your mattress, Verlo will remove your old mattress (and foundation, if applicable) if you wish (service charges may apply). And while you can't pick up a mattress directly from one of Verlo's factories, you can pick it up from a local showroom.
Trial Period
A downside to Verlo mattresses is that they do not come with a free trial period. In addition to no trial period, you can't return a mattress due to its "personal nature and sanitary issues." Moreover, Verlo makes custom manufacturers the mattress to meet your specifications, so that's another reason the company doesn't accept returns. There is one exception – the Sleepiphany Mattress series does come with a 120-night trial period. The mattress brand strongly recommends that you try out the mattress at one of its local showrooms before you purchase it. If for some reason you are not content with your mattress, Verlo recommends that you contact your nearest showroom and request a Comfort Adjustment. 
Customer Service
Verlo's website boasts a helpful support page, including FAQs and comprehensive information about its mattresses. If you can't find the answer to your question on the company's website, you can contact customer support by phone or fill out a support request form.
Should You Buy the Verlo Mattress?
There's a good chance that Verlo has a mattress that meets your needs. They have a huge range of prices and options. That means regardless of whether you're looking for a firm or soft mattress, traditional innerspring, hybrid, gel-foam, or latex mattress, you can get what you want at Verlo at a reasonable price.
Verlo is an excellent option for people that want the benefit of being able to go to a local store but still want the pricing and convenience of online mattress companies. Verlo gives you all of this in one easy package. They manage their own stores, so you don't need to worry about shopping around to see which retailer is offering the best price. Additionally, the details of things like warranties, shipping, and trial periods will also be consistent.
As a result, a Verlo mattress is a good choice for most sleepers. We recommend stopping by the store so you can experience the difference between the firm, plush, and pillow top options yourself. This will provide you the information you need to get the best mattress for your needs and do so at a price that doesn't break the bank.
Alternatives to Verlo
Verlo has a lot to offer sleepers. But we want to make sure you find the perfect mattress. That's why we think you should consider these alternatives to Verlo. Each of these options provides most or all of what you get with a Verlo mattress, while also sporting some additional benefits.
Nolah
Not sure that the Verlo mattresses are right for you? Nolah mattresses stand out from the competition because they have proprietary material such as the cooling Nolah AirFoam™ — a temperature-neutral alternative to memory foam. The mattresses also have a high-density base foam that provides premium support and pressure relief.
As a company, Nolah supports sustainable business practices, gives back money to protect the environment, and uses organic materials in its mattresses. Even though it is a new company, Nolah has already amassed hundreds of positive reviews from customers.
EDITOR'S CHOICE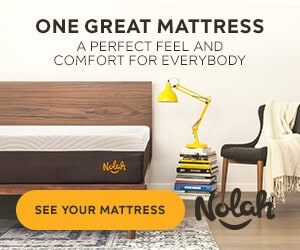 What Makes Nolah a Great Alternative?
A versatile design that is suited for any type of flat surface
Lifetime warranty and 120-night trial period
Made with organic materials that are free from allergens
Up to $800 off + 2 Free Pillows!
See Current Offers
PlushBeds
If you want your mattress to be made from eco-friendly all natural and organic materials, the PlushBeds is an excellent option for you. The beds are made with natural latex and memory foam. PlushBeds also offers mattresses for a wide variety of needs, including RV mattresses and adjustable mattresses. That makes them a one-stop mattress shop for lots of different consumers.
Plsuhbeds also gives you 100 nights to make sure your mattress is perfect. If you don't like it, then the return shipping is free. The delivery is also free with PlushBeds. Given all these great benefits, there's no reason not to give them a try.
PLUSHBEDS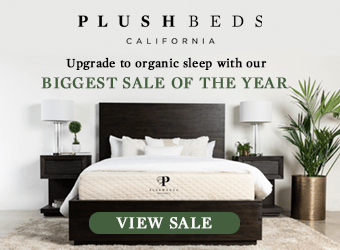 What Makes PlushBeds a Great Alternative?
Lots of options means there's something for everyone
Natural and organic latex mattresses
Free shipping and return pickup
Check out PlushBeds
4.4 out of 5 stars (based on 15 reviews)
Excellent54%
Very good33%
Average13%
Poor0%
Terrible0%