Jake Comfort  |  Updated: August 2023
Jake Comfort  |  Updated: August 2023
We have an affiliate relationship with and receive compensation from companies whose products we review on this site. We are independently owned and the opinions expressed here are our own.
Wolf Mattress Company makes several different products aside from mattresses, including futons, toppers, and cotton batting. But, of course, they are known for their traditional and hybrid mattresses, and generally, they receive only positive reviews.
This article will cover several different aspects of the most popular products from Wolf Mattresses. We'll look at the construction of the mattresses and go over the firmness, feel, and support you can expect. Then we'll summarize what other reviews and customers are saying about these mattresses, both good and bad.  Finally, we'll help you weigh the pros and the cons so you can decide if a mattress from Wolf is right for you.
Wolf Mattress Construction
There are three primary lines of mattresses from Wolf. These are the Gray Wolf, Silver Wolf, and Black Wolf lines. We'll cover the construction methods and materials for each of these lines below.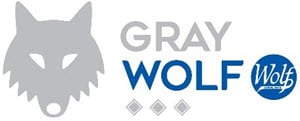 Gray Wolf
The Gray Wolf collection is the value line from Wolf Mattress. That makes it a great option for a guest room or children who are likely to grow out of their mattress quickly.
The mattress itself is made from a combination of 532 6" wrapped innerspring coils and a polypad that offers comfort and softness.
The polypad you get with the Gray Wolf mattress line isn't the most comfortable sleeping option in the world. However, it's also far from the worst. That's why we think it's a good option for someone that needs a mattress to fill out a guest room but doesn't want to break the bank to do so.
The coil innerspring unit that comes with the Gray Wolf mattress line is surprisingly well constructed given the cost of the mattress. The coils do a good job of providing support for average sleepers. Additionally, the innerspring design helps create channels for air to circulate. As a result, you'll be able to sleep cooler than you would on a surface that's made exclusively from foam.
Gray Wolf Collection mattresses come in medium to medium-firm comfort levels. Depending on the specific mattress you get, it will be between 7" and 9" in height. All Gray Wolf Collection mattresses have a three year warranty.
Another important thing to note is that this mattress only comes in Twin, Full, and Queen sizes. There's no option for a Twin XL, King, or California King. That shouldn't be much of a problem, based on the role that this mattress line is intended to serve, but it's worth knowing about ahead of time before you try find a Gray Wolf mattress in one of these sizes.
Silver Wolf
The Silver Wolf mattress collection is the mid-range offering from Wolf Mattresses. Each mattress is made with 789 8" wrapped coils. Additionally, each mattress in the Silver Wolf collection has fortified edge support.
The additional edge support is a nice touch for this mattress. It's not something you usually get for the other mattresses in the Silver Wolf line's price range. The extra edge support makes it easier for people to sleep along the side of the mattress. It also helps provide more durability because it helps the mattress maintain its shape for longer. Finally, enhanced edge support opens up more options during adult play time and makes it easier to stand up from the bed in the morning or when using the bed as a seat to do things like put your socks on.
Another interesting feature about the edge support system you get on the Silver Wolf collection is that the way the mattress is designed, it gives a larger sleeping surface than you'd get from a traditional mattress in the same size. This makes it appealing for couples and for larger sleepers that need more room on the bed.
Silver Wolf mattresses contain layers of CertiPUR foam. This special foam is hypo-allergenic. It does a good job of providing a comfortable sleeping surface. The combination of foam and innersprings means that you don't get as much body contour as you'd experience with a fully foam mattress. This will appeal to many sleepers that feel like they're constantly sinking in to traditional all memory-foam options.
The Silver Wolf line of mattresses comes in a wide variety of firmness levels. You can also choose between pillow tops and Euro-style pillow tops. Each mattress has a stretch-knit cover. This cover is constructed from a special breathable fabric. The result is enhanced airflow which leads to a cooler and drier night's sleep. You also have the option of choosing between quilted or non-quilted covers.
Depending on the specific version of the Silver Wolf Collection you purchase, the mattress will be between 10" and 12" in height. All Silver Wolf Collection mattresses have a 10-year warranty. Additionally, unlike the Gray Wolf line, the Silver Wolf line comes in twin, twin xl, full, queen, and king sizes.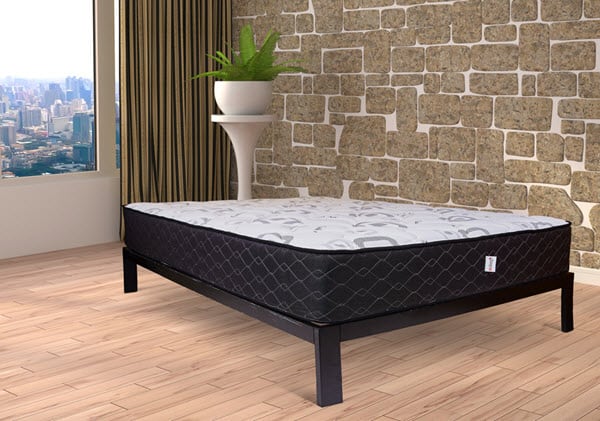 Black Wolf
The Black Wolf collection from Wolf Mattresses is the top-of-the-line offering. These mattresses come in a variety of hybrid styles. As a result, it's likely that you'll be able to find a mattress in the Black Wolf line that matches your needs without breaking the bank.
Black Wolf collection mattresses have 789 8" innerspring coils. These coils are individually wrapped. As a result, you get enhanced airflow through the foundation of the mattress. This helps to circulate cold and warm air around the mattress and prevents you from getting too warm. Moreover, it also helps prevent motion transfer, so you won't disturb your sleeping partner, nor will you be disturbed if your partner starts tossing and turning.
The coil unit in Black Wolf mattresses has posturized coils in the "critical middle" section of the mattress. This provides additional support and makes mattresses from this line especially appealing for heavier sleepers or those that have medical conditions that require enhanced support and pressure point relief.
Depending on the specific model of Black Wolf mattress, you'll also get some combination of CertiPUR Visco foam, memory foam, or latex. All of these materials do a good job of creating a comfortable sleeping surface. The surface is soft and inviting to the initial touch without creating a sinking feeling.
The latex option is a great choice for people that want the benefits of foam, but don't like the way that foam contours to the body. Latex naturally produces a more rounded contour. This preventing you from getting a sinking into the mattress feeling that turns some people off from foam mattresses.
Additionally, Black Wolf Mattresses get enhanced edge support systems. This helps to increase the amount of usable sleeping area on the bed, no matter what size mattress you get. Furthermore, the enhanced edge support helps the mattress retain its shape, enhancing durability and life-span.
Much like the Silver Wolf Collection, the Black Wolf line of mattresses have some cover options. The cover is made from 4-way stretch knit fabric. This special fabric is very breathable while also being very durable. The breathability of the fabric helps keep you cool at night and helps wick moisture away from your body. You can get the cover in either a quilted or non-quilted form.
Depending on the specific Black Wolf mattress you get, it will be between 10" and 12" in height. Black Wolf Collection mattresses come in twin, twin xl, queen, and king sizes. Furthermore, like the Silver Wolf and Gray Wolf lines, Black Wolf mattresses can be rolled up and compressed for easy shipping and transportation.
Firmness, Feel, and Support
Wolf mattresses have a variety of options when it comes to the firmness and feel of the mattress. These options can be modified by choosing a quilted cover for more softness, or a non-quilted cover for a firmer fill. Additionally, you can choose between different pillowtop options. Finally, the mattress come in a range of firmness levels. These are labeled as plush to firm for a given mattress.
The plush mattresses from Wolf have a firmness of 6 on a scale from 1-10, where 10 is the most firm and 1 is the softest. Firm mattresses from Wolf have a firmness of a 7.5 on the same scale. For reference, most American sleepers prefer a mattress that comes in at a 6.5-7 on this scale. That means that Wolf mattresses will provide a good firmness for most sleepers.
The support you get from a Wolf Mattress depends on the specific mattress collection. The Gray Wolf collection doesn't provide the best support. That's why we think it's best as a temporary solution or a bed for a guest room.
Silver Wolf mattresses have a good amount of support. The increased number of coils provides more relief from pressure points that can wake you up at night or cause aches and pains in the morning. The Support you get from the Black Wolf collection is even better, as the combination of the different types of foam used in these mattress, along with their individually wrapped innerspring system, does a good job of providing the right level of support to keep your back and neck in alignment without sacrificing softness and comfort.
Wolf Mattress Reviews
The Good Reviews
Many happy customers on Amazon, Wayfair, Overstock, and Walmart are pleased with both the comfort level and the price of Wolf Mattresses. On Amazon, one customer says, "This item was a good buy. It was delivered on time and at a great price. The packaging was [also] efficient…" Several other reviews described the packaging as economic, compressed, and easy to open. They commended Wolf for making the process so easy.
Another positive aspect of the Wolf mattress is that it works for two different types of sleepers – those who like soft beds, and those who like something more firm. One person says, "I prefer a firm bed and my husband prefers a soft one. This is the perfect medium to satisfy us both." Another person says, "My husband is 6'5 and I'm 5'3 and we both sleep well. Our four year old also comes in in the night and there is plenty of room for us all. We used to wake up with sore shoulders and hips, now we wake without any pain."
In summation, the Wolf mattress seems to be well-priced, comfortable for all, and efficiently delivered. As an added benefit, it also relieves back and shoulder pain.
The Bad Reviews
There are not an excess of poor reviews, but several Amazon customers mention that the mattress has a pungent smell, but they also note that it fades over time and is a temporary inconvenience. It's also worth mentioning that the mattresses are not fireproof, which some customers may not be comfortable with. Another shopper wasn't happy that Wolf advertised their mattresses as fully reversible, but it is not. But for most people, the mattress is, "…better than expected. The perfect feel and not too firm."
Should You Buy A Mattress From Wolf Mattress?
For many people, Wolf Mattresses will provide a quality product at a reasonable price. The mattresses aren't the most advanced or luxurious on the market. However, the mattresses on offer from Wolf are quality products. They'll frequently be as good as or better than other mattresses at a similar price point.
Overall, Wolf Mattress Company seems like a quality choice to help you get a better night's sleep and save some money. It's worth considering on your search for the perfect mattress. Just keep this review of Wolf in mind as you shop: "I haven't woken up with one problem since sleeping on this mattress, and have slept better than I have for years."
Alternatives to Wolf Mattress
Wolf has a lot to offer sleepers. But we want to make sure you find the perfect mattress. That's why we think you should consider these alternatives to Wolf. Each of these options provides most or all of what you get with a Wolf mattress, while also sporting some additional benefits.
Plushbeds
If you're looking for certified natural and organic materials at an affordable price, then Plushbeds is another great option for you. You can get natural latex and memory foam mattresses for any budget or size.
One of the things we like most about Plushbeds is that they make a wide variety of non-standard mattresses, like RV mattresses, Sofa bed mattresses, and so on. As a result, they're a great choice if you're trying to add some new life to an existing bed or guest room without going all out and breaking the bank.
Another thing to love about Plushbeds is that they have free delivery and return shipping. That means you can take advantage of their 100-night trial offer with zero risk.
PLUSHBEDS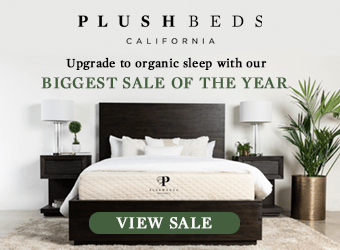 What Makes PlushBeds a Good Alternative?
Lots of options means there's something for everyone
Natural and organic latex mattresses
Free shipping and return pickup
Check out PlushBeds
4.0 out of 5 stars (based on 11 reviews)
Excellent27%
Very good46%
Average27%
Poor0%
Terrible0%