During your lifetime, you'll probably spend more time on your bed than on any other item of furniture. Shouldn't you love your bed? We certainly think so. Choosing a bed type is one thing — but how do you choose the best bed company? In this article, we'll profile and review some of our favorite bed companies. Let's get started!
Stearns and Foster
Founded in Cincinnati in 1846, Stearns and Foster occupies the luxury space in the Tempur Sealy International stable of brands. Stearns and Foster mattress combine traditional steel springs with a variety of other cushioning materials such as gel foam, memory foam and cotton. We love the reinforced edge of Stearns and Foster mattresses. The edge makes it possible to sit on the mattress without sagging and gives the mattress more usable sleeping space. Queen mattresses start at $1,499.
Vispring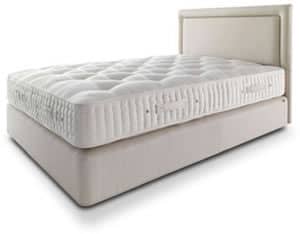 Vispring's claim to fame is the fact that the company's founder — James Marshall — invented the pocketed coil that virtually all luxury innerspring mattresses still use today. Vispring continues to churn out some of the most sought-after mattresses in the world from its factory in Devon, England. Vispring's workers make the company's mattresses by hand, and they use a wide array of luxurious materials including Shetland wool, Chinese cashmere and horsehair from Austria. If you prefer pocket coil mattresses, why not buy one from the company that invented the technology?
Kluft
Kluft is a relative newcomer to the mattress industry, but the maker is already making waves with mattresses like the $33,000 Palais Royale. Above the supportive layer of 2,000 springs, you'll find several pounds of latex, biofoam, organic cotton and wool. Kluft isolated the softer materials when designing the mattress to reduce wear and tear. Also, the middle biofoam layer allows air to circulate through the mattress to keep heat from building up.
Duxiana
Are you craving a bed made from ecologically friendly materials and free of toxins that doesn't sacrifice on comfort? The Dux bed from Duxiana might be exactly what you want. The Dux mattress features multiple layers of interconnected springs with a total length of more than one mile. By connecting the springs rather than sealing them in individual pockets, Duxiana claims to have created a bed that does a better job of distributing the sleeper's weight — and can potentially last multiple generations. Because the majority of the mattress contains springs rather than fillers, air circulates through the bed freely. The Dux bed also carries the Oeko-Tex 100 certification for being free of harmful and ecologically unfriendly materials.
Tempur-Pedic
Are you curious about why memory foam mattresses are so popular today? Look no further than Tempur-Pedic, the company that brought memory foam mattresses to the United States in 1992. Tempur-Pedic used research from NASA to design a memory foam that responds to heat, molding itself to the contours of the body. When the sleeper changes positions, the foam immediately bounces back to its original state. Although critics of early memory foam beds claimed that the material trapped body heat, current Tempur-Pedic mattresses use gel that changes phase to draw excess heat away from the body.
Simmons
You've enjoyed Simmons mattresses when you've stayed in finer hotels. Why not buy a Simmons mattress to enjoy that same style of resort comfort at home? Although Simmons didn't invent the pocketed mattress coil, the company did invent a way to create the coils using machines rather than physical labor. That invention launched a tradition of forward-thinking mattresses that utilize the most advanced technology available at lower prices that allow more people to get a good night's sleep. The most recent Simmons bed base has the ability to track your sleep patterns and provide advice via your smartphone to help you get a better night's rest.
Serta
Do you still think of Serta as a stodgy old company that makes mattresses your parents would love? Think again. Serta has embraced the memory foam trend with its most recent mattresses and even developed a few new technologies of its own. Serta pioneered the use of gel foam to control the temperature of the body during sleeping, creating a mattress that "hugs" you without making you sweat while sleeping. Serta also reinforces the sides of its mattresses to reduce the feeling of "rolling off" when you sleep near the edge of the bed.