Jake Comfort  |  Updated: August 2023
Jake Comfort  |  Updated: August 2023
We have an affiliate relationship with and receive compensation from companies whose products we review on this site. We are independently owned and the opinions expressed here are our own.
Costco offers a wide range of mattresses to its club members. The mattresses sold at Costco include run-of-the-mill memory foam mattresses, adjustable mattresses, and air beds. If you are in the market for a new mattress and have a Costco membership, it is well worth the time to examine your multitude of options.
Introduction
This article will take a look at some of the most popular mattress brands you can find at Costco. We'll go over the basics you need to know about the construction, feel, and other important aspects of these mattresses. Then we'll look at the good, the bad, customer satisfaction, and the company itself to help you decide if a mattress from Costco is the right choice for you.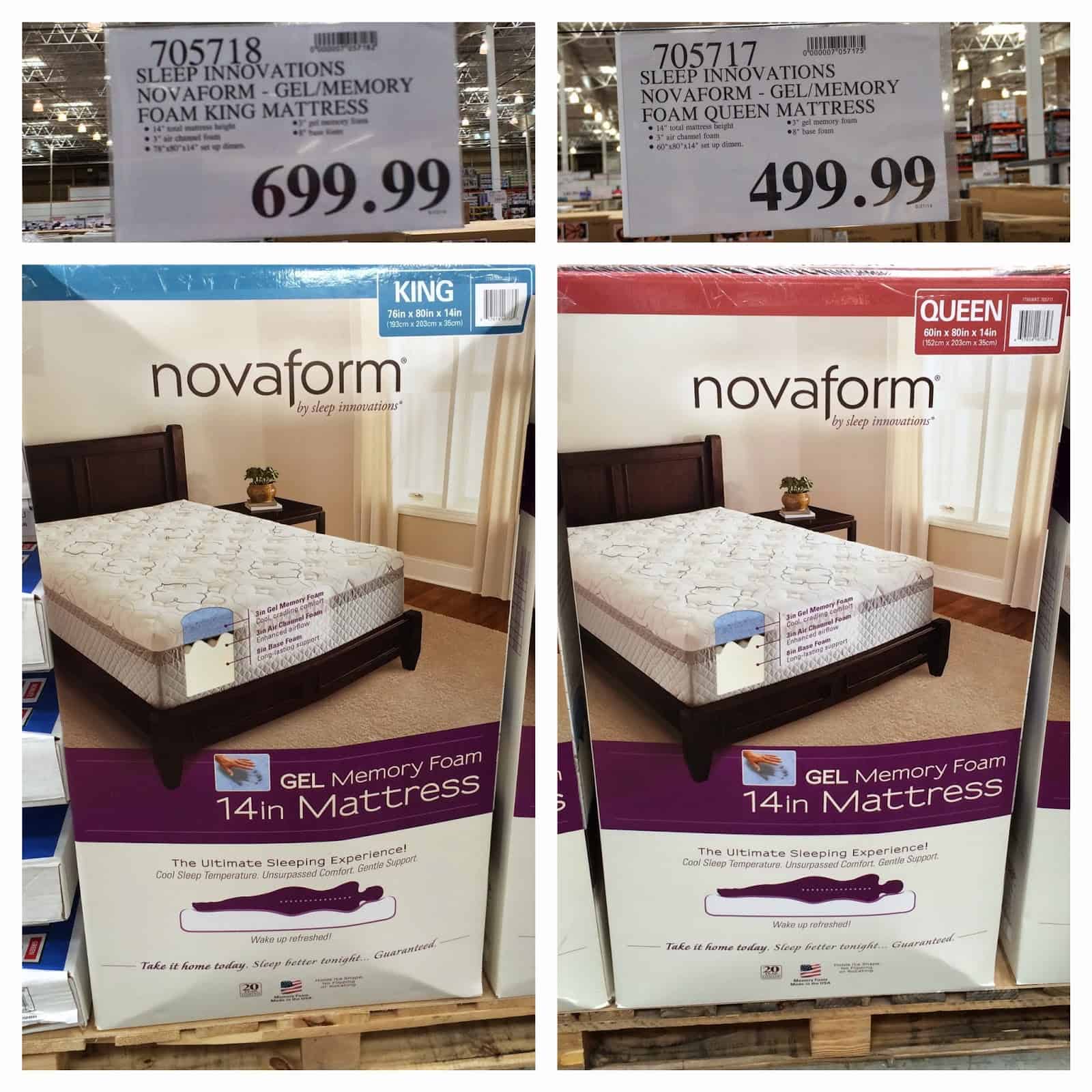 Mattress Options at Costco
Costco sells lots of popular mattress brands. As a result, they're a great place to go for people that want to do their mattress shopping in person, but also want to get a great discount on their purchase. Moreover, shopping in person means that you can get a personal feel for each mattress before you make a purchase. As a result, you'll be more confident that you've made the right choice. That means no worrying about things like return shipping or other hassles.
Some of the most popular Costco mattress brands include:
This list is only a handful of the mattress brands that Costco sells. The wholesaler always has special deals, so it's important to keep an eye out for hefty discounts. If you're not in a rush to purchase a mattress, it's always a good idea to check Costco's Member-Only Warehouse Savings to find the best details.
Construction
Now that you've got a better idea of the mattresses you can get a Costco, we'll go over a few of the most popular options. This section will tell you how some of the specific mattresses are constructed to demonstrate the variety on offer at Costco.
Brentwood Home
Brentwood Home collections are some of the most popular mattresses at Costco right now. These mattresses are constructed from the finest luxury materials. In addition, the company focuses on using natural and certified organic materials whenever possible. Here's a closer look at some of the different models of Brentwood Home mattresses sold at Costco:
Brentwood Home Magnolia 11" Organic Latex Hybrid Mattress
The Brentwood Home Magnolia mattress boasts Gols And Gots certified materials and is handmade in California. There are three primary layers composed of certified organic cotton, latex, and soft wool. Inside the mattress, you'll find an innerspring support system that relieves pain at your pressure points. Moreover, the mattress has encased coils along with reinforced edge support made from recycled materials. Brentwood Home does not use any toxic materials such as polyurethane foam.
Brentwood Home Tahoe 10" Cooling Gel Hybrid Mattress
Another option offered by Brentwood Home is its Tahoe 10" Cooling Gel Hybrid Mattress. This mattress is built with CertiPUR-US® certified cooling gel memory foam along with premium Caliber® Edge support and encased coils. The gel memory foam contours to the shape of your body and regulates your temperature. Like the Magnolia model, the Tahoe mattress is handcrafted in California.
Brentwood Home Shasta 12" Cooling Gel Memory Foam Mattress
You'll notice that the Shasta mattress is very similar to the Tahoe model, without the encased coils. In place of the coils, this mattress has CertiPUR-US® certified 3-zone airflow support foam as well as CertiPUR-US® certified gel memory foam. All the materials used in the mattress's production are environmentally-friendly and it has a no-flip design. According to Brentwood Home's firmness scale, the Shasta mattress falls on medium.
Brentwood Home mattresses are notably designed for environmentally-conscious consumers. The brand constructs all its mattresses in the United States using green materials. Most of the mattress fall on medium on the firmness scale and are suitable for side, stomach, and back sleepers.
BeautyRest
BeautyRest is one of the most popular brands in regard to innerspring and hybrid mattresses. They make a wide range of luxury mattresses and you can get them with a good range of options. The three mattresses below are just a few of the Beautyrest mattresses available at Costco.
Beautyrest BlackICE Nadia 14" Queen Firm Memory Foam Mattress
When it comes to pressure relief and contouring support, the Beautyrest BlackICE Nadia mattress doesn't fall short. This mattress both gel memory foam and Black HD memory foam that provides optimal temperature regulation and support. The memory foam is covered by a BlackICE performance cover made of stretch knit fabric. Furthermore, the mattress's high-density memory foam helps reduce the amount of motion transfer. According to Beautyrest's firmness scale, this mattress ranks as firm.
Beautyrest Hybrid 1000 InfiniCool Medium King Mattress
This hybrid mattress is equipped with both memory foam and Beautyrest® Pocketed Coil® springs, creating the perfect combination of comfort and support. The surface of the mattress features a ContourFit™ design that molds to the shape of your body. Right above the top memory foam layer is an InfiniCool™ Plus layer that gives off a cool sensation and regulates your body temperature. In addition to the contouring top layer, there are two layers of gel memory foam that give this mattress a medium firmness level. And since this is a hybrid mattress, there are pocketed coils embedded within the core.
Beautyrest 12" Silver Micro Diamond Memory Foam Mattress
As the name suggests, the mattress actually has diamond particles that help transfer heat away from your body. In addition to its unique diamond features, this mattress has layers of both memory foam and Beautyrest® Pocketed Coil® Technology. There's also a top layer that boasts Beautyrest DualCool™ Technology – a quilted surface that keeps you cool and fresh throughout the night. No matter where you're laying on the mattress, your body will be fully supported by the mattress's edge-to-edge coils. Another unique feature of this mattress is the different types of memory foam it has: Micro Diamond™, Comfort, and Energy foam.
Molecule
Costco sells eleven different types of Molecule mattresses (both adjustable and non-adjustable models). This mattress brand was created with the help of some of the country's leading sleep doctors, including Dr. Daniel Barone at the Weill Cornell Center for Sleep Medicine. Not only are Molecule mattresses backed by science, but they are also used by leading athletes such as Michael Phelps and Russell Wilson. The below mattresses are the two most popular Molecule products at Costco:
Molecule 2 AirTEC Mattress with Microban
According to Molecule, this mattress helps you achieve "cleaner, cooler, and comfortable sleep." With five different layers, it's easy to see why the Molecule 2 AirTEC Mattress is so popular. At the very top of the mattress, you'll find an anti-microbial advanced cooling cover – designed to prevent the growth of bacteria and regulate your body temperature. The second layer is infused with BIOCHARGE™ foam, a proprietary technology that improves both your circulation and cell function.
The third layer of the mattress boasts AIRTEC foam, a foam that allows for five times the amount of airflow as traditional memory foam. Right below the AIRTEC foam is a RECOVERYFLO™ 5-Zone support layer that helps the mattress contour to the shape of your body and relieves built-up pain in your pressure points. And finally, there's a 6-inch CONTOURFLO™ layer that promotes healthy spinal alignment and optimal airflow.
Molecule 1 Air-Engineered Memory Foam Mattress
The Molecule 1 Air-Engineered Memory Foam Mattress is very similar to the AirTEC mattress, with just slightly fewer features. You'll indulge in heavenly sleep with this mattress's advanced cooling cover that has eco-friendly fibers and temperature-regulating technology. Right underneath the cooling cover is a layer of RESTOREFLO™ Open Cell Gel-Infused Memory Foam – a foam that's exclusive to Molecule and is infused with gel microbeads that maintain the mattress's moisture levels.
Like the AirTEC model, there's a layer of RECOVERYFLO™ proprietary foam (with 3 zones instead of 5 like the AirTEC). Again, the main purpose of this unique technology is to regulate body temperature and reduce interruptions during the night. The base of the mattress features a 7-inch CONTOURFLO™ Maximum Support Layer that helps keep your spine in alignment while you sleep.
Tempur-Pedic
Tempur-Pedic is one of the biggest names in mattresses. That's because they were the first mattress company to get popular taking advantage of advanced foam materials and construction to provide a solid night's sleep. These are the two most popular Tempur-Pedic mattresses sold at Costco:
Tempur-Pedic Cloud Supreme
The Tempur-Pedic Cloud Supreme is one of the company's most popular options. This bed consists of 4 layers and a cover. The cover is made from a blend of polyester and spandex. This helps keep it soft and breathable while helping to cover hold its shape over time.
The first mattress layer is build with 2" of memory foam. This layer responds to pressure slowly, preventing the sinking feeling that people sometimes get with memory foam mattresses. It also produces a very deep contour to help you feel snug in the bed.
The second layer of the mattress is the transition layer. It's made from 2" of memory foam. The memory foam used in this section is very similar to that used in the first layer. However, this layer is a bit firmer than the top layer. As a result, it acts as a good transition from the softer upper layers to the firmer foundational and support layers.
The third layer of the mattress acts as the support layer. It's made from 4" of polyurethane foam. This special foam responds to pressure quickly which helps the sleeper easily transition into the foundational layer of the mattress. It also provides support for the sleeper while helping the bed maintain its structure.
The final layer of the Tempur-Pedic Cloud Supreme is the Foundation Layer. This is made of 3.5" of polyurethane foam. It gives the bed its shape and provides good compression support for sleepers.
Tempur-Pedic Contour Supreme
The Contour Supreme is quite easily the most sophisticated mattress in the Tempur-Pedic collection. This mattress boasts five different layers: a premium fabric cover with a SmartClimate™ system, a comfort layer, a support layer, a base layer, and a TEMPUR-Flat™ foundation. Each layer of the mattress helps you relieve pressure points and conforms to the shape of your body.
At the very top of this mattress lies the fabric cover – featuring stretchable material and upholstered sides. This cover also uses a SmartClimate™ system that has fibers that repel moisture away from you and keep your body dry. It's also cool-to-the-touch, ensuring that you don't get too hot during the night. Right underneath the premium fabric cover is a comfort layer that is made of TEMPUR® material, a material that responds to the weight and shape of your body.
The next two layers – the support layer and base layer – help distribute your body's weight and help regulate your body temperature. You'll find the TEMPUR-Flat™ foundation right underneath the base layer. This foundation layer boasts a flat surface that provides durable support to the layers above. In addition to the support it provides, it is treated with antimicrobial agents to hinder the growth of microorganisms.
Casper
Casper is an award-winning mattress brand that has over 27,000 5-star reviews on Google. While the company sells three different types of mattresses, Costco only sells one – the Casper Select 12" Memory Foam Mattress. Here's some additional information about the features of this mattress:
Casper Select 12" Memory Foam Mattress
Much like the Tempur-Pedic Cloud Supreme, the Casper is made from four layers of different types of foam, in addition to a mattress cover. The cover of the Casper mattress is made from a blend of polyester. It's a very soft cover the snaps back into place quickly. It's also removable, which makes for easy washing.
The top layer of the Casper is the comfort layer. It's made from a latex-like foam. This gives the bed a bit more initial bounce than you get from some of the other foam mattresses on the market. However, the bounce from the material isn't so great that it prevents you from sinking into the mattress a bit to get pressure relief.
The next layer of a Casper is the Contour Layer. This layer is construction from memory foam that produces the traditional body-contouring feel that people expect from memory foam. This layer also starts to work to begin the transition process, ensuring the sleeper gets the support they need.
The third layer of a Casper is the Transition Layer. This layer consists of zoned-support foams made from two types of poly foam. The firmer type of poly foam is placed in the center to support body mass, while the softer foam is placed at the ends of the bed to give you pressure relief where you need it.
Finally, the foundation layer consists of a heavy-duty poly foam. This layer gives the mattress its shape and structure. It also acts as the foundational support layer for the sleeper.
Firmness, Feel, and Support
This section looks at the firmness, feel, and support of the three Costco mattresses looked at in the previous section.
Brentwood Home
Brentwood Home mattresses listings always have a scale that ranges from ultra-plush to ultra-firm. Most of the Brentwood Home mattresses that Costco sells fall on "medium" on the firmness scale. The brand constructs its mattress at a medium firmness level because it targets side, back, and stomach sleepers. Brentwood's mattresses are also equipped with comfort foam and encased coils that provide support from the core of the mattress all the way to the edges (depending on the model).
Another support feature in many Brentwood Home mattresses is an advanced five-zone support system. This system uses smart combinations of foam and pocketed coils to give your body the support you need, where you need it. When this system is combined with the ability to pick your firmness by flipping the mattress, it's easy to see why so many people love Brentwood Home mattresses.
BeautyRest
BeautyRest mattresses have lots of options to help you customize the firmness, feel, and support you get. These include things like pillowtops and extra-plush or extra-firm choices.
Generally, the standard BeautyRest mattress will rank about a 6.5 on a scale of 1-10 for firmness, with 10 being the most firm. These mattresses use innovative micro-coil technology, which does an excellent job of providing relief from pressure points and gives you the support you need where your body needs it.
The feel of the mattress is also very nice. It's especially appealing to people that prefer traditional innerspring mattresses to the feel of more modern foam mattresses. The hybrid nature of this BeautyRest mattress gives sleepers the benefits of both systems while preserving the feel they're used to.
Tempur-Pedic
The Tempur-Pedic Cloud Supreme has a medium firmness. The mattress gives you a lot of initial sinkage while still transitioning you to firmer and more supportive layers. On a scale of 1 to 10, with 10 being the most firm, this mattress comes in at a 5.5. This makes it good for most sleepers, but it is slightly more plush than some will be used to. For reference, an industry standard mattress designed to be generally appealing has a firmness of around 6.5
The feel and support you get from the Tempur-Pedic are almost in a league of their own. After all, there's a reason that the Tempur-Pedic brand name is so well known. The feel is very comfortable, as the contour layer helps you feel absorbed in the bed, while the foundational and transitional layers work to relief pressure points and provide you with support in just the right places.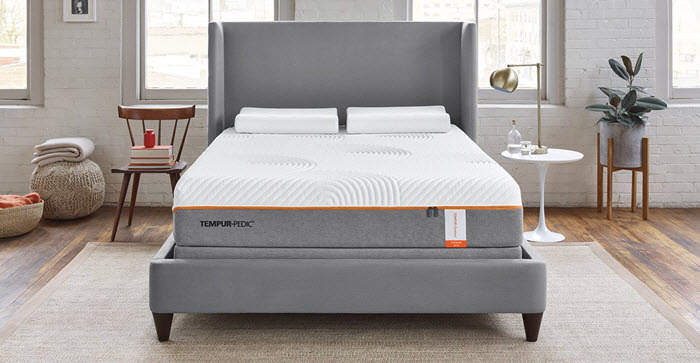 Casper
The Casper mattress is a bit more firm than some of the other Costco Mattresses we've looked at. On a scale from 1 to 10, with 10 being the firmest, a Casper rates at about a 7. That means it's going to be a good option for standard American sleepers, who generally expect a bed to have a firmness in the 6.5 range. However, some people might find the mattress to be a bit more firm than they'd like.
Casper does a great job of providing a unique and pleasurable feel with their mattress. The support you get from the heavy-duty poly foam does a marvelous job of reducing pressure in places like your knees, hips, shoulders, and back.
The unique combination of foam layers also enhances the support you get from the mattress. Enabling you to feel the soft comfort of the bed without sinking into it in awkward ways. This reduces or even eliminates the aches and pains you can wake up with in the morning.
Costco Mattress Topper
When it comes to mattress toppers, Costco has a huge selection to choose from. They range in price between $48.99 and $159.99. That means you can probably find a topper that works for you no matter what your budget is.
Additionally, Costco has some of the best brands for mattress toppers. These brands include Pacific Coast, Novafoam, SleepBetter, Thomasville, Tempur-Pedic, Nature's Sleep, Comfort Tech, and more.
One of our favorite toppers is the PureLUX Cool Gel Memory Foam Mattress Topper. This topper uses gel-infused memory foam to add an extra layer of softness and to provide or enhance the memory foam sensation.
The great thing about this mattress topper is the way it uses 3" of pressure relieving memory foam with pureGEL. The addition of gel creates more airflow within the memory foam. As a result, you get more cooling power from the topper. That's because the enhanced airflow helps to remove hot air and moisture from your body. The result is that you sleep cooler, drier, and thus better. And, in addition to improving your sleep quality, this topper has anti-odor protection and antimicrobial technology.
Costco doesn't only offer memory foam toppers. The Novaform Plush Pillowtop 4" mattress topper is another great option. This topper has 2" of pillow top above 2" of memory foam. As a result, it does a great job helping to relieve pressure points. The pillow top provides an incredibly soft layer for comfort, with the memory foam providing gentle support to keep your body in alignment while you sleep. That means fewer aches and pains and a better night's sleep.
Costco Air Mattress
Costco has a fair selection of air mattresses as well. These options include air mattresses intended for outdoor use and camping. The cost on these products runs from $44.99 to $149.99. They also offer the Disc-O-Bed Cam-O-Bunk Portable Cot Bundle for $249.99, which includes a two-person bunk bed setup.
Out of the different options for air mattresses at Costco, we really liked the AeroBed Comfort Lock Queen Air Mattress. You can also find this mattress in a twin, but if you're already sleeping on an air mattress, you may as well have as much room as possible.
The AeroBed Comfort Lock's best feature is the fact that you can have the pump automatically fill it to soft, medium, and firm settings. This means it's a great option for a guest room, as your guest can always ensure they have the feel they want for their mattress.
Another great feature for the AeroBed Comfort Lock is the integrated USB port. This port lets you charge any USB compatible electronic device. That means you and your guests don't need to worry about wall converters, finding an outlet, or risking a dead battery the next day. This feature is a really nice inclusion because it's just something small that adds a touch of convenience and uniqueness to the bed.
Finally, the bed comes with a secondary pump that helps maintain the appropriate firmness level throughout the night. This secondary pump isn't as powerful as the primary pump, and so it's much quieter. That means the bed can provide a consistent feel the entire night without creating loud noises that can disturb your sleep.
Costco Memory Foam Mattress
There's a ton of different memory foam mattresses available from Costco. One of the nice things about many of these options is that you can buy the base or frame with the bed. That means Costco has a lot of options for specialized beds, like adjustable frames and bases.
Because there are so many options, there's also a huge price range when you're looking at memory foam mattresses at Costco. They can range from $199.99 to $2,499.99 for the mattress itself, and from $649.99 to $2,899.99 for a mattress set. The mattresses that come with an adjustable base can range in price from $1,599.99 to $4,999.99.
One of our favorite memory foam mattresses at Costco is the Novaform 14" Serafina Pearl. This mattress costs $599.99 for a queen. It has a three-layer sleep system that's optimized for people looking for a firmer mattress. Additionally, the Comfortluxe Gel Pearl memory foam used is some of the best around. That's because it does an excellent job of creating airflow throughout the memory foam.  More airflow means you'll be cooler. Airflow also helps to wick away moisture in the night.
We also liked the Comfort Tech Elite Aurora 12" mattress. You can get a great deal on this Costco memory foam mattress, as it's only $499.99 for a California King and just $299.99 for a twin. That's a lot of mattress for the price! This mattress is designed to have a medium firmness suitable for most sleepers. It uses three layers of high-quality memory foam to provide a wonderful sleeping experience, especially at its price point.
GhostBed: Something to Consider
GhostBed is part of a company who was one of the pioneers of delivering high quality mattresses in small boxes to customers doorsteps nearly 20 years. GhostBed currently offers 2 of their models at an unbeatable value at Costco.com while their other models can only be found at GhostBed.com. The 2 models available through Costco include the GhostBed Classic, which has aerated natural cooling latex over gel infused memory foam which will provide a great feel slightly on the firmer side.
The GhostBed Luxe is one of the coolest mattresses on the market and provide a support, yet more plush feel. On GhostBed.com, they offer their GhostBed 3D Matrix which is an extremely cool hybrid that has a patented top layer of a honeycomb layer of gel and foam for that perfect and slightly softer feel.
On Costco.com. They have 3 models. the Classic, Luxe & the Hybrid. The Hybrid is SIMILAIR to the Flex, but the Hybrid is 12′ w/ 5 layers and the flex is 13″ w/ 7 layers.
Costco.com has either mattress only in most sizes or Mattress + Adjustable bases in 2 sizes: Queen & Split-King.
The Good
Whether you are looking for a $500 memory foam mattress or a $5,000 luxury king-sized split mattress with an adjustable base and frame, you will find something that will suit your mattress needs. Costco offers mattresses from a wide variety of manufacturers including Sealy, Novaform, Sleep Science, Beauty Rest, Comfort Tech, and Spring Air. Shoppers can select from a cal king, king, queen, standard or twin mattress size as well as purchase foundation, mattress or a complete set.
Ratings from Costco consumers were slightly above-average, and some customers reported a decrease in pain with new mattresses particularly with the Novaform and Tempur-Pedic line.
This warehouse club is trusted among consumers and known for excellent customer satisfaction and generous return policies. Even when reviewers noted problems with the mattresses, they specified the return policy as an advantage to shopping at Costco. Since the store is located in most major cities across the nation, it's easy to find a club where you can easily pick-up a mattress or perhaps even try one out.
The Bad
Although Costco mattresses scored better than average overall, consumers did consistently note some concerns. A significant number of customers reported longevity issues with the Stearns and Foster Lakeshore and the Sealy Barnhart lines of mattresses, reporting sagging after a relatively short period of time. Sagging and deep impressions can be an issue with several memory foam mattresses as well as a lack of firmness and off-gassing problems.
Many of the Costco lines are produced exclusively for the warehouse, and it can be difficult to comparison shop. In addition, information about foam density, coil count, and material specifications were reported difficult to find. When you can't locate this information, you often have to do your own Google search and locate the information on the manufacturer's website (if you can).
Customer Satisfaction
According to a recent article by Forbes, Costco is number one in online customer satisfaction, right above Amazon (reported in the Retail and Consumer Shipping Report 2018 – 2019). Although the warehouse club doesn't spell out its mattress return policy, Costco has a general policy to make its customers happy. It appears that the company does not charge for shipping and handling for returns within a few months of purchase.
The Company
Costco is a well-known, nationwide warehouse club requiring membership in order to complete purchases. Most members purchase food products and household items in bulk at drastically reduced prices. Memberships start at $55 per year and allow members to bring up to two guests shopping with them, although guests are not allowed to purchase. Depending on what else you buy at Costco, don't forget to consider membership fees to the purchase price for your mattress.
Alternatives to Costco Mattress
Costco mattresses are pretty good, but we've got some suggestions that might be even better for you. People looking into Costco mattresses need to check out these three alternatives – and our special deals on them!
Puffy Mattress
Puffy is a great alternative to the mattress options at Costco. This mattress is designed to work with side, back, and stomach sleepers and ships for free right to your door.
Puffy is also awesome because it can be placed on any surface. As a result, you can use it with an adjustable frame, salts, or even the floor. That means you can have more control over the look and style of your bedroom. It also saves money by allowing you to use the bedframe you already have.
Finally, Puffy offers a 101-night sleep trial. Give it a go and if you don't like it you can return it free of charge.
EDITOR'S CHOICE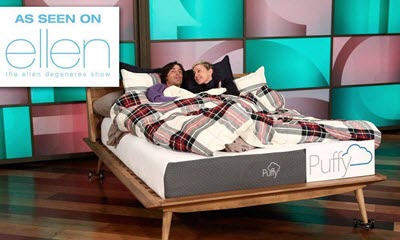 What Makes Puffy a Great Alternative?
101-night sleep trial to ensure total comfort
Free shipping
Place on any surface
Get $300 off - Limited time only!
Check out Puffy
PlushBeds
If you want your mattress to be made from eco-friendly all natural and organic materials, PlushBeds is an excellent option for you. The beds are made with natural latex and memory foam. PlushBeds also offers mattresses for a wide variety of needs, including RV mattresses and adjustable mattresses. That makes them a one-stop mattress shop for lots of different consumers.
Plsuhbeds also gives you 100 nights to make sure your mattress is perfect. If you don't like it, then the return shipping is free. The delivery is also free with PlushBeds. Given all these great benefits, there's no reason not to give them a try.
PLUSHBEDS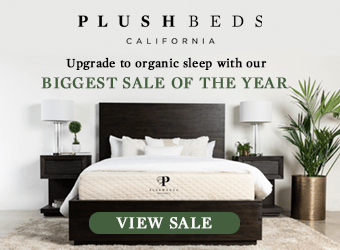 What Makes PlushBeds a Great Alternative?
Lots of options means there's something for everyone
Natural and organic latex mattresses
Free shipping and return pickup
Check out PlushBeds
4.8 out of 5 stars (based on 19 reviews)
Excellent79%
Very good21%
Average0%
Poor0%
Terrible0%