Molecule Mattress Reviews
Jake Comfort  |  Updated: February 2023
Jake Comfort  |  Updated: February 2023
We have an affiliate relationship with and receive compensation from companies whose products we review on this site. We are independently owned and the opinions expressed here are our own.
Overview
Founded in 2018, Molecule is a new mattress company that takes a refreshing approach to mattress engineering and construction. Both scientists and athletes teamed together to help Molecule create mattresses that are perfect for optimal sleep and temperature regulation. Since the Molecule brand is new to the market, they only sell two mattress models: The Molecule 1 and the Molecule 2 AirTEC. In addition to mattresses, the company also sells bedding, bed frames, and product bundles. No matter the product, Molecule strives to use environmentally-friendly and sustainable materials.
We understand that choosing the right mattress is tricky, and since Molecule might be an unfamiliar brand, we wrote an all-encompassing review that explains the important features. This review will cover the construction and physical features of the mattress, the finer details such as the warranty and return policy, as well as the online reviews and where to buy the mattress.
Molecule Mattress Construction
Molecule uses high quality, USA-made foam in both of its mattress models (meaning no questionable chemicals or toxins). Furthermore, Molecule is sustainable and environmentally conscious, and therefore, uses eco-friendly materials in the production of its mattresses. With its patented Variable Pressure Foaming technology, Molecule can reduce emissions by 97% when compared to standard manufacturing processes.
We'll now take a closer look at both the Molecule 1 and the Molecule 2 AirTEC mattress, including their layers and the features that make these mattresses so popular.
Molecule 1
Out of the two mattresses sold by Molecule, the Molecule 1 is the most affordable. A twin-sized mattress starts at $699. This mattress is like the Molecule 2, with a few less advanced features. The team at Molecule designed this mattress to not only be affordable but also recovery-focused. Here's a look at the mattress's three different layers:
Top Layer
The top layer of the Molecule 1 mattress consists of an advanced cover that features a combination of materials that help regulate your body temperature. Temperature-sensitive polymer is embedded in the cover can adjust to and regulate your body temperature throughout the night. While this cover primarily serves as a temperature-regulating feature, it's also soft-to-the-touch and will certainly make it easier for you to fall asleep at night.
Middle Layer
Right underneath the cover of the mattress is a 2-inch layer of RestoreFLO™ Open-cell memory foam and a 3-inch RecoveryFLO™ 3-zone dynamic response layer. The Open-cell memory foam is proprietary to Molecule and provides pressure relief paired with airflow features. Moreover, the memory foam boasts gel microbeads that further regulate the temperature and moisture levels. Under the Open-cell memory foam is the RecoveryFLO™ 3-zone dynamic response layer – a layer that features a 3D geometric surface that contours to the shape of your body and self-adjusts itself to offer support to various areas of your body.
Bottom Layer
There's a 7-inch layer of ContourFLO™ foam that serves as the foundation of the mattress. This layer helps keep your spine aligned and helps circulate airflow. The foundation is an extra touch that supports the three layers above it.
Molecule 2 AirTEC with Microban
If you're looking for a more expensive mattress with more features, then the Molecule 2 AirTEC mattress with Microban might be the option for you. The team at Molecule used air-engineering techniques to formulate the perfect mattress for both comfort and advanced temperature regulation. Below, you'll find more details about the different layers of this mattress:
Top Layer
Right at the top of the mattress is an antimicrobial advanced cooling cover with two important roles. First, the cover maximizes airflow and keeps you cool during the night. Secondly, the covers Microban® infusion prevents the growth of bacteria, mold, and other microbes that cause odors and stains. Not only will you sleep comfortably with a Molecule 2, but you'll also keep your mattress hygienic.
Middle Layer
The Molecule 2 has three different middle layers: a 1-inch Biocharge™ recovery layer, an AirTEC advanced core material layer, and a RecoveryFLO™ 5-zone dynamic response layer. The Biocharge layer features a lab-tested crystal combination that helps your intake of oxygen consumption and improves your cell function. Right underneath this layer is the AirTEC material – a proprietary foam that has five times the amount of airflow as compared to traditional memory foam. And the last layer of the three, the RecoveryFLO™ 5-zone dynamic response layer, provides targeted support with the help of a precision-contoured 3D geometric surface.
Bottom Layer
Like the Molecule 1, the Molecule 2 has a foundation layer that features ContourFLO™ maximum support material. The only difference is that the layer in the Molecule 2 is six inches, one inch shorter than the layer in the molecule 1. Again, this layer promotes healthy spinal alignment and airflow.
Pros and Cons of Molecule Mattresses
The team at Molecule knows what it's doing, despite being new to the industry. Their mattresses are backed by elite athletes and renowned scientists such as Dr. Daniel Barone from the Weill Cornell Center for Sleep Medicine. Not only have top athletes vouched for the quality of Molecule mattresses, but also have thousands of customers who use either the Molecule 1or Molecule 2. Here's a look at both the pros and cons of the Molecule mattresses:
Pros:
Features Air-Engineered™ material for optimum breathability
Comes with an advanced cover that boasts heat and moisture-wicking technology
Made with eco-friendly materials that get rid of the need to air-out the mattresses
Comes with a lifetime limited warranty that protects from manufacturing defects
You can return the mattress between 30 – 100 days after purchasing it
Recommended by both highly-regarded athletes and doctors
Cons:
The warranty does not cover sagging that is less that one inch in height
No "very plush" or "very firm" options available
Some side sleepers report that the mattress is on the firm side
May get warm, depending on the temperature in your room and the number of blankets you sleep with
Offers Great Support
Given that scientists and athletes designed the two Molecule mattresses, it's easy to see why support is such an important feature of the mattress. Both mattresses boast RecoveryFLO™ adaptive support layers that contour to the shape of your body and offer continued support throughout the night, no matter your body type or what position you're sleeping in. There are also multiple layers of memory foam that keep you sound asleep, safe from motion disruptions. In terms of firmness level, both the mattresses fall in the middle between "plush" and "very firm."
The Mattresses Come with a Limited Lifetime Warranty
Both the Molecule 1 and the Molecule 2 come with a limited lifetime warranty. This warranty solely covers flaws in the mattress's materials and workmanship, such as unraveling stitches, a sag greater than one inch, and a stuck zipper. When it comes to replacing the mattress, Molecule has the final say.
The warranty offered by Molecule is narrow in the sense that it does not cover any flaws or defects caused by user error. For example, if you use an improper foundation for your mattress, Molecule will not be held liable to replace your mattress or compensate you. Furthermore, the warranty does not cover normal wear and tear that you would experience with any other mattress. If you don't like the mattress due to personal tastes (such as the firmness level), you must return the mattress in the first 30 to 100 days. Lastly, any sagging or indents less than one inch deep are not covered by the warranty.
Starting a warranty claim is a painless process – all you must do is contact Molecule's support email and provide the order number along with a description of the defect, including videos and/or pictures. You should expect to hear a response back from Molecule within seven business days.
Affordable Price Range
Despite their advanced technology and science-backed construction, Molecule mattresses don't cost an arm and a leg. The price starts at $699 for a Molecule 1 mattress and $999 for a Molecule 2 AirTEC mattress. Here's a full look at the prices for each size of the Molecule 1 and Molecule 2 AirTEC mattress:
| | | |
| --- | --- | --- |
| Size | Molecule 1 | Molecule 2 AirTEC |
| Twin | $699 | $999 |
| Twin XL | $699 | $999 |
| Full | $799 | $1,099 |
| Queen | $899 | $1,299 |
| King | $1,099 | $1,599 |
| California King | $1,099 | $1,599 |
Financing Options
If you can't purchase the mattress outright, you may be able to finance it through Klarna (dependent upon your credit score). Approved buyers can make monthly, interest-free payments using the Klarna app. All you must do is connect your credit or debit card and you're all set. So, even if the mattress is out of your budget, it's not out of reach thanks to Klarna's financing.
Excellent When New
Like most mattresses, the Molecule 1 and Molecule 2 perform best in their earliest stages of life. Because Molecule is so confident that their mattresses will meet or exceed your expectations, they offer a comfort guarantee. Every customer can return the mattress between 30 to 100 days after purchase.
Good in Conforming
With a RecoveryFLO™ adaptive support layer, both mattresses sold by Molecule will conform to the shape of your body, ensuring that you sleep in a comfortable and pain-free position. The Molecule 2 has a 5-zone adaptive support layer (at a higher price), whereas the Molecule 1 has a 3-zone layer. In addition, both mattresses have a layer of CertiPUR-US® certified memory foam that contours to the shape of your body and relieves pressure. Almost every layer of the Molecule 1 and 2 help support your body in some way.
Limited Firmness Levels
Both the Molecule 1 and 2 have a "medium" firmness level that falls on 5 when placed on a scale between one to ten. This is a disadvantage for those who need a plush of firm mattress to meet the needs of their body. On a positive note, a "medium" mattress is generally recommended as the ideal firmness level for those who suffer from mild body pain (and your everyday sleepers). Despite falling right in the middle on the firmness spectrum, Molecule mattresses boast technology designed to provide targeted support that adapts to your body as you move.
Both Models Excel in Cooling Technology
You'll find that both mattresses have a layer of Open-cell foam – an important feature that helps promote the mattress's breathability. What's the difference between open and closed-cell foam? Open-cell foam is not as dense and therefore allows for better breathability. It also repels moisture – essentially absorbing it and subsequently releasing it. On the contrary, closed-cell foam is resistant to mold growth and is waterproof.
The cooling technology doesn't stop at the Open-cell foam. For example, the Molecule 1 boasts an advanced cooling cover that keeps your temperature regulated right at the surface. The Molecule 2 also has a cooling cover, but it is more advanced – an advanced cooling comfort cover with Microban®. There's also an additional BioCHARGE™ crystal layer that helps boost circulation. Compared to traditional memory foam used in most mattresses, the foam used in Molecule mattresses allows 5x the airflow.
Few Cases of Off-Gassing
Memory foam mattresses, especially cheaper ones from Amazon or eBay, are notorious for their pungent off-gassing smell that fills the room once you unpackage them. You won't experience this with a Molecule mattress. First off, Molecule uses materials certified by CertiPUR-US, meaning they are free from toxins and agents that lead to these smells. In addition, Molecule uses an air-sealed chamber and a series of carbon beds to reduce emissions (up to 97%). This process, made possible by Variable Pressure Foaming, gets rid of the need to "air-out" Molecule mattresses before you use them.
Must Be Rotated
You should rotate a Molecule mattress, so it wears normally on both ends. Unlike some mattresses, Molecule mattresses are not dual-sided – you cannot flip it or turn it upside down. And while it's certainly not a requirement to rotate the mattress, Molecule recommends it so the mattress can reach its maximum lifespan.
Should I Buy a Molecule Mattress?
If you're comfortable buying a mattress from a new brand that has a strong reputation, then you should consider buying a Molecule mattress. Molecule mattresses have a heavy focus on support layers – perfect for athletes and those who suffer from pain. In addition to their science-backed technology, Molecule mattresses are somewhat affordable given all the features they have. Even if you can't afford to buy a Molecule mattress with cash, there are financing options available. Overall, both the Molecule 1 and Molecule 2 are high-quality mattresses that rank amongst the best in their class.
Alternatives to Molecule Mattress
Molecule Mattress is pretty appealing. However, we want to make sure you get the perfect mattress for your needs. That's why we've assembled this list of alternatives to Molecule mattress. All of these mattresses give you some, most, or all of the features you get from Molecule, but have some other benefits as well. Check out our list of alternatives to the Molecule mattress below.
Puffy
Puffy is one of the fastest growing names in the mattress market today. One of the best things about the Puffy mattress is that it's one of the few options that are specifically designed to accommodate all different types of sleepers. That means side sleepers, back sleepers, and even stomach sleepers can get the support they need to wake up feel fresh and rested.
Another thing we love about Puffy is the 101-night sleep trial that you get. This option means that you can try out a Puffy mattress and see if it gives you the sleep you've been searching for. If it's not right for you, then you can send it back free of charge for a full refund. That means you've got everything to gain and nothing to lose!
EDITOR'S CHOICE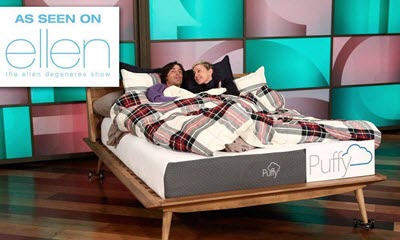 What Makes Puffy a Good Alternative?
Designed for all types of sleepers – side, stomach, and back
Free shipping
Can be placed on any surface
Save $300 when you use our link
Check out Puffy
PlushBeds
PlushBeds is one of the best options available for people that want to be sure their mattress is made with 100% eco-friendly materials. All of their mattresses are certified organic and natural, with a host of professional certifications to back up their claims.
Another thing we love about PlushBeds is that you can try them for 100 nights. As a result, you can make sure PlushBeds is right for you. We're confident that the combination of high-quality organic and natural latex with the other sleep innovations you get at PlushBeds will blow you away and help you sleep easy. Give them a try and see what natural and organic latex can do for you!
PLUSHBEDS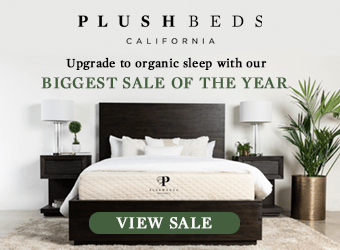 What Makes PlushBeds a Good Alternative?
Lots of options means there's something for everyone
Natural and organic latex mattresses
Free shipping and return pickup
Check out PlushBeds
Nectar Sleep
It's not hard to understand why Nectar is one of the most popular brands for mattresses today. Nectar combines the latest foams and sleep innovations to produce a mattress that helps you fall asleep faster, sleep deeper, and wake up feeling more refreshed than lots of other options on the market.
One of the best things about Nectar mattress is the fact that it produces tremendous value for money. One of the most common things people say about this mattress is that it feels like a mattress that cost twice as much. Even better, you can maximize your value when you use our special deal to save on your order.
NECTAR SLEEP
What Makes Nectar Sleep a Good Alternative?
Tremendous value for money
Mid-level firmness perfect for most sleepers
Save $100 on all orders of $500 or more
Check out Nectar
What They Say
4.3 out of 5 stars (based on 14 reviews)
Excellent43%
Very good43%
Average14%
Poor0%
Terrible0%