Morgedal Memory Foam Mattress
Jake Comfort  |  Updated: February 2023
Jake Comfort  |  Updated: February 2023
We have an affiliate relationship with and receive compensation from companies whose products we review on this site. We are independently owned and the opinions expressed here are our own.
Memory foam mattresses are becoming a common fixture in households around the world. These mattresses offer comfort and contour that other mattress types simply can't match. With the rise in popularity, newer models are being made by companies the world over.
These mattresses are often associated with numerous benefits. The comfort offered by memory foam mattresses over other types can offer relief and comfort for sleepers suffering from aches and pains. Buyers of memory foam mattresses also experience less motion transfer when sharing the bed with their partner. Increased durability and longevity are also noted benefits of memory foam mattresses and the improved technology of this relatively new type of mattress.
The Morgedal memory foam mattress, like all mattresses, offers its own benefits and downsides. Reviews have given the mattress praise and offered complaints based on issues related to overall comfort, cost, and durability.
Construction
The Morgedal has two internal layers that are surrounded completely by the outside cover of the mattress. This provides a solid basis for support while allowing the mattress to be comfortable for most sleepers. We'll look at the construction and materials of the layers and cover in the following sections. One important thing to note about the Morgedal mattress is that it is made from recyclable materials. That means you can rest easy knowing your mattress isn't going to be taking up space in a landfill when you're done with it.
Layers
The first layer is made from 2.5" of polyfoam/polyurethane foam. The foam is colored a pale yellow and works to ease your bottom into the support of the lower layer. At the same time, it provides a good initial softness that will help most sleepers find the comfort and ease they need to get the sleep they deserve.
The second layer is 5" thick and is also made from a combination of polyfoam and polyurethane foam. While this layer is made from the same materials as the top layer, the materials are combined in a different ratio. As a result, the second layer is much firmer than the top layer. This gives the mattress the support it needs for back, side, and stomach sleepers. It also helps the bed maintain its shape and structure.
Something to note is that the mattress layers are constructed in such a way so as to result in different comfort zones. That means you'll get more support where your body is heaviest, such as your hips and shoulders, and more softness where your body doesn't need as much support. That ensures a comfortable night's sleep and helps prevent you from waking up with aches and pains in the morning.
One drawback of the Morgedal's layers and materials is that they aren't the best when it comes to removing heat from your body. As a result, the Morgedal falls into the same trap that many memory foam mattresses find themselves in. It sleeps hot. However, you can minimize this drawback by investing in a pad or protector that has better cooling qualities than you get with the mattress itself. That being said, given the mattress's incredibly reasonable price, you're still getting a pretty good deal all things considered.
Cover
The cover, or ticking, is made from a combination of cotton and polyester. It is a 64/36 cotton/polyester blend. This provides a good combination of softness and breathability, while at the same time helping your body ease into the support of the top mattress layer.
The cover itself is fairly basic. It has a white quilted top and bottom with grey quilted sides. One thing that we loved about the cover of the Morgedal is the fact that it has handles on the sides of the mattress. This helps make it easier to adjust the mattress on the bedframe, move the mattress, and hold the mattress in place while you're making the bed.
Firmness, Feel, and Support
The Morgedal is firmer than many other memory foam mattresses. That makes it a good option for back and belly sleepers. Side sleepers will find it a bit more firm than they might enjoy. On a scale from one to 10, with one being the softest and 10 being the firmest, the Morgedal comes in at a solid 8.5.
The feel of the mattress is pretty good, especially for its price point. The different comfort zones do a good job of providing a pleasant feel when you're laying down on the mattress. Additionally, the cover is nice and stretchy, providing a nice feeling when you first lay down. It gives a bit of pushback that helps ease you on to the softness and support of the two memory foam layers.
The comfort zones also do a good job of providing the support you expect from a quality mattress. There are three zones, covering your head/upper body, torso and hips, and legs and feet. The support you get is more than enough for more sleepers. However, heavier individuals may find the support lacking, as the thickness of the memory foam might not be enough to handle larger people for extended periods of time.
Sinkage
The Morgedal does pretty well on our sinkage tests. This speaks to the mattress's overall firmness and quality. Our tests are conducted with an individual weighing about 150 lbs, so your results may differ depending on your body type and weight.
Laying on Back – laying on the back in a standard sleeping position resulted in about 1.5" of sinkage.
Laying on Side – laying on the side in a standard sleeping position resulted in about 2" of sinkage.
Slight Edge Sit – lightly sitting on the edge of the mattress resulted in about 2" of sinkage.
Full Edge Sit – sitting on the edge of the mattress with full body weight caused 3" of sinkage.
Standing in Middle – standing in the middle of the mattress with all the body weight concentrated in one spot caused 3.5" of sinkage for the Morgedal mattress.
Other Info
Now that you understand the materials that go into the Morgedal and how it's constructed, as well as what the firmness, feel, and support are like, it's time to cover some of the other essential information regarding this mattress.
Delivery/Pickup
The Morgedal is produced by IKEA. That means it will likely be available for in-store pick up in most areas that have an IKEA store. As a result, it's an excellent option for people that need a mattress and need it now. IKEA will also deliver the Morgedal to your house.
If you get the Morgedal delivered it will come rolled in a vacuum-sealed bag tucked safely inside a box. At about 35 lbs (depending on size), the mattress is easy to move into place. That means you won't need to pay for white glove service or for other assistance to get your mattress set up and ready to use.
Warranty
IKEA offers a 25 year warranty on all of their mattresses. However, you should be careful to read the fine print of any warranty so you understand the terms and conditions. Mattress warranties usually have conditions regarding how the mattress is set up. For example, simply putting your mattress on the floor instead of putting it on a platform, slats, or box-spring could void the warranty.
Trial Period
IKEA gives you 365 days to try out the Morgedal mattress. That means a whole year of sleep to determine if it's the right mattress for you. If you decide that you aren't happy with the Morgedal, then you can call IKEA to schedule a return and get the full price of purchase credited back to you.
Best For
The Morgedal is a good mattress for its price point. That makes it an excellent choice for young people moving out on their own for the first time, dorm rooms, guest bedrooms, and similar situations. It's also a good option if you need a replacement mattress and you need it right away, as its availability at a local IKEA store means you can have your new mattress set up and usable the same day that you buy it.
The Good
Morgedal mattresses offer the comfort of a memory foam mattress at an economical price. Buyers looking to upgrade to this still growing and evolving sleep technology can see price tags with outrageously high numbers. That isn't the case with Morgedal mattresses, which fit in most customer's budgets without sacrificing comfort or durability. Those who suffer from back pain or other aches in the morning could do much worse than this affordable yet still high-quality mattress.
Another benefit buyers will get from a Morgedal mattress is a long warranty. Morgedals come with a25-year warranty, offering peace of mind for consumers. Available as firm or medium-firm, Morgedal mattresses also have relatively easy upkeep compared to other mattresses. This increases the overall durability and lifespan of the mattresses, giving customers a better overall deal for their hard-earned money.
Reviews have found that these mattresses are great for back and stomach sleepers, offering the necessary support and comfort needed for a good night's sleep. Additionally, free shipping for customers who order this mattress online is a benefit that adds to the value offered by Morgedals.
The Bad
Morgedal mattresses aren't for everyone. This fact causes issues for customers if they don't read up on the product beforehand. Specifically, adults and heavier individuals, along with side sleepers, are discouraged from purchasing this product. Based on reviews from users, these mattresses tend to lose some of their comfort for these sleepers compared to other similar memory foam mattresses. Some of this is due to the lack of firmness options and overall height of the product. At 7.1 inches, the mattress isn't as tall as other memory foam models offered by different companies. Morgedal mattresses are also only offered in firm and medium-firm, which leaves fewer options than some buyers and sleepers might need.
While the durability of these mattresses is often viewed as a plus, some purchasers have noted that the mattress doesn't hold up as well with frequent use. This isn't a terrible surprise given that mattresses are used every night. However, you'd expect a mattress, even a memory foam one, to hold up well to nightly use for the majority of its lifespan.
Price Range, Availability, And More
Morgedal mattresses can be an economical and comfortable find depending on the user. Obviously, there are some out there that are higher quality, but they also come with a higher price tag, sometimes significantly so. Buyers can find a Morgedal mattress with a 25-year warranty for less than $300, including free shipping for both in-store and online orders.
Memory foam mattresses were a great innovation that has helped increase comfort and relieve aches and pains many sleepers struggled with. For those buyers looking to upgrade their overall comfort at a fair price, Morgedal mattresses offer benefits at a decent and affordable rate.
Should I Get the Morgedal Mattress?
That depends on what you're looking for. If you're looking for a guest room bed, a dorm bed, or a bed for your first apartment, then the Morgedal is an excellent choice. It's also a good option for back sleepers and people that prefer to sleep warm.
However, if you don't mind spending a bit more on a mattress then there are better options on the market. The Morgedal isn't ideal for couples or side sleepers. It's also not a great option if you need to feel cool to fall asleep.
As you can see, the Morgedal is a good option if your situation calls for it. It's a good starter mattress and guest room mattress. It's also a very good mattress for its price point. The Morgedal comes with an excellent warranty and the 365-night trial allows you to make sure you're happy with your purchase before you've fully committed to it.
If you need a quality mattress at a good price, or you need a mattress right away, then the Morgedal is a good choice for you. If that's not the situation that you find yourself in, then it might be a better idea to keep looking at other options.
Alternatives to the Morgedal Mattress
There are some people that will like the Morgedal and all it offers. However, there's a few alternatives you should know about before you pull the trigger on this mattress. All of these options are priced near or below the level of the Morgedal, and they all offer something extra you don't see with this option. Take a look and see what makes them great alternatives.
Saatva
Saatva is one of the biggets names in the mattress industry today. The company offers a host of different branded beds and almost certainly have something that's perfect for you. Their most famous offering is one of the best hybrid mattresses on the market today, the Saatva Classic Hybrid.
This mattress features a luxury Euro Pillow Top, great perimeter edge support, and individually wrapped coils to prevent motion transfer. The result is a bed that gives you the best of what memory foam and innerspring technology have to offer. All of this plus their Spinal Zone technology means that you'll get the support you need to have the perfect night of sleep!
EDITOR'S CHOICE
What Makes Saatva a Great Alternative?
Best-priced luxury mattress
Features Lumbar Zone Technology for back-relieving support
Highest quality materials and eco-friendly
Handcrafted in the US
 
Check out Saatva
Nolah
Not sure that the Morgedal mattress is right for you? Nolah mattresses stand out from the competition because they have proprietary material such as the cooling Nolah AirFoam™ — a temperature-neutral alternative to memory foam. The mattresses also have a high-density base foam that provides premium support and pressure relief.
As a company, Nolah supports sustainable business practices, gives back money to protect the environment, and uses organic materials in its mattresses. Even though it is a new company, Nolah has already amassed hundreds of positive reviews from customers.
NOLAH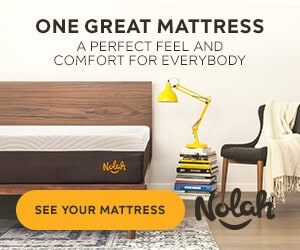 What Makes Nolah a Great Alternative?
A versatile design that is suited for any type of flat surface
Lifetime warranty and 120-night trial period
Made with organic materials that are free from allergens
Up to $800 off + 2 Free Pillows!
See Current Offers
PlushBeds
If you want your mattress to be made from eco-friendly all natural and organic materials, the PlushBeds is an excellent option for you. The beds are made with natural latex and memory foam. PlushBeds also offers mattresses for a wide variety of needs, including RV mattresses and adjustable mattresses. That makes them a one-stop mattress shop for lots of different consumers.
Plsuhbeds also gives you 100 nights to make sure your mattress is perfect. If you don't like it, then the return shipping is free. The delivery is also free with PlushBeds. Given all these great benefits, there's no reason not to give them a try.
PLUSHBEDS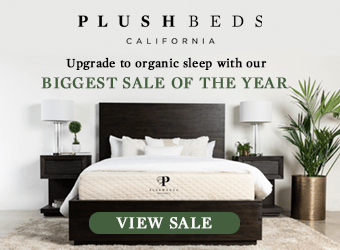 What Makes PlushBeds a Great Alternative?
Lots of options means there's something for everyone
Natural and organic latex mattresses
Free shipping and return pickup
Check out PlushBeds
What They Say
4.1 out of 5 stars (based on 7 reviews)
Excellent43%
Very good29%
Average28%
Poor0%
Terrible0%