Novaform Mattress Reviews
Jake Comfort  |  Updated: August 2023
Jake Comfort  |  Updated: August 2023
We have an affiliate relationship with and receive compensation from companies whose products we review on this site. We are independently owned and the opinions expressed here are our own.
When it comes to choosing a high-quality mattress, it is tough to find one that fits you and your lifestyle. Maybe you have searched many stores and seem to find one that satisfies your price quotes, value, and conforms to your body.
Novaform has pleased 77% of its customers worldwide with owner satisfaction, durability, and friendliness to your body; I give Novaform a thumbs up. Also, with just a quick Google search, you can find hundreds of reviews for Novaform mattresses ranging from 4 to 5 stars. You can also find reviews on Novaform's official website.
Novaform has a few different mattresses on offer. In the next two sections, we'll look at some of their specific mattresses, the layers and composition of each of these mattresses, and then cover the general good and bad points for the company.
Novaform Construction
ComfortGrande Mattresss
Novaform's ComfortGrande mattress is one of their most popular choices. It's a memory foam mattress that uses three layers of different types of foam for a medium-firm feel. The foam used in this mattress is made in the USA and is Certi-Pur certified. That means you can trust that there are no harmful chemicals or allergens in the mattress itself. In addition, you won't experience off-gassing like you do with many of the mattresses that are manufactured overseas.
Like many of the other mattresses the brand makes, Novaform's ComfortGrande mattress is made from a medium-grade memory foam which they sell at a discount because it's simply cheaper quality foam. That means you won't be getting the top of the line when it comes to sleep materials science, but you will get a decent value on your mattress due to the low price and the 20-year warranty that Novaform offers. To put things in perspective, you can get a brand-new Novaform mattress for just a couple of hundred dollars. While it won't have the same features as the industry-leading mattresses, you'll still get a quality mattress at a fraction of the cost.
ComfortGrande Layers
The ComfortGrande mattress is the go-to choice for those looking for a comfortable and cooling bed. It boasts GelPlus technology along with several layers of supportive memory foam. The mattress itself is categorized as "medium firm." Here's some additional information about each layer of the ComfortGrande mattress:
Top layer
This mattress boasts a cool-to-the-touch, quilted cover that gives you an instant feeling of comfort and relief. The cover boasts stay-dry, wicking gel memory foam that helps promote temperature regulation. There's also EVENcor GelPlus® technology that helps the mattress maintain a consistent temperature. While it's soft on the top, there's plenty of support underneath the surface layer of the mattress.
Middle layer
In the core of the mattress, you'll find a thick layer of memory foam that will keep your body supported and in-alignment throughout the night. Not only does the memory foam support your body, but it also contours to your every movement and promotes pressure-relief in your shoulders, knees, and hips. This high-quality memory foam also prevents motion transfer – meaning you'll get better sleep without disturbances throughout the night.
Bottom layer
Novaform constructs this mattress with a sturdy robust foam layer that is long-lasting and durable. There are side handles on the mattress, making it easy to move from place-to-place. When you look at the top, middle, and bottom layers of this mattress, it stands 14" tall.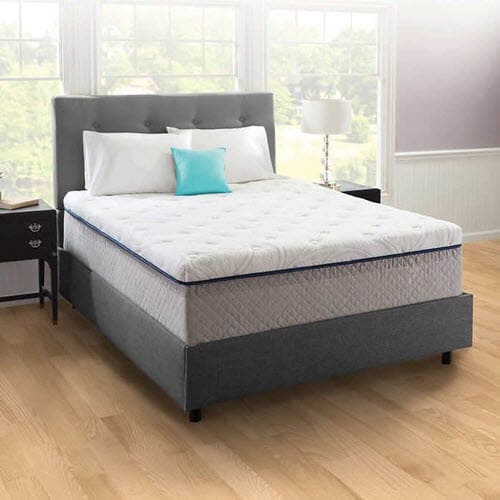 Serafina Pearl Mattress
The Serafina Pearl is the medium option for firmness in Novaform's offerings. While it is a memory foam mattress, it produces a softer feel than the ComfortGrande. The Serafina Pearl is made from three distinct layers of foam.
Serafina Pearl Layers
It's important to note that the Serafina Pearl mattress comes in both plush and firm varieties. That means you can customize this mattress to your preferences. Different varieties may have a different layer system than what's described above. This is not a hybrid mattress – it only contains memory foam.
Top layer
While Serafina is a customizable mattress, the standard model comes with three thick layers that contour to your body. At the top of the mattress, there's a 3" top layer of gel pearl memory foam that helps maintain your body's temperature. Novaform describes this as "unquestionably the coolest sleep." In addition to the gel pearl memory foam, the top layer of the mattress features 37.5 Technology that helps keep both you and your partner cool throughout the night.
Middle layer
The second layer of the mattress boasts a 3" layer of LURAcor Air Channel Foam – a technology designed to offer both personalized comfort and breathability. It's also important to note that none of the foams are made with flame retardants, heavy metals, or ozone depleters. In a nutshell, the main purpose of the middle layer is to offer support and continue to regulate your body temperature in conjunction with the top layer.
Bottom layer
At the base of the mattress, you'll find an 8" layer of foam that's perfect for therapeutic support and longevity. Again, this layer of the mattress does not contain any toxins. Furthermore, the base is compatible with any box spring or platform (note that you must purchase this separately – it is not included with the mattress). The top, middle, and bottom layers measure up to 14" in height.
SoFresh Responsive Foam Mattress
SoFresh is Novaform's offering for people with kids, pets, or both. The mattress comes with a removable cover that's resistant to stains and machine washable thanks to its anti-microbial elements. As a result, it's easy to care for and maintain the mattress while keeping it as clean and fresh as possible.
SoFresh Responsive Layers
Top
This medium comfort-level mattress has a surface layer of 2-inch LURAcor foam that is infused with copper. The copper contributes to the mattress's support level and helps relieve pressure all around your body. In addition to the real copper embedded in the mattress's top layer, there are also anti-microbial properties that help rid of odors and keep your mattress feeling fresh (perhaps that's where the name "SoFresh" comes from).
Middle
Right underneath the mattress's top layer is an extra 2 inches of memory foam cushioning. This foam is very similar to the material used in other Novaform mattresses – it contours to the shape of your body and helps relieve pressure where it's most needed. The extra support and comfortability will ultimately give you a better night's rest.
Bottom
The component of the mattress is a base foam layer measuring 6 inches. This layer provides lasting stability, meaning you can use the mattress for years to come. It also helps add additional support to the layers above and ensures that both you and your partner sleep comfortably.
Overnight Recovery Gel Memory Foam Mattress
The Overnight Recovery line of mattresses from Novaform is designed to help people get deeper, longer sleep. It uses a three-layer design and Celliant technology to help people stay cool and dry while sleeping and by helping your cells take in more oxygen.
Overnight Recovery Layers
Top
If you're looking for a plush mattress, you'll definitely feel it just by touching the top layer of this mattress. The mattress's surface layer boasts a 1-inch layer of EVENcor GelPlus memory foam that gives you just the right amount of comfort – not too little and not too much. As an extra bonus, the cooling gel keeps you from overheating during the night and will help keep you from waking up.
Middle
Right underneath the top layer is a slate of 3-inch LURAcor foam (a foam found in many of Novaform's mattresses). This layer primarily serves as a support layer – it contours to the shape of your body and provides targeted pressure relief. Furthermore, it helps keep your body in alignment, meaning you won't wake up with body aches the next day.
Bottom
Finally, there's a base foam layer that measures 8 inches in height and promotes the mattress's longevity. With Novaform's top-of-the-line craftsmanship and high-quality materials, you'll be sleeping like a baby for years to come.
Advanced Back Support Mattress
Novaform's Advanced Back Support Mattress is designed for people that need extra support to prevent back, neck, and joint pain. The mattress is firmer than the other offerings from Novaform and uses a three-layer system to produce uninterrupted sleep for those with back or joint pain.
Advanced Back Support Layers
Top
Like many of Novaform's mattresses, the Advanced Back Support Mattress boasts a 2-inch top layer that features their proprietary LURAcor foam. This foam helps keep your body in alignment and redistributes your weight. Furthermore, it's soft-to-the-touch and promotes uninterrupted sleep.
Middle
Right below the LURAcor foam layer of the mattress is a 1-inch layer of EVENcor GelPlus memory foam that helps you relieve pain in your pressure points. In addition, it's made of breathable fabric and cooling gel that not only keeps you comfortable but also keeps you from overheating. Given that this layer is only 1 inch, one of its primary purposes is to support the features of the top LURAcor foam layer.
Bottom
At 9 inches in height, this mattress boasts quite a tall base. Again, like all this brand's mattresses, the main purpose of the base layer is to create a stable and durable mattress that will last for many years to come. Not only that but the base layer is a foundation that boosts the features and qualities of the layers above it.
Novaform Firmness, Feel, and Support
We'll look at the firmness, feel, and support of Novaform's different product lines in this section. Use this information to get a better understanding of the different options this company has to offer.
ComfortGrande Firmness, Feel, and Support
The ComfortGrande is a medium firm mattress option from Novaform. On a scale from 1 to 10, with 10 being the firmest, this mattress rates at around a 6.5 to 7. That means it falls into the area that most US sleepers prefer. We found that it does a good job of providing support. But the mattress isn't as responsive as some of the other mattresses that Novaforms offers nor is it as good as some of the competitors' options.
The support you get from the mattress comes primarily from the second and bottom layers of the mattress. In the case of the ComfortGrande, that means you should expect not to sink too deeply. This does a good job of helping people keep their back, knees, hips, and neck in alignment while they sleep.
Serafina Pearl Firmness, Feel, and Support
The Serafina Pearl is either the firmest or the softest mattress option at Novaform, depending on which version you get. The Plush version comes in at a 5 on our firmness scale, while the firm option comes in at a 7.5 to 8.
The support you get from the mattress is alright no matter which option you go with. However, heavier sleepers might find they don't get the support they need from the plush version of this particular mattress.
SoFresh Firmness, Feel, and Support
The SoFresh mattress has a firmness that comes in at a 6 on our scale. It's still comfortable for most sleepers, but it's softer than some people would prefer. However, that makes it a great option for side sleepers. The support you get is pretty good, as the secondary layer does a good job of easing your body on to the support foam. Don't expect many aches and pains in the morning with this mattress.
Overnight Recovery Firmness, Feel and Support
The Overnight Recovery mattress also has a medium firmness, coming in at about a 6 on our scale. The thing that sets it apart from the SoFresh mattress are the materials used in its construction. The Celliant technology and the other innovations used in this mattress do a slightly better job at providing support for all types of sleepers, while still maintaining a softer feel than you get from many of Novaform's other mattresses.
Advanced Back Support Firmness, Feel, and Support
The Advanced Back Support mattress rates on the firmer side of things. It ranks at a 7.5 to 8 on our firmness scale. However, this mattress does a great job at providing support. The top two layers do an excellent job of pushing back against your body to maintain proper alignment while still having enough give to create a soft and comfortable sleeping surface. As a result, it's incredibly appealing for people that are having a difficult time finding a mattress that's comfortable but still gives them the support they need for their back, neck, knees, and hips.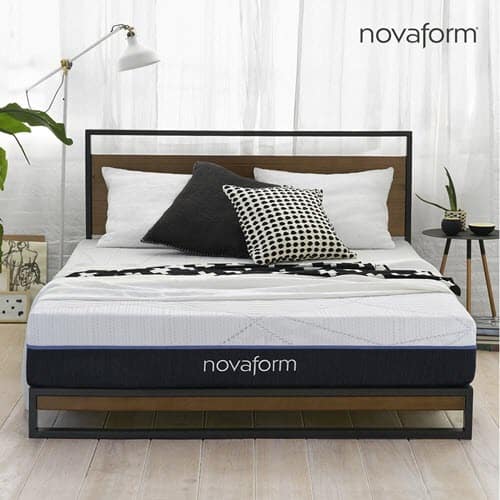 When it comes to choosing a high-quality mattress, it is tough to find one that fits you and your lifestyle. Maybe you have searched many stores and seem to find one that satisfies your price quotes, value, and conforming to your body.
Novaform has pleased 77% of its customers worldwide from owner satisfaction, durability, and the friendliness to your body; I give Novaform a thumbs up.
The Good
Novaform has conquered the market such as Costco and Amazon.com. How may you ask? Through the satisfaction of their memory foam mattresses. Their memory foam mattresses have been graded positively such as their price and value. The prices range from $250 to $900. Their popular queen size beds cost an average of $620.
Another thing that consumers struggle with is finding a bed that conforms to one's body or being friendly to certain body areas that haven't been too kind to them over the years. Novaform creates a mattress that can conform to your body. This relieves pressure off of any aches and pains. So if you are an individual that experiences back pain, shoulder pain, side pain, or even insomnia; this bed has you covered.
Like any other memory foam mattress, Novaform's is graded an "A" for fewer disturbances to one's partner and no noise when getting up from a beautiful night's rest.
If your mattress is damaged in any shape or form, there is a guaranteed warranty of 20 years on your Novaform memory foam mattress.
The Bad
Not every bed is perfect, so there are some quirks when it comes to Novaform. One thing consumers have expressed negatively is the support of the bed on the sides and edges. Customers have reported not enough support to the point where they would slide or fall off the bed.
They have also reported hardening or depressions in the foam mattresses within three years. Another concern is the over-exaggeration when it comes to the softness of the memory foam mattress. Consumers have reported that they are more medium-firm when compressed, so you will need to look into a topper. A topper creates a more softness to your bed and can range from $35 to $500 in price.
Novaform Warranty
Novaform WarrantyNovaform warranties come with a 20-year limited warranty that covers you from any manufacturer defects or flaws. If you ever need to use your warranty, you'll want to make sure to register your mattress. To register, you just need your receipt or packing slip that came with your mattress. It's also important to note that Novaform's warranty does not cover situations in which the customer used the mattress improperly, such as an inappropriate base or stains.
Pros of Novaform Mattresses
Low-cost relative to the number of features in each mattress
It only takes 5 to 10 business days to receive the mattress
The mattresses are made in the USA with CertiPUR-US certified foam
Each mattress has a base layer that increases the mattress's lifespan
Plenty of mattresses to choose from – ranging from very soft to very firm
The mattresses come with a warranty that covers manufacturer's defects• Generous return policy if you purchase the mattress from Costco
Cons of Novaform Mattresses
Not all mattresses are suitable for side sleepers
Some reviews complain about the mattress being too firm
A few mattress models come with complaints of heat retention
Novaform may not last as long as higher-graded mattresses
Novaform uses lower-quality foam to construct its mattresses
You may have to replace the mattress more frequently compared to higher-priced mattresses
The Competition
When it comes to the competition, Novaform is just one option out of many comparable, low-priced mattresses on the market. The many different competitors are Innerspring, Memory Foam, and Air. One mattress that stuck out to me was the brand, Air. With this memory foam mattress, it offers adjustments for firmness and support. Not only can it adjust the whole bed, but if your partner has a particular adjustment for sleeping; he or she can use it without disturbing your adjustments through customization. Novaform does, however, beat futons and waterbeds right out of the park. Futons negative attributes include too thin or firm for a consumer's liking and water beds are very high maintenance and can be punctured.
Final Thoughts
Overall, Novaform mattresses get a B- when you compare them to other mattresses in the same category. The brand has positive attributes, such as fewer disturbances and creating soft comfort for you and your partner. However, consumers need a mattress that lasts more than three years. Not many people replace their bed that often, so that gives Novaform constructive criticism for their product and how to improve it for the better. It may be worth it to spend a little bit more money upfront and avoid having to replace your mattress so quickly.
I do admire how decently priced these memory foam mattresses are. If you need a mattress that's easy on the budget, this is certainly an option worth looking at. It's a great mattress to take with on-the-go or even use in a dorm room. And because it's widely available at Costco, there's always a chance you can get a superb deal on it and save even more money. While this mattress is a good investment, if you're not quite sold on its features, continue to look at mattresses within a similar price range and see how they compare.
Alternatives to Novaform
While Novaform has some good products, you should know about their competition as well. That way you can have a complete understanding of your mattress options so you can be sure that you make the right choice. Buying a mattress is a big decision, so evaluating all of your options is the key to getting the best value.
Puffy
Puffy is a great alternative to Novasform because the Puffy mattress is designed to be used on any surface. That means you can set it up on slats, a traditional box-spring, a platform, an adjustable base, or even the floor. That's more flexibility than you get from most mattress options on the market today. As a result, you get complete control over the look, feel, and budget of your bed.
Another great thing about Puffy is the fact that they produce high-quality mattresses at a reasonable price, all while using certified natural and organic materials. That means no harmful chemicals are used, making sure you can rest easy at night!
PUFFY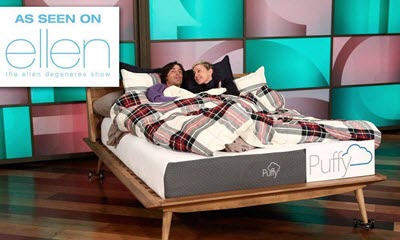 What Makes Puffy a Good Alternative?
101-night sleep trial to ensure total comfort
Free shipping
Place on any surface
Save $300 when you use our link
Check out Puffy
4.3 out of 5 stars (based on 12 reviews)
Excellent50%
Very good33%
Average17%
Poor0%
Terrible0%